Before starting this topic, let me clarify that here UAE Residents refer to those people who are staying in UAE with valid visa and have Emirates ID with them. 
"Calling all Dubai-based adventurers! Are you ready to embark on a journey to Uzbekistan, the hidden jewel of Central Asia? If you're dreaming of exploring an ancient land filled with stunning architecture, vibrant bazaars, and a rich history, then you're in the right place.
In this travel blog, we're here to unravel the mysteries of obtaining a Uzbekistan visa for UAE residents living in Dubai. But that's just the beginning! Get ready to discover the magic of Uzbekistan's cities, indulge in mouthwatering cuisine, and connect with warm-hearted locals.
So, if you're curious, passionate about travel, and eager to explore a land of endless wonders, let's dive into the adventure of a lifetime together!"
I was looking for information related to Uzbekistan tourist visa on Google and you won't believe that there are different articles showing different information. I was really getting frustrated because I was not sure which information was authentic. So as I was searching more on Google my husband told me to stop wasting time on Google and YouTube, and just call the Uzbekistan embassy for the correct information. The next moment I looked for the contact details and found their number +971 02 448 8215 on their official website https://embassyabudhabi.com/uzbek/.
I called them at 2:00 pm on Wednesday, and on my first attempt, they picked up my call. So I asked them about the visa process for UAE residents, before answering my question the officer on the phone asked me about the expiry date of my Emirates ID and passport. Then he told me that it is absolutely free for UAE residents.
So in short it's a visa-free country for UAE residents. The citizens of UAE do not need a visa to Uzbekistan for visits of up to 30 days.
You can apply for an Uzbekistan eVisa through the official website if you are from one of the countries listed below:
Albania
Algeria
Angola
Bahrain
Bangladesh
Bhutan
Bolivia
Cabo Verde
Cambodia
Cameroon
China
Colombia
Côte d'Ivoire
Ecuador
Egypt
El Salvador
Fiji
Gabon
Ghana
Guyana
India
Iran
Jordan
Kuwait
Laos
Lebanon
Maldives
Marshall Islands
Micronesia
Morocco
Nauru
Nepal
North Korea
North Macedonia
Oman
Palau
Paraguay
Peru
Philippines
Qatar
Samoa
Saudi Arabia
Senegal
Seychelles
Solomon Islands
South Africa
Sri Lanka
Suriname
Thailand
Tonga
Tunisia
United States
Uruguay
Vanuatu
Venezuela
Vietnam
However, if you are holding a UAE Resident Visa then you are eligible for visa-free travel to Uzbekistan, no matter which country passport you are holding.
Easy Tip- Make sure your Emirates ID is valid for the next 6 months and the same with your passport. Hope this answers your queries regarding Uzbekistan Tourist Visa.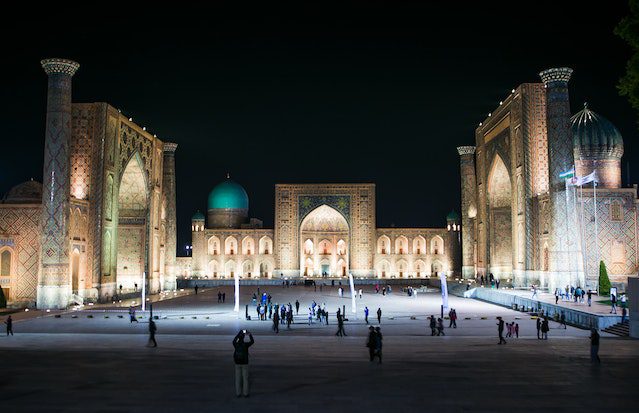 Some of the reasons why I chose to travel to Uzbekistan for my holidays are:
Rich Cultural Heritage: Uzbekistan is a treasure trove of history and culture. Its cities, such as Samarkand, Bukhara, and Khiva, boast stunning architecture, ancient mosques, madrasas, and mausoleums that date back centuries. The Silk Road, which passed through Uzbekistan, has left a lasting legacy, making it a fascinating destination for history buffs and cultural enthusiasts.
Visa Reforms: Uzbekistan has made significant strides in simplifying its visa processes, making it more accessible for tourists. The introduction of e-visas and visa-free regimes for several nationalities has encouraged travelers to explore the country with ease.
Natural Beauty: Beyond its historical sites, Uzbekistan offers diverse landscapes, including mountains, deserts, and lush valleys. The Aral Sea, Chimgan Mountains, and the Kyzylkum Desert provide unique opportunities for outdoor activities such as hiking, camel trekking, and desert camping.
Hospitality and Warmth: Uzbek people are renowned for their hospitality and friendliness. Travelers often experience the warm welcome of locals who are eager to share their culture and traditions.
Cuisine: Uzbek cuisine is a delightful fusion of flavors influenced by its history along the Silk Road. Pilaf (plov), kebabs, and a variety of bread (like naan and lavash) are among the mouthwatering dishes that await visitors.
Safety: Uzbekistan is considered a safe destination for travelers. Its stability and low crime rate make it an attractive choice for those seeking a worry-free travel experience.
Cultural Festivals: The country hosts numerous cultural festivals throughout the year, celebrating its heritage through music, dance, and art. The Silk and Spices Festival in Bukhara and Navruz (Persian New Year) are just a couple of examples.
Investment in Tourism: Uzbekistan has been actively investing in its tourism infrastructure. This includes the restoration of historical sites, the development of tourist-friendly facilities, and the expansion of transportation options.
Instagram-Worthy Locations: With its stunning architecture and landscapes, Uzbekistan offers plenty of opportunities for captivating Instagram photos, drawing in a new generation of travelers eager to share their adventures with the world.
Central Asian Hub: Situated in the heart of Central Asia, Uzbekistan serves as a convenient starting point for exploring the wider region, including neighboring countries like Kazakhstan, Kyrgyzstan, and Tajikistan.