Kathmandu is known not just for its temples, palaces, and the historical and cultural significance altogether, but also for the various food items that it offers, from local and authentic to international cuisines from across the world. Keeping the same in mind, we have prepared this list of 10 Best Restaurants in Kathmandu.
In this blog we try to list the top restaurants in the valley that you should definitely try when making a visit here. After all, no journey is truly complete without dining in the finest of places, as food is actually one of the most significant thing that motivates an individual to travel.
10 Best Restaurants in Kathmandu
#1. Gulab, Sundhara
For those of you with a palette for Indian cuisines, Gulab is one of the best pure vegetarian restaurants in the valley. Gulab is an Indian franchise. Its first outlet was established in Rohtak in the year 1912. Since then, it has been serving customers, across India, in UK, UAE and Nepal, with the tastiest and mouth-watering Indian dishes.

You can try a number of dishes in the restaurant. From its amazing chaats, lassis, samosas, snacks and namkeens, sweets to curries like dum aloo, shahi korma, matar mushroom and so on, the restaurant brings the taste of India to your table. This is the best of best in the list of 10 Best Restaurants in Kathmandu, if you are fond of Sweets.
Apart from Sundhara, its outlets are also located in City Center, Kamalpokhari and Bhatbhateni Super Store, Bhatbhateni.
#2. Village Café, Pulchowk
Village Café is best known for offering authentic items that are local to the region. These are made with fresh and organic ingredients by the most experts of home cooks. One of the benefits of eating at this restaurant is that you get to experience the homely taste and hygiene.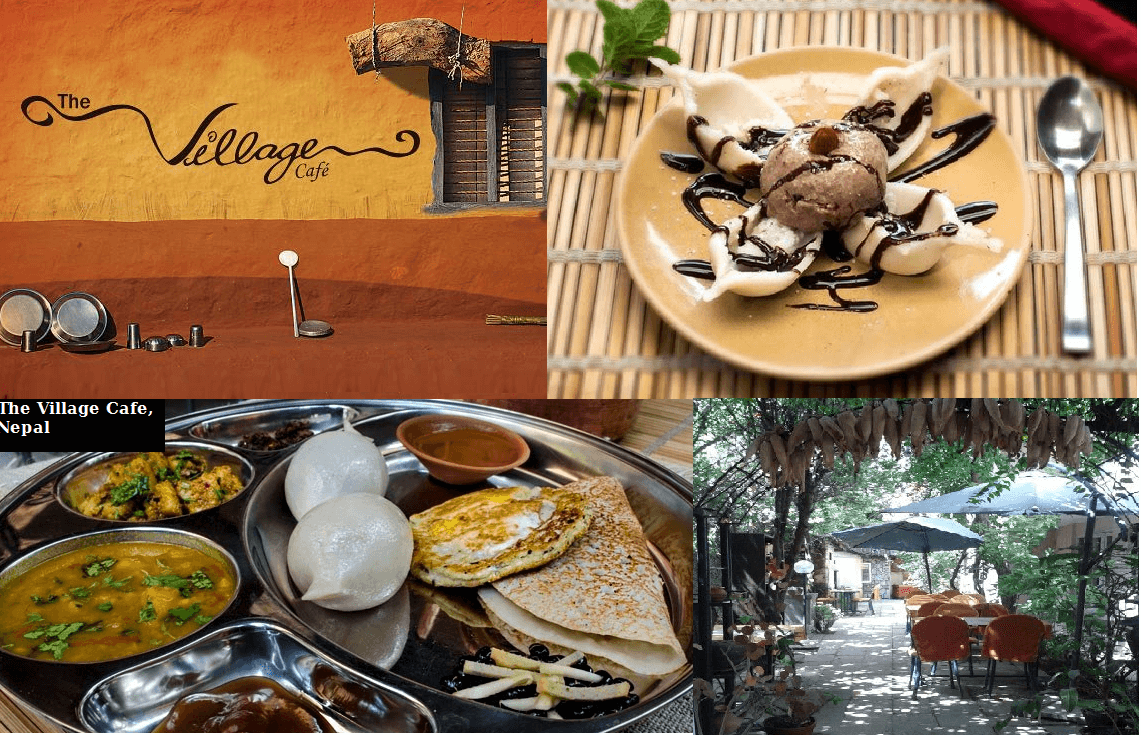 With a lovely ambience, the restaurant serves Newari items like samaybaji with varieties of bara and chatamari, snacks like momo, choila, pakodas, homemade noodles and so on. A very rare item found on the menu is yomari, with types like chaku, khuwa, chocolate and mushroom.
Truly one of its kind, the restaurant is sure to amaze you, and you'd want to keep coming back to try its delicious dishes. It's located in Pulchowk, Lalitpur.
#3. Bakery Café, Bhatbhateni
Bakery Café is one of the oldest fast food restaurants of Kathmandu, serving comforting foods from around the world. It has many outlets around the valley, in places like New Baneshwor, Jawalakhel, Bhatbhateni and so on.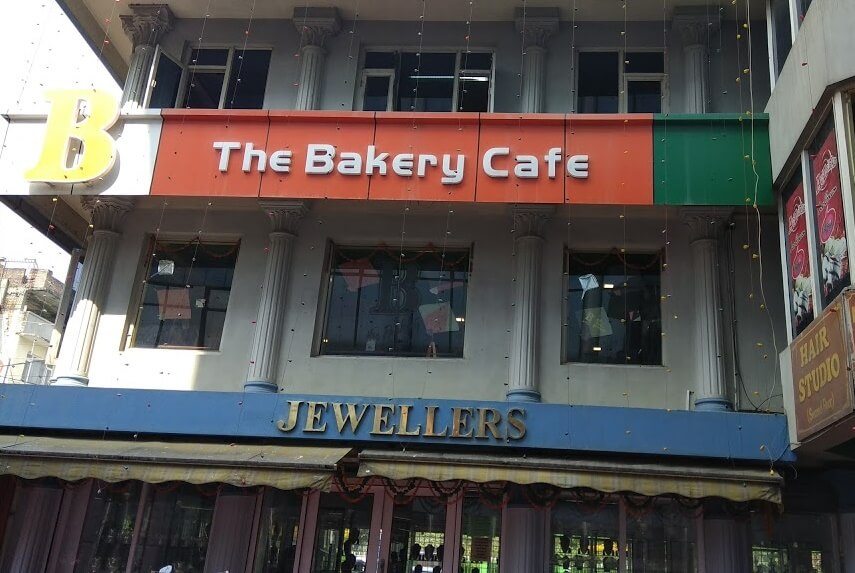 You will find a range a tasty dishes like pizza, burger, momos, sandwiches, fries, chicken chilly, dosa, wada with sambar and so on in its diverse menu. Despite the fact that the menu offers a large number of items, the restaurant ensures great taste and quality in its products.
The restaurant was established with a noble purpose of employing the individuals with a disabled sense of hearing. With great setting and amazing food, it is, without a doubt, a great choice for spending quality time with family and friends.
#4. Newa Suhli, Harisiddhi
Located away from the hustle and bustle from the city, Newa Suhli offers the most delicious Newari food items in a village setting and that's why it is also on our list of 10 Best Restaurants in Kathmandu. One need sit in the unconventional chatai and sukul, and enjoy their food from the low-height table. This definitely gives the guests coming in a true Nepali feel.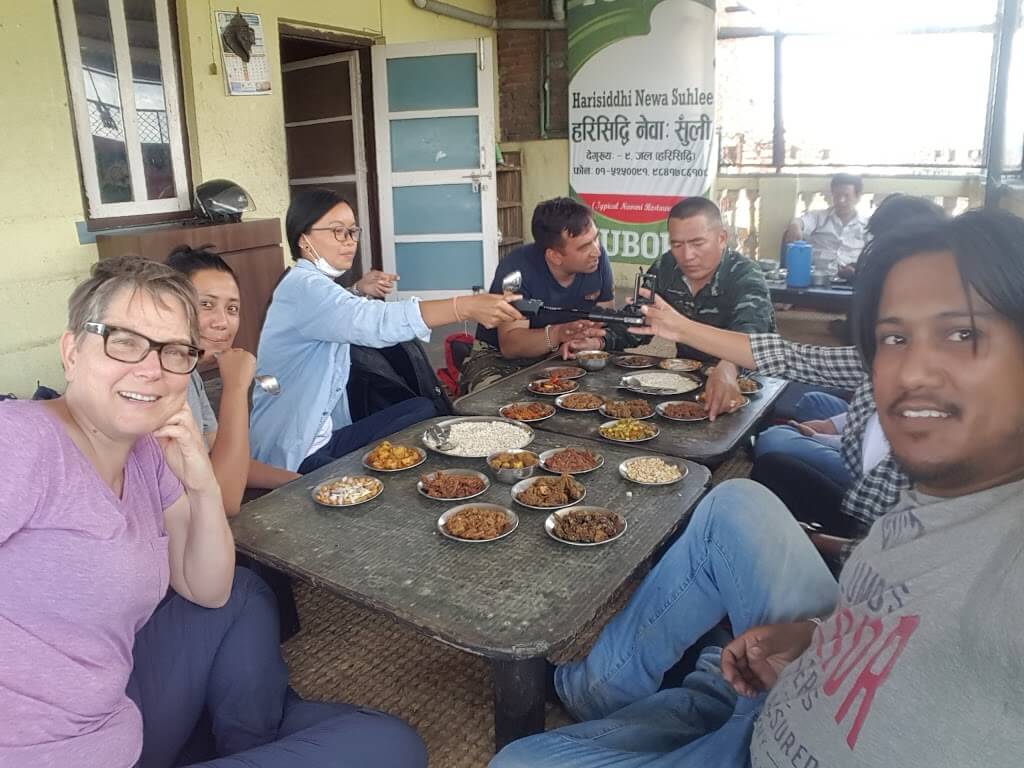 One can choose from a range of Newari items like samaybaji, choila, kachila, aaloo tama as individual dishes, or in the form of a platter. These dishes combined with Thwon (Newari Beer) and Aila (Newari alcohol) is the best thing to enjoy with family and friends, in a relaxed laid back environment.
Quite unique, in comparison to other restaurant, the place feels more like a homestay rather than an eatery. It has this pleasant homely feeling to it, which definitely deserves a shot.
#5. Fire and Ice Pizzeria, Thamel
It wouldn't be over the top to say that that probably Fire and Ice Pizzeria is one of the best pizza restaurants in the valley. If you'd ask me, there are three top pizza places here – Fire and Ice, Roadhouse and Pizza Hut. It's really hard to settle for one. The pizza lovers in the valley seem pretty much divided, when it comes to making a pick.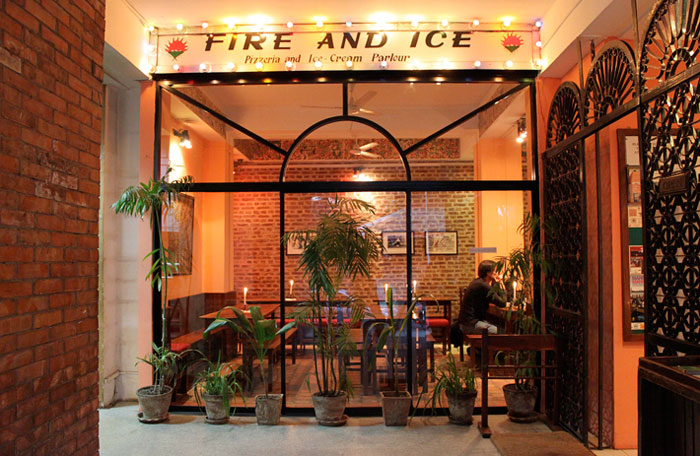 With very thin and crunchy crust, the pizzas here are baked in wood fire oven, which gives it a distinct smoky flavor. Numerous toping options are offered here, suited to the needs of both vegetarians and non-vegetarians.
Quick service and Affordable price are among the many features that make the place one of the best restaurants in the town.
#6. KFC, Durbar Marg
No best restaurant list is completed without mentioning KFC, one of the most preferred franchises in the world when it comes to fried chicken. The taste and quality that this outlet offers is on par with any other outlet of KFC around the world.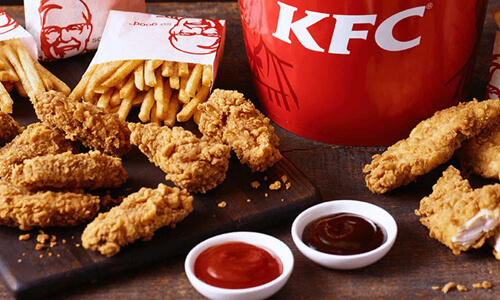 Situated in Durbar Marg, the most easily accessible place in the town, KFC is the best option, whether you want to have a quick take away, or a laid back family dinner. Apart from the regular fried chicken, the outlet also offers vegetarian snacks, out of which the most popular one is Birrizza, a form of Biryani served in a disposable bowl. Despite its handy appearance, it's truly savory.
Being an outlet of an international brand, it is quite expensive, in comparison to a lot of other really good Nepali restaurants. However, the taste, along with the overall experience, makes up to it.
#7. Bajeko Sekuwa, Anamnagar
Sekuwa are chunks of marinated meat pierced with iron sticks and cooked over coal fire. Despite its similarities with the Indian Seek Kabab, the dish is local to the region. Also, it has a unique taste and texture to it, mainly due to the cut of the meat and the spices used during marination. This is another Best Restaurants in Kathmandu you must dine in.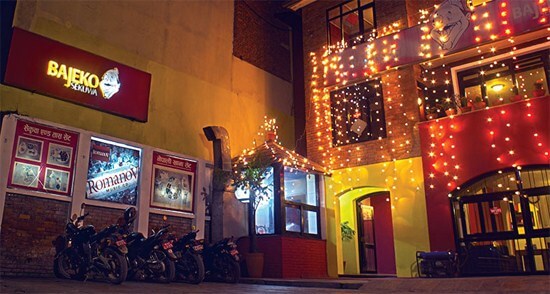 Bajeko Sekuwa is probably the largest restaurant chain in Nepal, with numerous outlets in around 4 cities. It is known to offer the best sekuwa in the town, and numerous other vegetarian as well as the non-vegetarian dishes, including the most popular snack in Nepal – Momos.
You could try any one of its many outlets situated at Anamnagar, Satdobato, Battisputali and so on, and experience the taste and hospitality of Bajeko Sekuwa.
#8. Thakali Ghar Angan, Bansbari
Thakali Ghar Angan at Bansbari is one of the best restaurants in Kathmandu when it comes to offering the staple Nepali dish Thakali Khana. The use of fresh ingredients to prepare the set, and the homely flavors in the dishes make this place the favorite of many Dal-bhat (Pulses and Rice) eaters.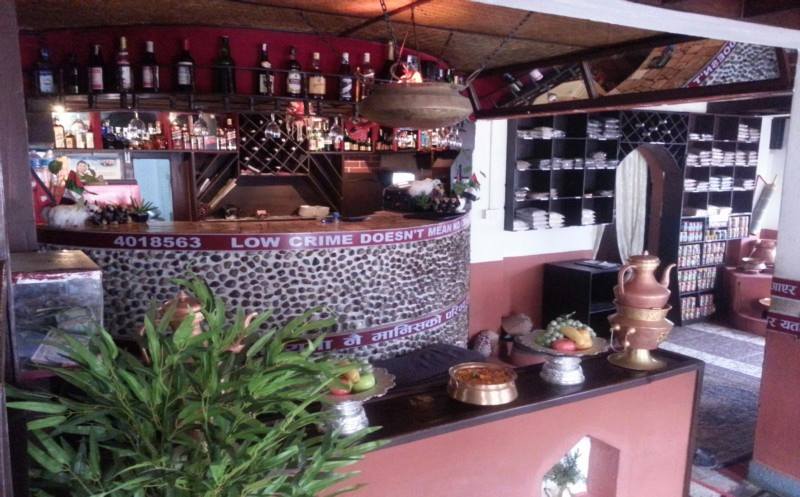 Apart from the regular set with steamed rice, it also offers dhido set, fried rice, pullav, biryani and so on. One can also try different snacks like fried chicken wings and drumstick and sadeko aaloo, and numerous curries like prawn, buff, mushroom and so on.
As a part of a very peaceful and satisfying ambience, the restaurant keeps in display the local spices and herbs, which the visiting customers can buy if they wish.
#9. Dalle, Labim Mall
Dalle is yet another very popular Nepali restaurant chains whose popularity is rising with every passing year. Their signature is the use of Dalle chili in their dishes, which gives them quite a bit of heat and a delicious flavor, along with their special hot sauce that is served at every table.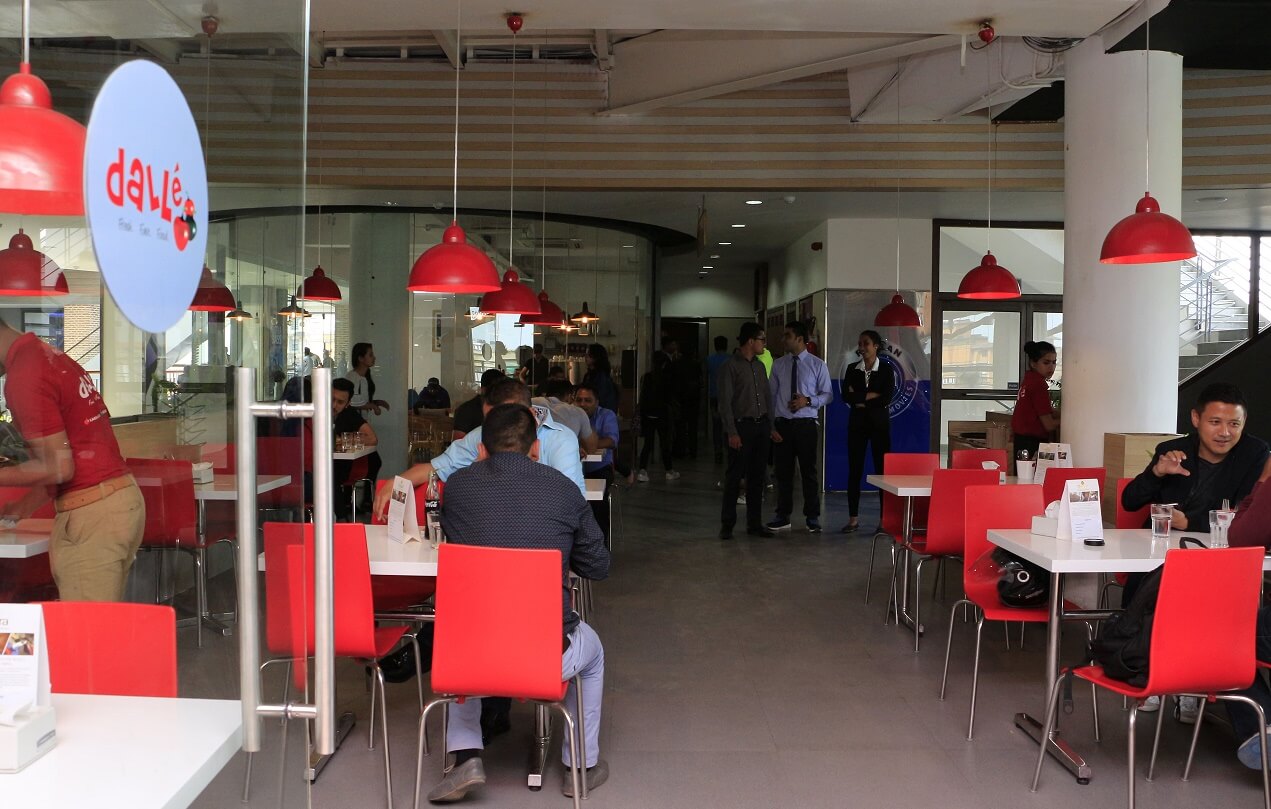 The restaurant snack items like momos, noodle bowls, cheese chilly, chicken wings, nuggets, curly fries and so on. Out of these, the mostly preferred items are curly fries and momos.
The chain is spread across Kathmandu valley with outlets in places like Jawalakhel, Golfutar, Kamaladi and so on. Offering comfort food in a bright comfortable setting, Dalle is one of the best choices of young and old food lovers alike.
#10. Ghangri Café, Pulchowk
The final restaurant on our list is Ghangri Café located in Pulchowk. Out of all the restaurants mentioned above, this restaurant is probably the best when it comes to value for money. It offers fast food items from around the world, however, their main specialty is their steamed open momos, served with three different dips – tomato, coriander and peanuts.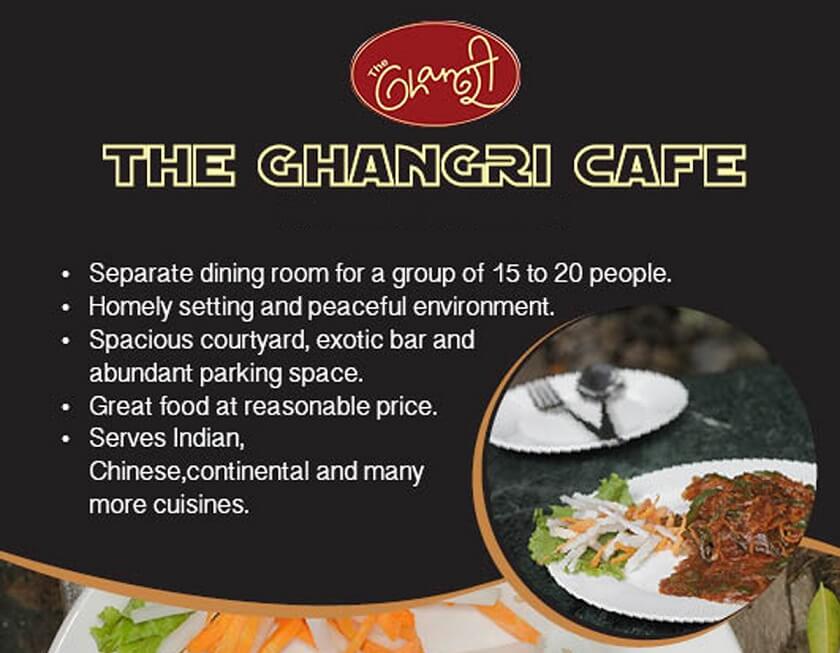 Few of the other items featured in their menu is cheese balls, veg/ chicken Manchurian, chicken corden blue, spaghetti carbonara, sizzlers and so on.
With a very beautiful ambience, this is a place where you'd like to go to for a relaxed lunch or dinner on a holiday or an occasion, with your friends and family. It's sure to live up to your expectations.
The ambience and the service with the Nepali sense of hospitality is sure to amaze you. You'll definitely want to try these places the second time, and treat your palates again and again, with the taste offered here.
I hope you liked our list of 10 Best Restaurants in Kathmandu. Let us know if you've visited these places, and what your impressions of them were, before service and after service. We'd love to hear your response. Have a happy dining!