New Zealand also known as the land of long white cloud located in Oceania is a top tourist destination for travellers and backpackers. New Zealand is popular for its adrenaline-pumping sports, vibrant history and culture, gorgeous landscape, and wildlife. New Zealand has a total population of around 5.18 million as of 2022. In 2019, around 11.32 tourists visited New Zealand.  New Zealand's landscape makes it the perfect place for sporty tourist activities like jet boating, luging, white water rafting, heli-skiing, mountain biking, hiking, and skydiving among other tons of outdoor activities. If you want to take part in the highest bungee jump in the world then Australia is where you should head to! New Zealand is not just popular for outdoorsy and sporty activities but also for its culture, history and art. Tourists who are history buffs and appreciate culture and art, New Zealand has a ton of museums, art studies, galleries, cafes and stores. Tourists can visit these attractions and learn about the heritage of New Zealand and the country's people, history and culture.
Some of the most popular tourist activities in New Zealand are adventure tourism, sightseeing, camping and hiking.
A few popular tourist destinations in New Zealand you must visit are Fiordland National Park and Milford Sound, Queenstown, Bay of Islands, Lake Taupo and Tongariro National Park, Fox and Franz Josed Glaciers, Rotorua, Abel tasman National Park and the Abel tasman coast track, Napier Hawke's Bay, Mount Cook National Park, Auckland, Kaikoura and Coromandel Peninsula among others.
There is so much to do while in New Zealand. Can't decide what to try when you are vacationing in the land of the long white cloud?
Here are 20 things that you should not miss out and definitely try during your holiday in New Zealand.
Go swimming with Dolphins in Akaroa
Hector's dolphins are the smallest dolphins in the world. Go swimming with the smallest dolphins in the world in Akaroa, a small town in New Zealand. The water in Akaroa is bright blue which makes the experience even more beautiful and vibrant. You can have an up close meet and greet with the dolphins and swim with them. These little dolphins are very friendly and greet you in their own language.  Swimming with dolphins is a once in a liftetime experience that you must give a try.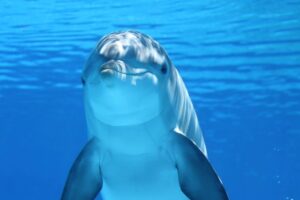 Go Bungee Jumping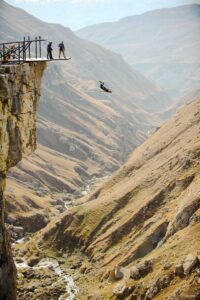 Bungee jumping is what New Zealand is so famous for. It is a popular toutirist sport in New Zealand. In fact, Bungee jumping was invented in Queenstown, new Zealand by AJ Hackett.
There are many places where you can go bungee jumping in New Zealand but some of the best places to bungee jump are The Ledge, queenstown, Auchland harbour bridge,Thrill seekers at Hanmer Springs, The Nevis Bungy and Swing, Rotorua Bungy, Bungy Jump at Kawarau bridge, Taupo Bungy and Shotover Canyon swing, etc.
Go Sky diving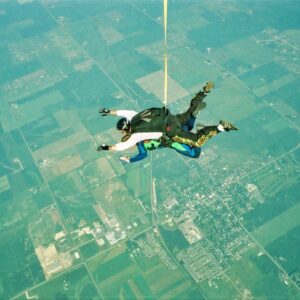 For the extreme tourists and those want an adrenaline pumping and thrilling experience, skydiving in New Zealand is the perfect tourist activity. Abel Tasman is popular for skidiving  since it is the highest jumping point off a plane that is from a height of 16,500 feet. The thrill of jumping off a plane and diving through the sky is extraordinary and sporty tourists must try this. Some of the best places to skydive in New Zealand are Rotorua, Lake Wakanda, Frans Josef, Bay of Islands, Glenorchy, Fox glacier, Auckland(famously known as the adventure capital of the world) and Queenstown.
Go paragliding for a gorgeous view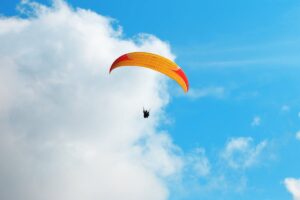 Another top tourist activity in New Zealand is paragliding. A paragliding adventure should be on your bucket list. Through paragliding you can get a bird's eye view and see the scenic beauty of the entire place. Some of the best places to go paragliding in New Zealand are G Force Paragliding, Queenstown, Wanaka Paragliding, Wanaka, Wings and Waves, Auckland, Cloudbase Paragliding, Christchurch and Nelson Paragliding, Nelson among others.
Try the world famous Nevis swing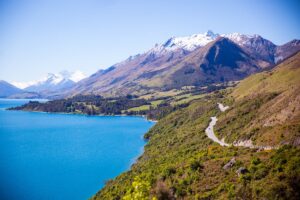 The biggest swing in the world that spans across a 300 meter arc in Queenstown is the perfect thrill seeking adventure for enthusiastic tourists. The Nevis swing also called the Nevis Arc has many options you can choose from whether you would like to go solo or with a friend or swing forwards or backwards. You have to be minimum 10 years old to participate and you will be given a "swinger" certificate upon completion of the swing. You can purchase photos and videos of your swing experience to take home too!
Go Whitewater rafting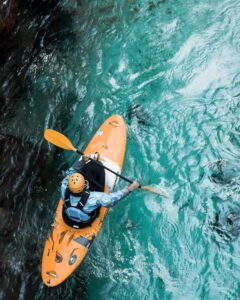 Whitewater rafting is a fun water based activity to enjoy with family or friends. New Zealand has loads of places where you can go whitewater rafting. Some of the best places where you can whitewater rafting are Vector Wero Whitewater Park in Auckla( an artificially made white water rafting park),  Kaituna Cascades, Rotorua, Black Water Rafting Waitomo, Waikato, Tongariro White Water with rafting newzealand, taupo, Landsborough river with queenstown rafting and The mohaka river gorge with mohaka rafting among others.
Helicopter ride over the beautiful Franz Josef Glacier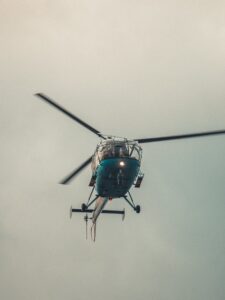 Franz Josef Glacier  is natural wonder that is a must visit for any nature lover and for some sightseeing. You can take a helicopter ride to view the franz josef glaciers in all its beauty from an aeriel view and land on the glacier. You can book a helicopter tour with Glacier Helicopters for a beautiful tour of the Franz Josef Glaciers.
Go trekking on the Fox Glacier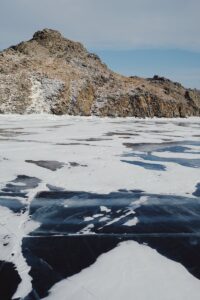 Trekking on an ice glaciers will probably on the top of any sporty traveller's bucket list. You can try heli hiking, ice climbing, have cool mountain experiences and get guided walking tours around the fox glaciers.
Trek Aoraki Mount Cook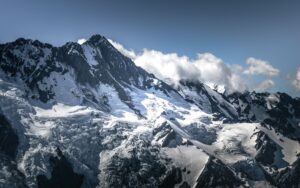 Mount cook is the tallest mountain in New Zealand. On this trek you will discover beautiful Alpine terrain, explore the stunning alpine flora and the beautiful variety of birds and much more. It is a 2 day trek and at night you can stay at the caroline hut on the way. The scenery is beautiful surrounded with peaks, icy glaciers and you get to watch stunning sunsets over the mountains.
Go on a Sailing trip in Abel Tasman National Park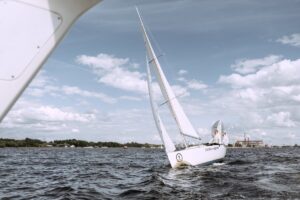 Take a sailing trip in Abel Tasman to get the full oceanic experience and appreciate the beauty of the coast. Have a fun sailing adventure and a relaxing and peaceful day.  You can go for the full day sailing option that starts from 218 dollars per individual or Classic stay sailing holiday that starts from 2400 dollars per day. There are plenty other options offered at Abel Tasman Sailing Adventures.
Take a jet boat tour in New Zealand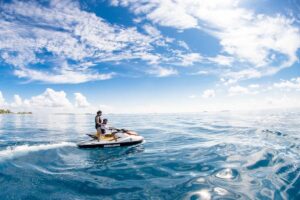 Go on a thrilling jet boat tour in New Zealand's most exquisite rivers.
Some of the best places to go on a jet boat tour are Shotover Jet, Hukafalls jet, Rapids Jet, Dart River Jet, Akaroa Jet Adventures, Katoa Lake Rotorua, Discovery Jet, Oxbow Jet Sprint Boat, Skippers Canyon Jet, Forgotten World Jet, KJet, Goldfields Jet, Auckland Adventure Jet among others.
Whale Watching in Kaikoura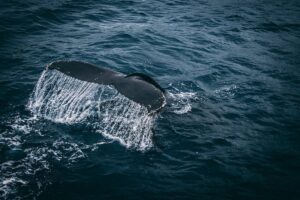 Kaikoura is known as the whale watching capital of New Zealand. The best thing about whale watching in New Zealand is the different types of whale species you will come across. New Zealand has a diverse whale population with more than 30 species of whale.
The best time to watch whales in New Zealand is during the months of October – March. If you do not spot any whales in Kaikoura while whale watching, you will get 80% of your money back as a refund.
Check out the Split apple rock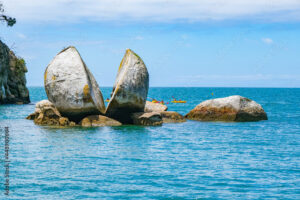 The split apple rock located in Tasman Bay is a spectacular natural wonder. Split apple rock is a granite rock that is 120 million years old which has been split in half. The rock appears to be in the shape of an apple caused during the ice age due to the freezing and expansion of water in a split in the rock. You can take pictures standing in between the split apple rock during low tide.
Visit the Pancake rocks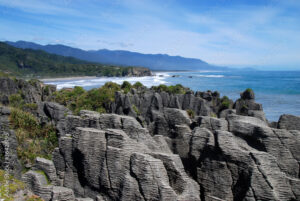 The Pancakes rocks in Punakaiki located in the South Island is an interesting tourist attraction. About 30 million years ago, the foundation of the pancake rocks started forming. The rocks are limestone formations created by minute lime rich bits of dead marine organisms were landed on the seabed that covered by layers of mud and clay to that formed the Pancake Rocks.
This is a unique natural marvel. The best time to see pancake rocks is during high tide.
Try walking the world's steepest street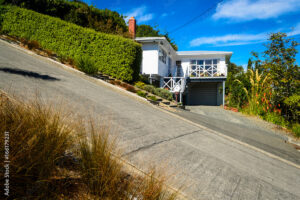 The world's steepest street, Balwdin street which is located in Dunedin. A popular tourist destination.  The street is just 350 meters of length but it is highly inclined with a gradient of 19 degrees.
There are many events and annual programmes hosted on the world's steepest street. The most popular one being Baldwin Street Cadbury Jaffa Race. A charity even where candies are rolled off the street. 75,000 jaffa lollies and candies are rolled down the world's steepest street. Jaffa's are popular red shelled chocolate candies that are popular in New Zealand and Australia too.
Wine tasting in Wine Country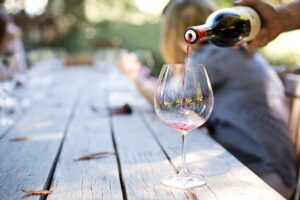 Wine tasting in Central Otago is a popular tourist destination for oenophiles. There are various wine tours and experiences you can choose from at Central Otago. The 4 Barrels Walking Wine Trail, an 8 kilometre trail that includes Aurum wines, Wooing Tree, scott base and Misha's Vineyard. Along this walk you will come across stunning scenery, beautiful orchards and Lake Dunstan. There are tasting rooms here where you can taste different varieties of wine.
Other wine tours offered here are Alexandra Vine2Wine Uncorked Wine Tours, River Rock Estate Hot Pools, Central Otago Heli Wine Tour and others.
Hike through the Tongariro Crossing
Tongariro Crossing is considered to be one of the best hiking destinations in the world and regarded as the best one day hike in the country. The trek takes you through a volcanic landscape, glacial valleys, steaming vents, alpine vegetation, ancient lave flows and bright crater lakes with spectacular views. The hike will be around 19 kms that goes through the Tongariro National Park. Tongariro national park is a UNESCO dual world heritage park. On the trek you will also see the impressive Emerald lakes. This tourist destination was featured in the incredible movie series, lord of the rings.
Stop by the Hobbit Village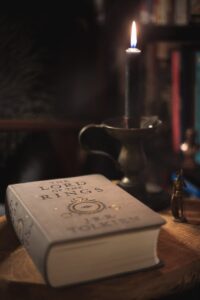 New Zealand became even more popular after the movie, lord of the rings came out. Several sets were located in New Zealand where the movie was shot. If you are a fan of the lord of the ring movie series or even the books you must definitely visit the Hobbit Village.
The hobbit village was originally built on a farm and later turned into a movie set which is open to the public now.
You can have your very own Middle Earth adventure with the Hobbit Movie set tours.
Tickets start from 89 dollars per individual. The most popular set tour is the Hobbiton movie set tour. Other tour options are evening banquet tour, second breakfast tour and Middle Earth Halfing Marathon.
Visit the bay of islands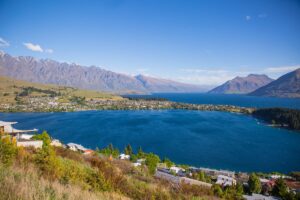 The Bay of island is possibly one of the most beautiful tourist destinations in New Zealand. The bay of islands is made up of 144 islands totally. For culture and history enthusiasts, bay of islands is the place to immerse yourself in Maori culture and learn about them.
Some of the must try touristy things in Bay of Islands are Hokianga's Waipoua Forest Kauri Trees and Glow Worms, Cape Reinga and Ninety Mile beach day trip, Waitangi mountain bike park, Hole in the rock cruises and tours Bay of Islands, scenic flights Paihia, rogue pony bay of islands exclusive luxury tours, Bay of islands Mullarkey wine tours, Cream trip Cruise Bay of islands fuller great sights, day sailing and dolphin viewing aboard Carino bay of islands, Golf course Paihia bay of islands Waitangi golf club, Skydive Bay of Islands among others.
Take a Lord of the rings tour, Wellington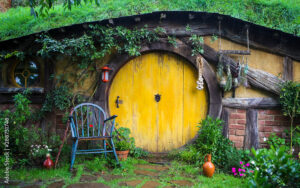 New Zealand has many lord of the rings filming locations and one is in Wellington. There are plenty lord of the rings tours to choose from like Lord of the rings Half day tour, Lord of The Rings Full Day tour and others. The tours start from 160 and 275 new Zealand dollars respectively.
Try these 20 things while in New Zealand to have a great vacation.