Dubai is one of the greatest tourist destinations in the world.
A fantastic city in the United Arab Emirates with a tourist population of around 16 million each year. Dubai has myriads of tourist attractions and adventures to enjoy! Dubai has tons of stunning skyscrapers, tailor-made tourist attractions, beautiful beaches, gorgeous sand dunes, marvelous mountains, innovative architecture, fine dining, and luxurious shopping stores! Dubai has a lot to offer when it comes to tourism, it can be refreshing and fun but also if not planned well in advance, you wander around without a proper itinerary, the trip can get tiring and you would not be able to fully appreciate your vacation in Dubai. A definite itinerary is essential while touring Dubai since the city is filled with tourist attractions and wonderful places to visit.
Here's an easy and convenient 7-day itinerary you could follow to benefit from your vacation in Dubai to the fullest.
Day 1 : Dubai Mall and Burj Khalifa
Dubai Mall, the largest mall in the world with stunning architecture, loads of luxurious shopping destinations, amazing food, and endless tourist attractions might be the best place for you to start your vacation. Dubai mall has a total area of 1,124,000 square meters. Contains 1200 stores in the mall. Dubai mall also has a luxury hotel with 250 rooms and 120 restaurants. You don't have to worry about parking here either, the parking area facilitates a total of 14000 cars.
This mall is no ordinary shopping mall with just stores and restaurants, it offers a million other tourist activities and sites. On the ground level of the mall resides the Dubai aquarium which has the world's largest acrylic panel. The acrylic panel was featured in the Guinness Book of World Records. The Dubai Aquarium is the largest aquarium in the world when it comes to indoor aquariums. It's always go big or go home with Dubai! The indoor aquarium consists of 33,000 aquatic animals including sharks! There are glass-bottom boat rides available over the aquarium. You could also cage dive with the sharks and go snorkeling or scuba diving in the 36 feet indoor aquarium.
Dubai mall is home to the spectacular Dubai Fountain where the water dances to melodiously choreographed music. The Dubai Fountain show is a must-watch for a beautiful experience and a  stunning view. Dubai Mall boasts an iced skating ring too and the Emirates Hockey League games are hosted in the said ice skating rink.
There's also a beautiful waterfall inside the mall, it is truly a work of art. The waterfall contains sculptured divers diving across the three-story waterfall. It is an impressive art installation that you should not miss out on. The world's largest candy store resides in Dubai Mall. The candy store is called Candylicious and is over ten thousand square feet in area.
Burj Khalifa, the tallest skyscraper in the world is a futuristic and innovative building. You can get a ticket to the observation deck and look at the entire city and its picturesque skyline from the top floor.
Burj Khalifa is certainly a marvel at night. It looks even more striking with all the golden light work!
Day 2 : Jumeirah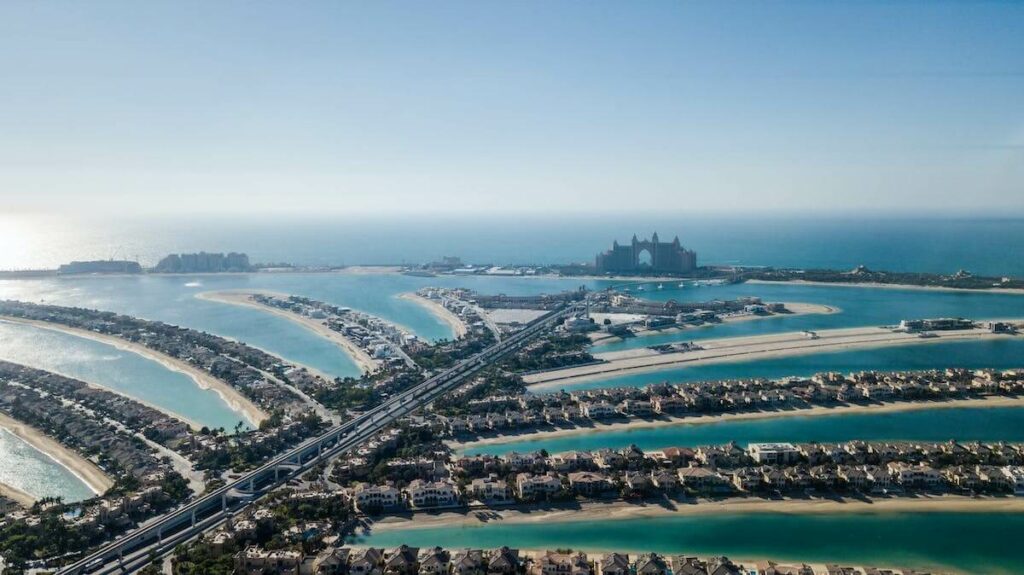 Palm Jumeriah located in Jumeirah is an exquisite man-made archipelago that extends into the Persian Gulf. Palm Jumeirah looks like a palm tree inside a circle when you look at it through an ariel view. It houses one of the greatest tourist destinations in Dubai like the Aquaventure Waterpark, Atlantis, and the Lost Chambers Aquarium. Aquaventure is an iconic waterpark with record-breaking attractions and rides. This huge park has 105 waterslides and rides, water sports experiences, and private beaches. Adrenaline driving activities include exciting zip-lining, Leap of Faith surrounded by sharks and sting rays. You can also hand-feed stingrays at Aquaventure. The Lost Chamber is filled with 65,000 wonderful aquatic creatures and also allows tourists to snorkel and dive.
Atlantis, The Palm, a 5-star luxury resort with unparalleled amenities and endless luxuries. This extravagant lavish resort includes premium suites, 1500 rooms, and underwater rooms. It does not stop there, Atlantis is home to one of the best restaurants, refreshing spas, and pools. The architecture of Atlantis, The Palm is all aqua-themed and very regal, it gives you the real aquatic experience. The plush resort also includes opulent stores and boutiques for you to shop for during your stay. For animal enthusiasts,  you get to meet and greet sea lions, swim with them, and take photos with them. Another fun aquatic experience is the dolphin experience. You get the Dolphin Tales Tour, Dolphin Dip and Play, Dolphin Swimming, Dolphin Meet and Greet, and Dolphin Dive and Discover. For extreme sports enthusiasts, Palm Jumeirah offers sky diving over the archipelago. It is a breath-taking view when you free fall off a plane with a parachute. Tons of celebrities have gone skydiving at the Palm for a thrilling experience. If you are a novice and first-time skydiver, Skydive Dubai provides instructors to help you through the process and skydive. Skydive Dubai has talented photographers and videographers that record the entire skydiving experience for you to take home and cherish forever.
Palm Jumeirah has a bunch of impressive beaches you could visit too. Rixos The Palm Dubai, Rixos offers motorized water sports, banana boat rides, and much more. Palm Jumeirah has exotic and fancy beach clubs like Sofitel Dubai The Palm Resort & Spa, Waldorf Astoria The Palm and Fairmont The Palm, etc.
Day 3: Dubai Expo 2020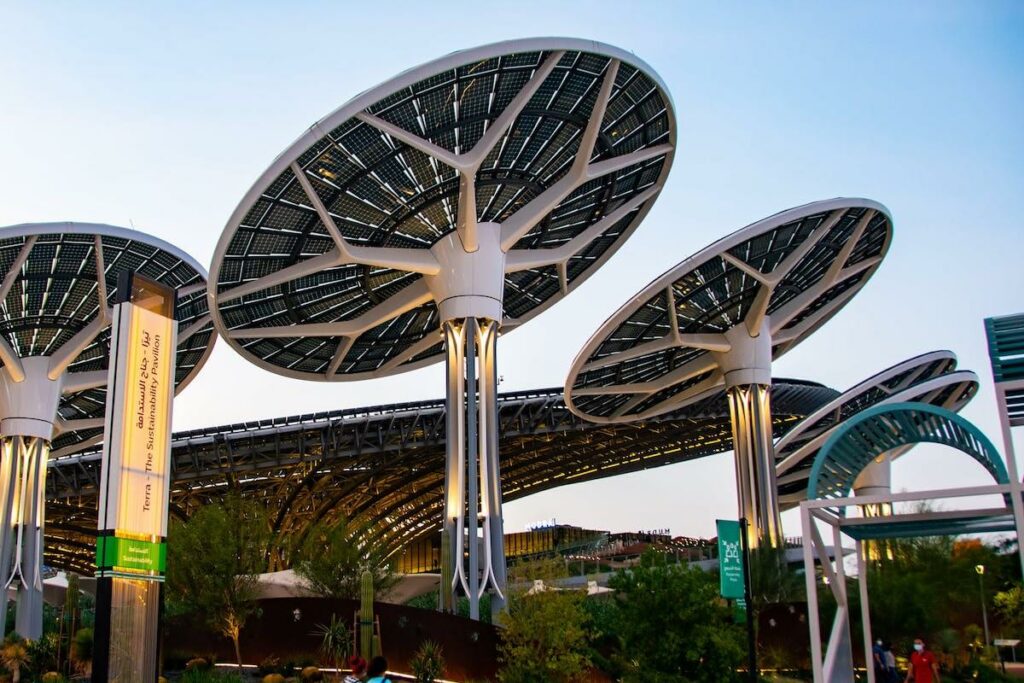 Dubai expo 2020 which by its very name was supposed to take place in 2020 but got postponed due to the Covid-19 pandemic.
Instead, it is held this year. Dubai Expo 2020 is a world expo and the first World Expo to be held in the Middle East, South Asia, and Africa. This grand exhibition hosts 192 participative countries and has millions of visitors. In fact, visitors might have to stand in queues to get to see this spectacle. Their motto is "Connecting minds, creating the future.", which is indeed true to its word. The 192 countries' pavilions have a variety of innovative technology and culture to offer. Here, you will discover each country's distinctive qualities, technology, entertainment, and food. There are tons of live events and performances you could attend. Lots of art and culture to be experienced from different parts of the world. Tickets start from AED 120. A one-day ticket for an adult will cost AED 120 and a three-day ticket for an adult will cost AED 260. The coolest and most sophisticated country pavilions you should definitely check out at the Dubai Expo are Belgium, Hungary, Egypt, Cuba, Jamaica, India, Luxembourg, Saudi Arabia, Monaco, Seychelles, South Korea, Singapore, Tanzania, and UAE.
Interesting attractions you might see at the Belgian pavilion are the outstanding Belgian innovation and a large number of kiosks with Belgian delicacies. The infrastructure and architecture is extraordinary and futuristic with a Green Arc exterior that boasts biomimicry. The Egyptian pavilion has a rich history and is an interesting blend of modern and ancient Egypt. It takes you back in time and at the same time, it takes you to the future. The pavilion boasts a replica of the infamous Golden Mask that belonged to the Egyptian King Tutankhamun and three replica coffins of the king. The pavilion is made with around 10 kilograms of rock-solid gold and a number of precious stones. The pavilion hosts a string of interactive displays for the visitors with a virtual tour guide.
The Hungarian pavilion is a gigantic ball pit that is ideal and fun for children. You can dive straight into the ball pits inside the pavilion.
Hungary is known as the Land of Water which boasts around 1,300 thermal springs. The pavilion exhibits Hungary's beautiful water-related features. The exterior of the Hungarian pavilion is designed by the legendary Imre Makovecz, a Hungarian architect.
The Luxembourg pavilion has a stunning visual appeal. It is curated to reflect Luxembourg's openness and takes the shape of a Mobius ribbon.
The Seychelles pavilion is super unique when compared to other pavilions. The entire pavilion, like Seychelles, is aquatic-based. The Seychelles pavilion has a fun treasure hunt that is intended to portray how the islands of Seychelles must be protected and treasured. Along the way, the treasure hunt helps you learn about some project initiatives to improve marine life.
The Singapore Pavilion includes a very distinct three-dimensional nature experience with lush greenery that is meant to portray ideas of sustainability and the environment. It has an in-built zero energy rainforest. The rainforest is powered through a self-sustaining ecosystem.
The vacation would not be complete without a visit to the United Arab Emirates pavilion. Designed by the great architect, Santiago Calatrava. The UAE pavilion has an exterior with a stunning white design all in sold white with 28 innovative movable wings. The pavilion has a sophisticated and minimal interior that contains six zones. Each with its own state of the art exhibits.
Day 4: Global Village Dubai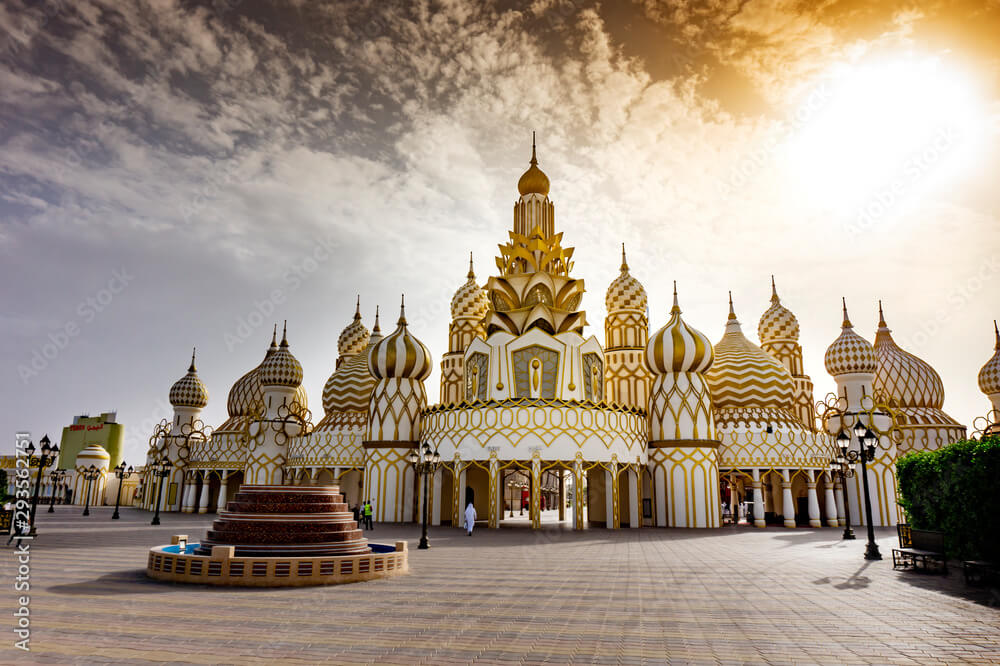 Global village, the world's most supreme tourist destination that includes tourism, entertainment, and leisure all in one place. Each year, the global village is visited by over 5 million tourists. The arena is around 17,200,000 square feet. The showground has a multitude of pavilions belonging to various countries. It is a culturally immersive and entertaining experience with loads of opportunities to shop at the pavilions of different countries. While cruising through these magnificent pavilions that represent each country's culture, history, and popular landmarks, you can shop for souvenirs and enjoy delicious authentic food, watch street performers and artists, and thrilling rides. The global village has tons of live shows and concerts you could attend during your visit. Global Village also has an entertaining carnival with even more exciting and fun rides. All in all, it is a small tour around the world. On Thursdays and Fridays, Global Village has a beautiful fireworks display at 9:00 pm. The entry fee is just AED 15 for a whole exhilarating tour.
Day 5: Dubai Marina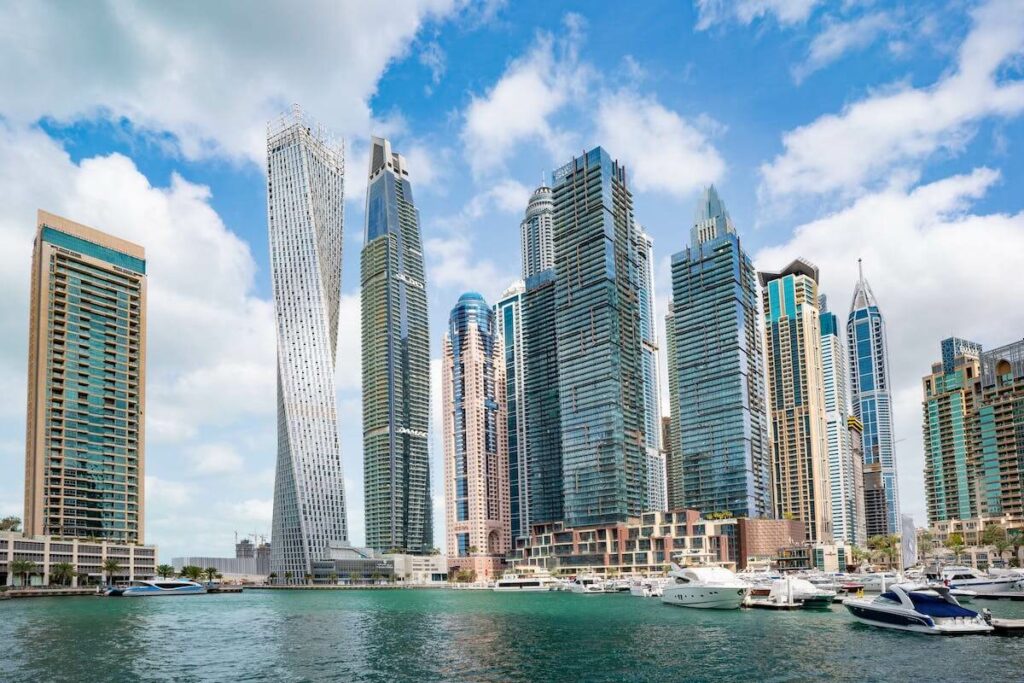 Dubai Marina is located in downtown Dubai or "New Dubai". Dubai Marina is an advanced and revolutionary man-made canal city. Dubai Marina offers a whole luxurious lifestyle with lavish hotels and upscale and expensive shopping boutiques and stores. It includes the Dubai Marina Mall Complex that boasts shopping destinations along with entertainment destinations.
The Dubai Marina is the perfect place for pedestrians. Very appropriate for an early morning jog or for shopping during the evenings. You could also just take a casual stroll along the waterside. If you would like to commute inside the marina, the Dubai tram is the quickest way to get around the Dubai Marina Complex. It will take around AED 3 to AED 5 depending on the distance. There is a water bus option which you could take for a unique experience, the water bus takes you all around the water canal. The Walk at JBR is a must-visit, to get a glimpse of a stunning sunset while strolling, shopping, and having some delicious food. The infrastructure is immaculate and distinct with arcaded entrances and air-conditioned glass boxes. Enjoy a Dinner Cruise and watch the skyline containing impeccable skyscrapers at the Dubai Marina.
The tickets start at AED 165 per individual.
You could also take a speedboat tour of the Dubai Marina. An exciting water sport for enthusiastic and sporty tourists. With a speedboat tour, you can cover the whole marina within 1.5 hours.
The speedboat takes you through the Marina Canal, Burj Al Arab, Palm Lagoon, and the popular hotel Atlantis. The price for tickets starts at AED 179.
Day 6: Dubai Dolphinarium, Dubai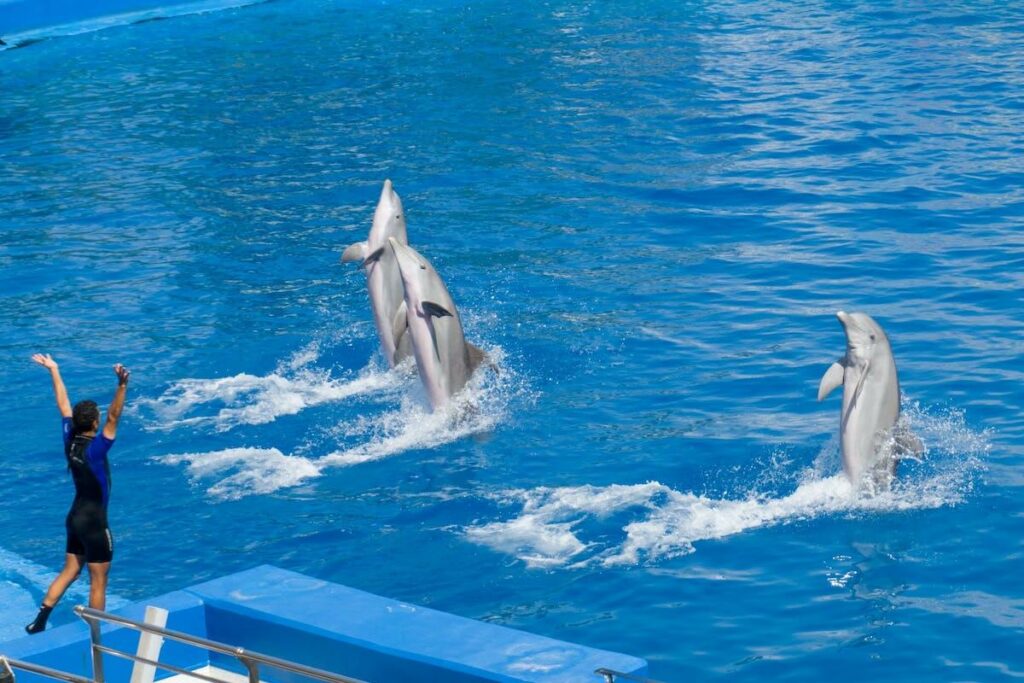 Dubai Dolphinarium, houses the magnificent Black Sea Dolphins, exotic birds, and various types of fur Seals. Dubai Dolphinarium is infamous for its breathtaking and mind-blowing shows. Dubai Dolphinarium is located in Creek Park and is a great tourist attraction that a ton of people from all over the world attend. Dubai Dolphinarium hosts exciting bird and marine mammal shows.
Here, you can feed exotic birds, swim with Dolphins, bounce on trampolines, and indulge in other thrilling entertaining activities.
The Dubai Dolphinarium standard tickets start at AED 120 and VIP tickets start at AED 140.
Day 7: Ski Dubai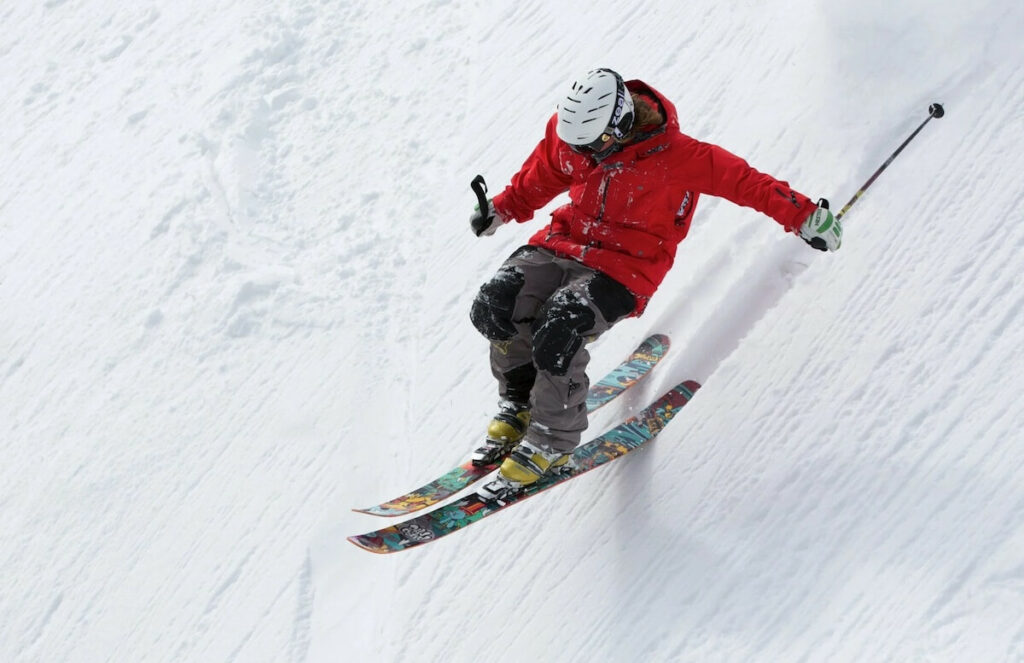 Ski Dubai located in the Mall of Emirates, Dubai is the world's largest indoor ski slope. It is an immersive skiing experience in almost real like snow. The ski slope contains 6,000 tons of snow. You could take part in the chair lifts and T-bar rides. Ski Dubai gives you the opportunity to practice skiing with the help of qualified and professional instructors. In the freestyle zone, you can practice tricks, jumps, and ramps!  You can also get to interact with Snow Penguins up close. The penguin encounter is an educational experience with professional instructors teaching you about the impressive Gentoo and King Penguins. You can take photos with the penguins too!
Tickets start at AED 220.
If you follow this 7-day itinerary, you will be able to visit the major tourist attraction sites in Dubai, get the complete Dubai experience, and enjoy your vacation!