Maroon, Blue, Green, and Yellow. When you are in the Philippines and you deliberately see these four (4) colors together, it is already an understanding between high schoolers to adults. It is  The Big 4 of the Philippines. There are many remarkable universities in the Philippines but when asked many students what is their dream school, anticipate that one of these 4 universities will be guaranteed on their list. In this article, we will talk about the top 4 universities and other 6 universities worth studying in the Philippines. If you are an aspiring exchange student in the Philippines, or just simply curious about the qualities of the university in this beautiful country, then you might want to dive into this article as we will have a tour of these campuses—universities rather.
These four universities are the dream schools of every young Filipino. All are located in the National Capital Region (NCR) which makes these universities even more desirable because it is located in the metropolitan area and the capital of the Philippines. Even though many of the sought universities in the Philippines are located in NCR, there are still great universities located in Visayas and Mindanao. Many students from different provinces all around the country, from some parts of Luzon, Visayas, and Mindanao (3 big islands of the Philippines) are aspiring to study at these universities. There are many reasons why these schools are every student's dream, we have here a list of whys:
Why are these universities sought by many incoming university students:
If you graduate from one of these universities, you can guarantee that this will look good on your resume or curriculum vitae, hence, the higher risk of getting accepted on the job that you desire.
High-quality education. Among these schools, only a few have a free tuition fee system, and the rest have all expensive tuition fees, which we will further elaborate on later. But nonetheless of the expensive fee, the quality of education is top tier.
Has complete facilities and equipment.
Beautiful surroundings, scenic environment, and access to the city. It is desirable for students who are living outside the NCR because they will undoubtedly want to experience city life because of all the life they are in their province.
There are televised university athletic competitions. This competition is popularly known as the University Athletic Association of the Philippines or known as UAAP. There are a total of eight schools competing in this annual competition, and the big 4 universities are mostly the ones leading in winnings.
If you are studying in these universities, that means you are either super smart, rich, or athletic.
These are just some of the reasons why students want to achieve passing in the school's entrance exams. Now, how do these universities differ? what are their qualities and their main "known for"?
#1. University of the Philippines (UP)
The University of the Philippines was founded in 1908 it is a public coeducational non-profit research higher education institution, and it is a national university. UP is sought by most aspiring exam takers, why? because it has a free tuition fee! Yes, isn't everyone's dream? to be in a top-performing university with low or no tuition fees opens opportunities to many who are nonprivileged or middle class but still can't afford private schools.
But, there is always a catch, the University of the Philippines has an annual entrance exam called the University of the Philippines College Admission Test or UPCAT. This is a 5-hour examination that consists of mathematics, science, language proficiency, and reading comprehension. Many students are afraid of this college admission test because it is hard. This is the basic requirement for college admission if you want to go to UP. This serves as the screening of the future "iskolar ng bayan" or scholars who will uphold the university.
Maroon is the universities color symbol, and the school offers 258 undergraduate programs and 438 graduate programs to students. It has 7 constituent universities all around the Philippines and has a total of 17 campuses. There is a thing in the Philippines that if you are studying at UP, that means you are super smart, and it is a fact!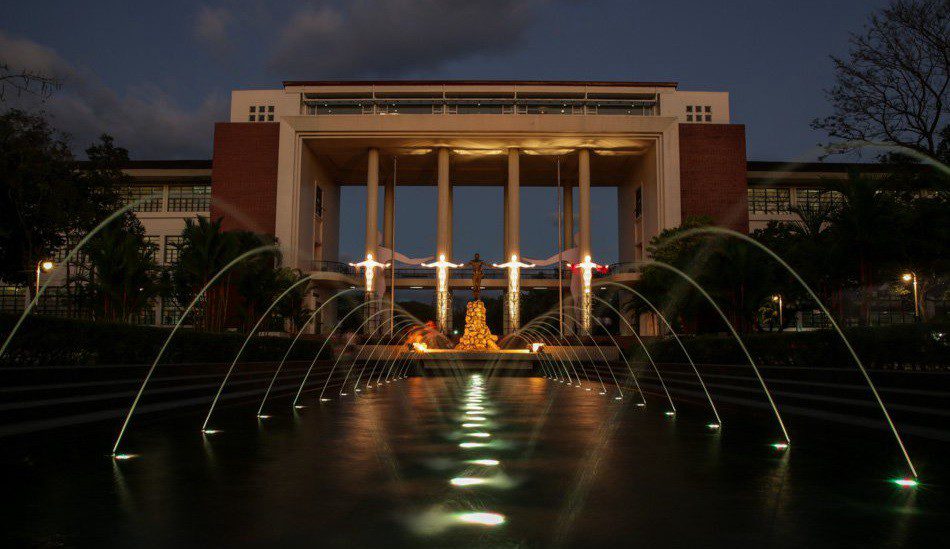 #2. Ateneo de Manila University (ADMU)
"Go Ateneo, One Big Fight!" these are the famous chants students are doing whenever Ateneo has a game and competes in the UAAP. It is where the Philippine National Hero, Jose Rizal graduated. With over 55 undergraduate programs and 90 graduate programs, Ateneo is sought by many especially privileged people, because Ateneo is an expensive school. Ateneo's tuition fee ranges from 92,000 – 100,000 PHP or more, which is about 1,600 – 2,000 USD per year.
It is one of the oldest Jesuit institutions in Asia, founded in 1859. Ateneo offers high-quality education too, according to past exam takers, the admission test is also hard, this only means that Ateneo students are not just filled with rich students, but also smart ones. Ateneo is located at Katipunan, Quezon City Philippines, the same as the location of the flagship campus of the University of the Philippines—the Diliman campus. That is why whenever UP and Ateneo would face each other in competitions it is called the "battle of Katipunan" a face-off between Maroon and Blue.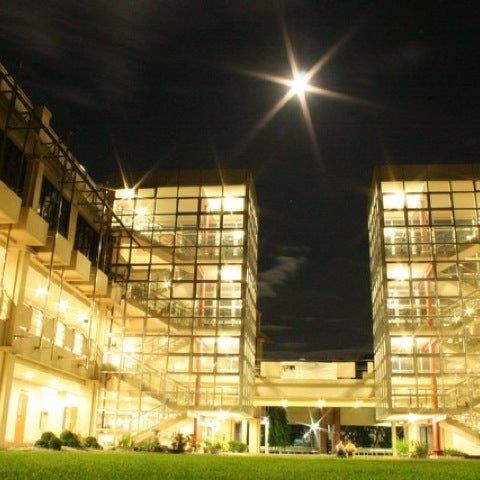 #3. De La Salle University (DLSU)
There is a thing in the Philippines that La Salle students are so hard to be with! Because they have different humor—rich vibe humor! It is a thing in the Philippines, that when a student is studying in La Salle, it means that the student is wealthy! La Salle is a Private Catholic coeducational institution founded in 1911. It is located at the heart of Manila, unlike UP and ADMU which are both in Quezon City. La salle is in the metropolitan area of Manila, which is why many students wanted to go to La Salle, to experience more city life escape. The irony is that La Salle's color symbol is green, which is like the color of nature, but the school is in an urban area of the country.
Going back to the rich joke in the Philippines, we can say that it is not really a joke as students in La Salle are extremely born with silver spoons in their mouths. Their annual tuition fees range from 200,000 – 300,000 PHP or 4,000 – 5,000 USD. There is also an ongoing joke that you don't want to know what La Salle students do in their free time. Also, a fun fact, La Salle and Ateneo are considered rival schools, not because they are both over thousand dollars worth of tuition fees but when it comes to the yearly UAAP, these two schools always compete for the finals, making every arena sold out just to watch for their face-off, especially in Women's Volleyball, and Men's Basketball.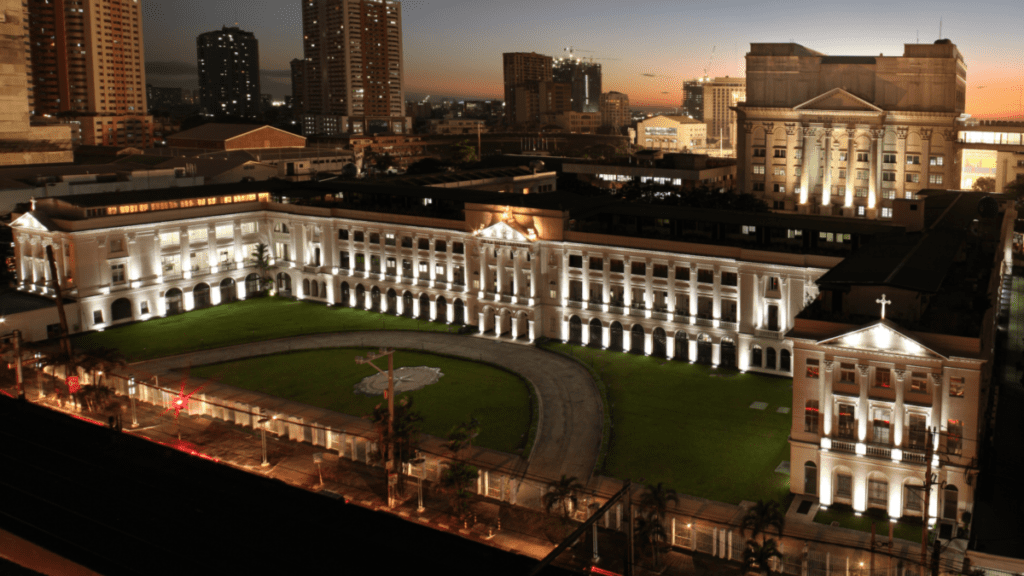 #4. University of Santo Tomas (UST)
The University of Santo Tomas or UST is the oldest university in Asia. It was established in 1611 as Colegio de Nuestra Señora del Santisimo Rosario and was renamed in 1625. It is a private catholic coeducational institution. It is also the largest Catholic school in the world, and it is only one campus, it does not have any other campuses unlike the other three. There is only one and it is located in Sampaloc, Manila,
UST is famous for its mascot—the tiger. The tiger represents UST as well as their school's color, which is yellow. Many students wanted to go to UST because of the famous main building, the beautiful architecture was indeed breathtaking that you will think you are in another country, perhaps in pain because of the design and all. This is no wonder why because the founder was Spanish back in the days when the Philippines was heavily colonized. The main building was one of the main reasons why students wants to study there, because the campus is aesthetically pleasing, after a tiring day at class, who would not want to sit down on a bench and have the view of a sunset while you are in front of the main building? Well, that typically is the dream of some. The tuition fee of this beautiful school is the most desirable of all. Quality education, beautiful surrounding, and affordable tuition fee that range from 30,000 – 100,000 PHP or about 550 – 2000 USD, what more you could ask for? As the tomasians say "Go USTE!"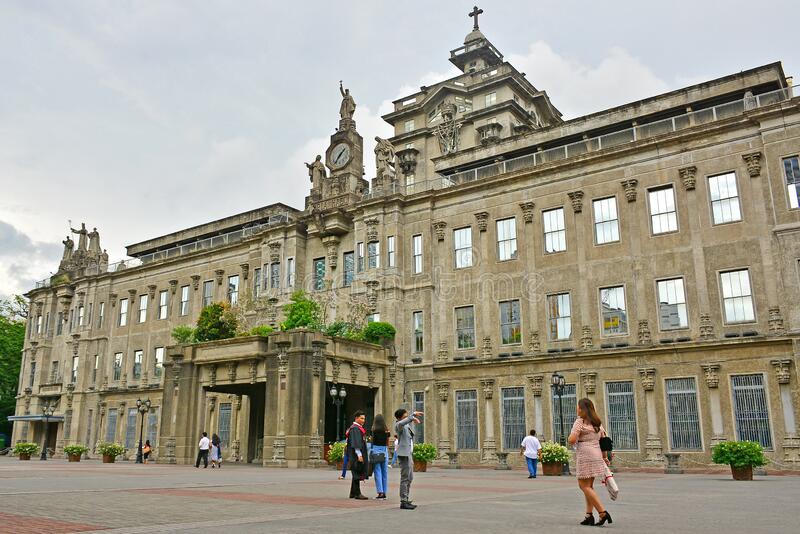 #5. Far Eastern University
Far Eastern University (FEU) is a well-established and highly regarded private university located in Manila, Philippines. Founded in 1928, it is one of the oldest universities in the country. It has earned a reputation for academic excellence and a commitment to providing students with a well-rounded education. With a wide range of undergraduate and graduate programs in fields such as business, engineering, medicine, education, law, and arts and sciences, FEU offers students the opportunity to pursue their interests and passions. FEU is known for its high academic standards, with a rigorous curriculum taught by experienced and highly qualified faculty members who are dedicated to providing students with the best possible education.
The university places a strong emphasis on research and innovation and has numerous research centers and institutes that focus on various areas of study, such as business, engineering, and medicine. These centers allow students to conduct research, participate in innovative projects, and further enhance their education. While the tuition fee at FEU is relatively high, ranging from PHP 80,000 to PHP 150,000 per academic year, with additional miscellaneous fees of approximately PHP 20,000, the investment is well worth it given the level of education and opportunities that the university provides. Despite the cost, FEU remains an attractive choice for students seeking a university education in the Philippines, as its commitment to academic excellence and focus on research and innovation make it a valuable investment for the future.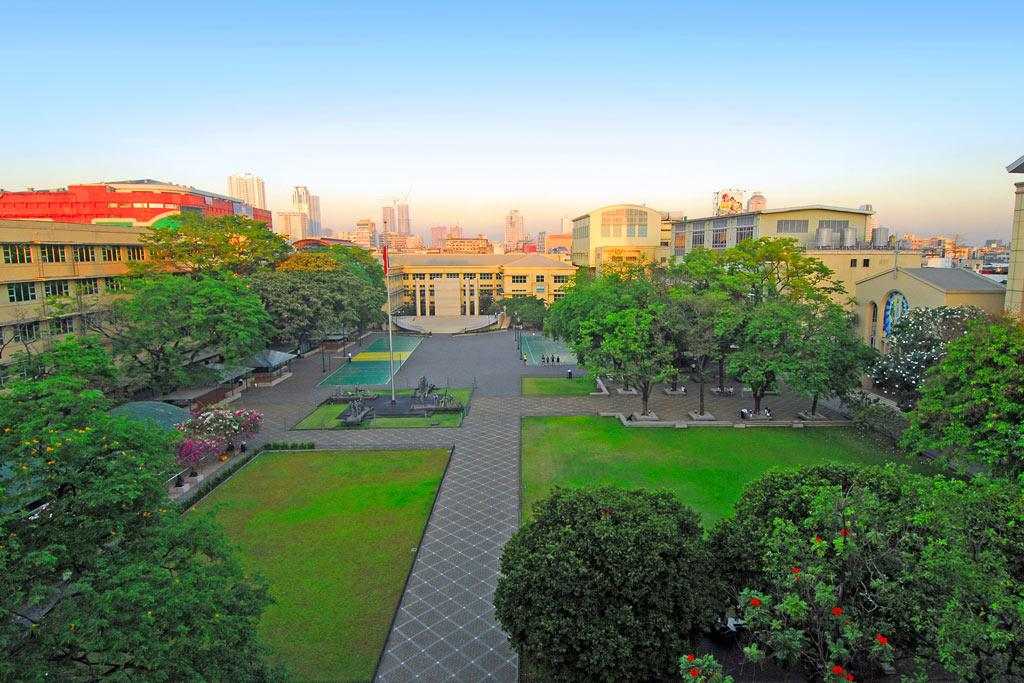 #6. Polytechnic University of the Philippines
Polytechnic University of the Philippines (PUP) is a state university in Manila, established in 1904. It is the first polytechnic university in the country and is known for providing quality education and addressing societal problems. PUP offers undergraduate and graduate programs in various fields including engineering, science, humanities, and education. The academic system is semester-based, incorporating both classroom lectures and hands-on laboratory exercises for practical learning.
PUP's emphasis on practical knowledge, diverse programs, and dedicated faculty have established it as a leading institution in the Philippines. The university is also known for being affordable, with an average tuition fee of ₱6,000 ($120) per semester for undergraduates and financial assistance programs. PUP is a comprehensive and well-regarded institution that prepares students for real-world challenges and careers through solid education and practical skills.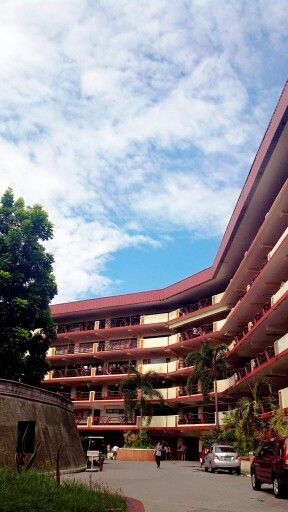 #7. Our Lady Of Fatima University
Our Lady Of Fatima University (OLFU) is a non-profit private institution on higher education founded in 1967. It is located in the busy urban city of Valenzuela City (Valenzuela City is still in NCR). The main branch of this school is the one in Valenzuela, but it has many branches all over the Philippines. OLFU is known for its green color school symbolization and is also sought for pre-med courses such as nursing, MedTech, and pharma. It offers bachelor's degrees, master's degrees, and doctorate degrees in some fields. The tuition fee ranges from 30,00 PHP and above (550 USD and more) per semester.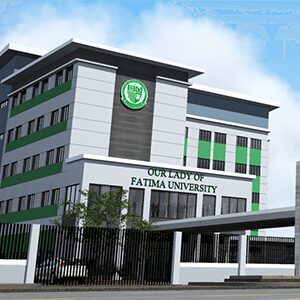 #8. Siliman University
Siliman University (SU) is another non-profit private institution of higher education, founded in 1901. The school is located in the urban city of Dumaguete City, located in central Visayas (second of the three main islands in the Philippines. Yes, SU is not located in Luzon where the most famous and known universities are. SU is not that big of a university, it only has 7,000 – 8,000 enrollment numbers per year, unlike other big universities in NCR which almost triple the number. This university also offers bachelor's degrees, master's degrees, and doctorate degrees. SU is mainly known for its excellence in Information Technology courses, Nursing, Marine Science, Teacher Education and etc. Its tuition fee can be on par with universities in Luzon because it is almost 50,000 PHP per academic year or almost 2,800 USD.
#9. Pamantasan ng Lungsod ng Maynila
Pamantasan ng Lungsod ng Maynila (PLM) is a non-profit public institution of higher education founded in 1965. This university is located in Manila and can be found inside the famous Intramuros (where Spanish colonization traces can be found) This university offers bachelor's degrees, master's degrees, and doctorate degrees. This university is funded by the government which means that it has a free tuition fee system. This school is sought by many who want to study Law as the Law school in PLM is great too.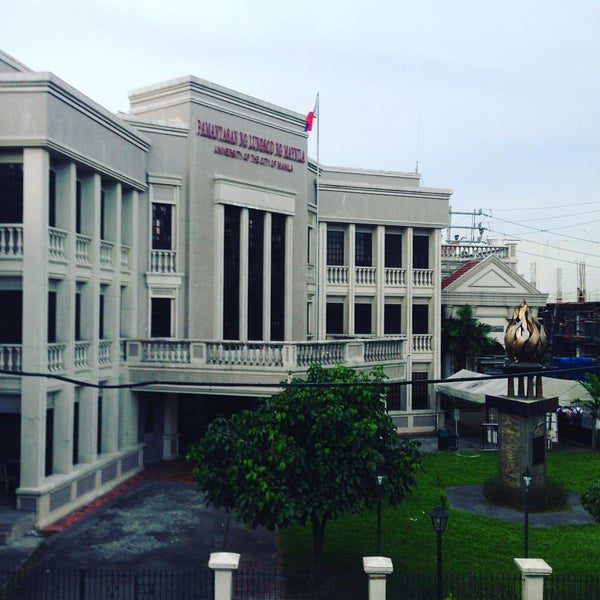 #10. Visayas State University
Visayas State University (VSU) is another non-profit public institution of higher education, founded in 1924. VSU's flagship campus in Baybay City is considered to be the most beautiful campus in the Philippines. VSU is known for its quality education, especially in agricultural courses where it is not only recognized in the Philippines but also internationally. This state university also offers a free tuition system.

There you have it, some of the universities in the Philippines that you should be aware of. It is not just the name that the students were after, but also the quality of the education that these schools have to offer. If you want to study in the Philippines, you might want to consider these universities on your list.
While considering the Philippines as a study destination, international students can look forward to a rich academic experience, access to world-class faculty, and the chance to build lifelong connections with fellow students from around the world. With its combination of academic excellence and cultural immersion, the Philippines remains an attractive and promising choice for those seeking a transformative educational experience.