Darjeeling is another hill station on our list and is one of the most beautiful places in the north eastern part of India. It is also known as the "Queen of Hills" and falls in the northern parts of West Bengal. The striking picturesque beauty of this tiny hill station will leave an eternal effect in your heart and mind. Darjeeling is surrounded by the famous mountain range, Mount Kanchenjunga, the glimpse of which you can get from any part of the town. It's a perfect getaway with your family or your loved ones to spend an unforgettable vacation in this picturesque place. So here we have listed down the 9 best places to visit in Darjeeling that you must consider while preparing your itinerary.
9 Best Places To Visit in Darjeeling
#1. Tiger Hills
The most popular tourist attraction spot in Darjeeling is the Tiger Hill, the highest peak in this region. Tiger Hill is best known for its splendid view of the Kanchenjunga peak during sunrise. If you want to just relax and spend some quality time in peacefulness then Tiger Hill is the perfect place for you. It stands at an altitude of 8378 feet, which is the highest point in Darjeeling. The best time to visit Darjeeling is from March to April or from mid-October to December.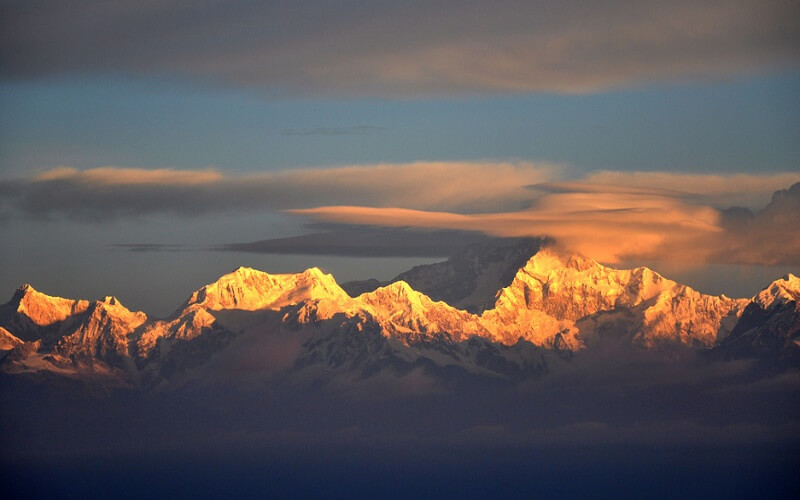 #2. Toy Train Ride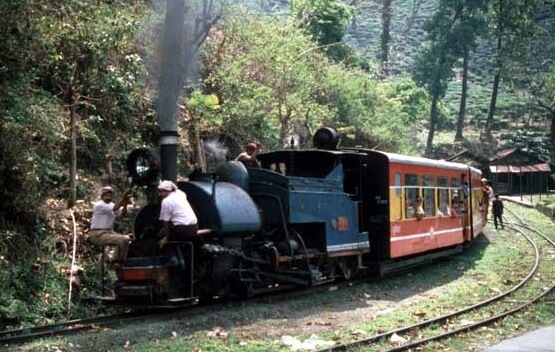 The toy train ride in Darjeeling is one of the most sought-after activities by the tourists. The Darjeeling Himalayan Railway or DHR is also a World Heritage Site announced by UNESCO in the year 1999. While riding you will come across some splendid sights of the pine trees and Kanchenjunga Mountain. Take a sit back on a toy train ride and be amazed by the magnificent views that it has in store for you.
#3. Singalila National Park
Singalila National Park is a reserve forest approx 2134 m above sea level situated in the Darjeeling district. Though initially, it was a wildlife sanctuary later on it was made into a national park. This National Park is famous for its amazing view of the smaller Himalayas. It is also known for its trekking route to Sandakphu and Phalut and a variety of mountainous foliage, animal life and birds. The park has a collection of rare and endangered species like Wild Boar, Red Panda, Takin, Black Bear, Yellow-throated Marten and etc.
#4. Ghoom Monastery
Ghoom Monastery is one of the main pilgrimage places for the Buddhists in Darjeeling district. It is one of the oldest monasteries in this region. The peaceful and serenity of the place will make you wish to stay there forever. Also outside the monastery merchants or the bhutiyas sell woollen clothes and food items. The monastery is situated near the Ghoom station, so it's quite easy to visit.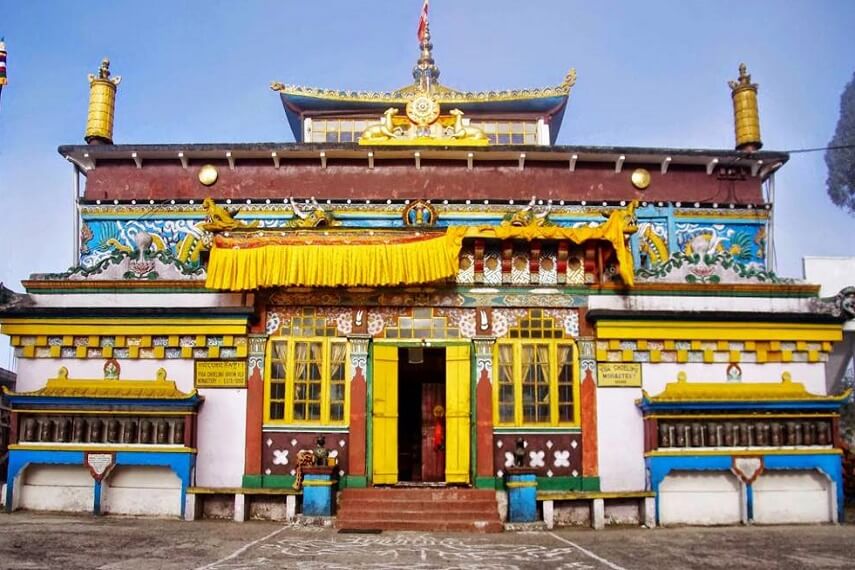 #5. Darjeeling Ropeway
The Darjeeling Cable Car is Asia's biggest ropeway covering a distance of approx 8 km in 45 mins. The reason why this should be on your travel list is due to the wonderful view that it has to offer from the ropeway. From the ropeway enjoy the amazing view of the Himalayan ranges, the valley of the tea garden, small streams and mountain peaks covered with clouds. Probably, its the best way to grab a peek at many landscapes Darjeeling has to offer.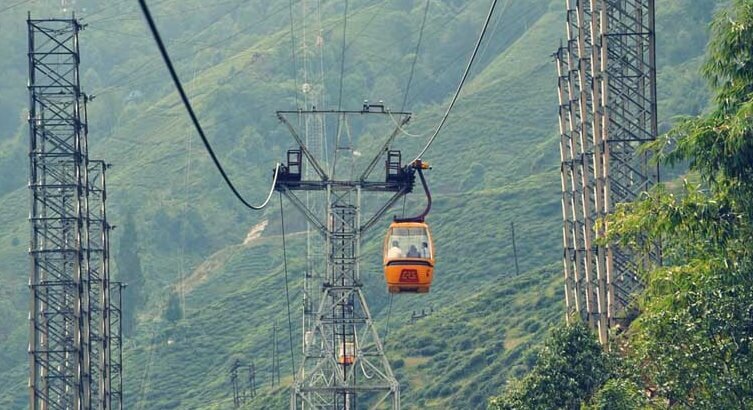 #6. Happy Valley Tea Estate
This is another must visit place which has taken its place in our list of 9 Best Places To Visit in Darjeeling. Your trip would remain incomplete until you visit the Happy Valley Tea Estate, Darjeeling's oldest tea estate extend across an area of 437 acres of land. Moreover, if you are travelling during March and May then you could also witness the beautiful plucking process. The Tea Estate is approx 3 km away from the Darjeeling main town. Tea lovers would love this place because of its sweet essence mixing in the air.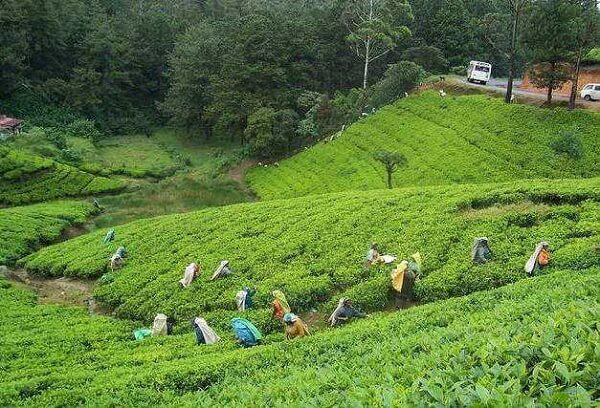 #7. Japanese Peace Pagoda
The Japanese Peace Pagoda, an example of traditional Japanese style structural design, is a Buddhist temple. It's one of the calmest places to visit in Darjeeling. The location of the temple on top of the hills makes it even more beautiful. The temple displays the four symbols of Lord Buddha. Due to its distinctive features and peacefulness, people love to visit the place. The passageway offers the scenic beauty of the Himalayan range and the vast tea gardens. A visit to the temple will surely make a special place in your heart.
#8. Joey's Pub
If you want to spend an evening with some fun and music then Joey's Pub is the exact place for you. This stylish pub is popular for its drinks and old British beer. The interior of this pub is very elegant made with wood and covered with framed pictures. You would come across many foreigners also over here. This is the perfect place in Darjeeling to relax and drink some best quality beer.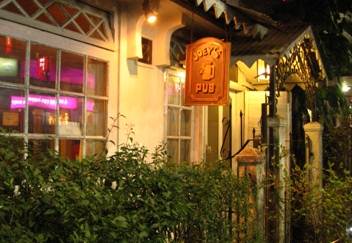 #9. Shrubbery Nightingale Park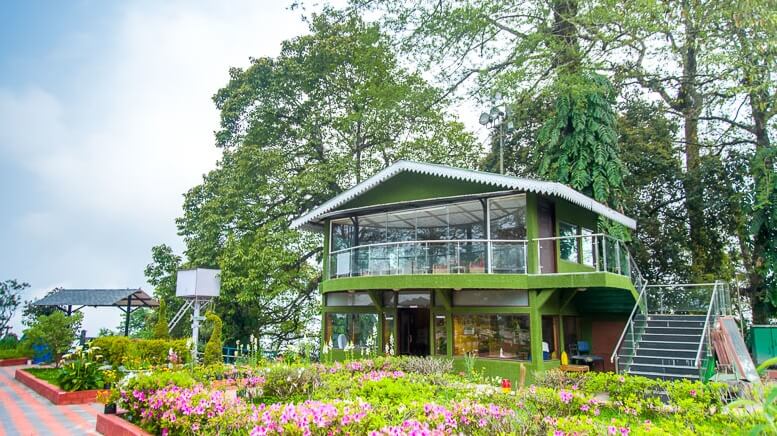 This is the last place on our list of 9 Best Places To Visit in Darjeeling. Shrubbery Nightingale Park is a public park for spending leisure time by relaxing and resting. While walking you will get the splendid view of Mount Kanchenjunga. Different cultural programs take place over here and if you are lucky enough then you might get a glimpse of some movie shooting since lots of movies are being shot over here. The picturesque view of waterfall, mountains and trees will mesmerize you and the beauty of this place will remain in your heart for a long time.
If I have to write a post on all the places to visit in Darjeeling, I am sure it would be a bigger article as there are more than 25-30 places to visit for tourist. I have tried to make the list of most chosen and the 9 Best Places To Visit in Darjeeling. I hope you liked it. Don't forget to share this list with your friends or relatives if they are planning to visit this beautiful place.  Also feel free to comment below, if you think of any other place that should also be included in this list.