Nainital is undoubtedly one of the best cities in the country, due to its location among the hills, the climate, the beauty and the wonderful landscape that it offers the tourists willing to have the time of their lives. In this post we will be focusing on 10 Best Places to Visit in Nainital.
When it comes to India, Nainital is one of the most popular tourist destinations, especially around summer. While it's scorching hot in other parts of the country, the average temperature here is around 20 degrees Celsius. So, if you want to beat the heat, Nainital is where you need to go. Also this is one of the nearest hill station from New Delhi which is well connected by roads and Railways.
A lot of time people come to this amazing place; they visit a couple of locations that they got to know about through hearsay, and leave, completely missing out on the most significant ones. Come on people, this place has much more to offer than a cooler climate.
To ensure that no such thing happens to you, we have piled up a list of must see places when you visit Nainital. Here it is, the 10 best places to visit in Nainital.
The 10 best places to visit in Nainital
#1. Eco Cave Garden
Eco Cave Garden is basically a tree garden that spreads across a huge area. The entire place is filled with trees of different species, so it feels like walking in the forest, with the exception of pathways and railings built artificially. This tourist spot is the nearest one from the center of city ( Mall road) and you can even reach here on foot. That's the reason it is the first in our list of the 10 best places to visit in Nainital. Eco cave garden offer multiples underground caves, named Tiger Caves, Panther Caves, Ape caves and so on, in the garden all interconnected with each other. There are, however, signboards with entry and exit points allocated in places to help the visitors get in and out of the caves easily.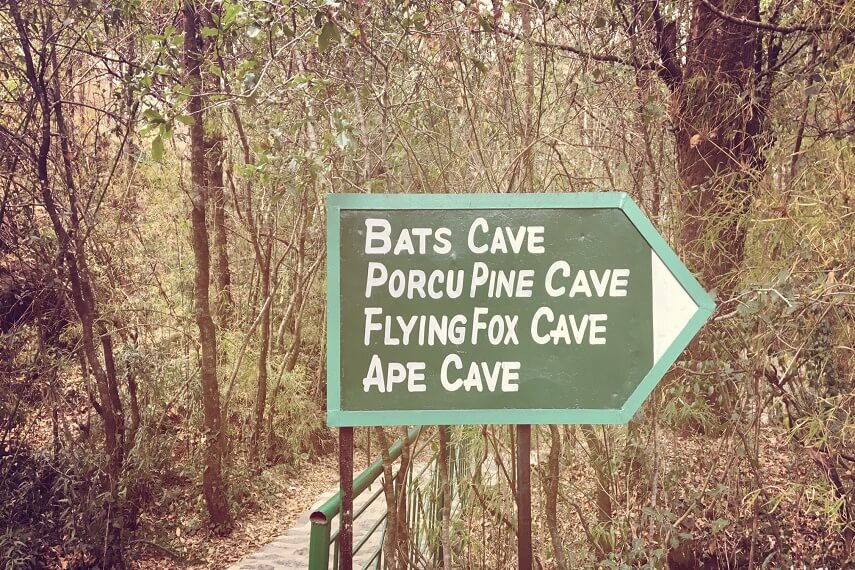 Apart from the caves and the trees, there are also different amusement activities like games and rides, for the kids to be a part of and have fun. One such ride is the Bull Ride on a mechanical bull.
Eco Garden is located in Sukhatal, Mallital which is at a distance of around 1km from Mall Road. It opens 7 days a week from 9:30 am to 5:30 pm. There is an entry fee, which is INR 20 only for adults, and INR 10 only for the kids.
#2. Nainital Lake
Nainital Lake is the most significant tourist attraction and landmark of Nainital. The lake is the reason how the city got its name in the first place. This mango shaped lake, or kidney shape as preferred by many, has an area of 49 hectares, and is rich in flora and fauna. It is surrounded by the city of Nainital, and further, a range of seven hills.
The lake side area offers picturesque views of the surrounding hills. The views get especially better during the night because of all the glowing lights. Apart from taking walks around the lake, one can also take boat rides by paying minimal fees. Here is a quick short video of Nainital lake featuring the beautiful picturesque view.
To hire paddle or rowing boats for an hour, it costs INR 120 only, and to take the full ride of the lake in a gondola boat, it costs INR 150 only. Boating services are available from 6:00 am to 6:00 pm, 7 days in a week.
#3. High Altitude Zoo
Pt. G.B. Pant High Altitude Zoo, or simply High Altitude Zoo, is situated at an altitude of 2100 m, on the top of Sher Ka Danda Hill. Established in 1984, the zoo is home to many rare and endangered animals and birds like Himalayan Bear, Royal Bengal Tiger, Red Jungle Fowl, Kalij Pheasant and so on.
Strolling the zoo is a great experience with all the greenery and animals, and numerous scenic sites. One interesting thing about the zoo is that families and various organizations can adopt the endangered animals, and help the zoo in their rearing and preservation.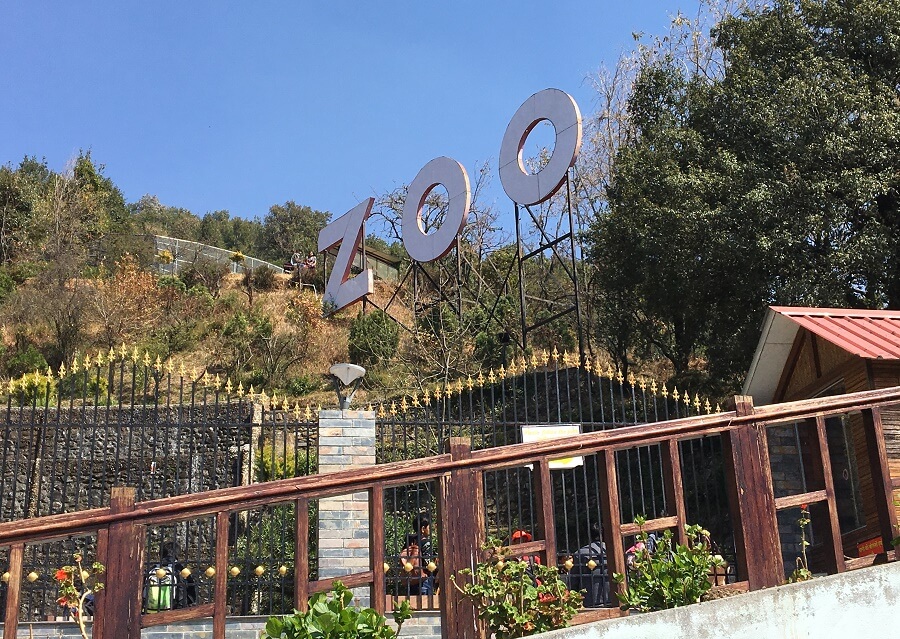 The zoo stays open six days a week, from Tuesday to Sunday, 9:30 am to 4:30 pm. The entry fee for the Zoo is INR 50 only for adults and INR 20 only for children below 12.
– Free entry for senior citizens and disabled people.
– Extra charges for camera and photography.
It is 2 km uphill from Tallital Bus Stand. However, for the ease of the visitors, the zoo also offers shuttle service from Tallital and Mallital. You can either take a shuttle bus from the mall road or even go on foot.
#4. Snow View Point
As the name suggests, Snow View Point is a high altitude point, situated at 2270 m, from where various peaks like Nanda Kot (6861 m), Trishul (7120 m), Nanda Devi (7816 m) and so on can be viewed.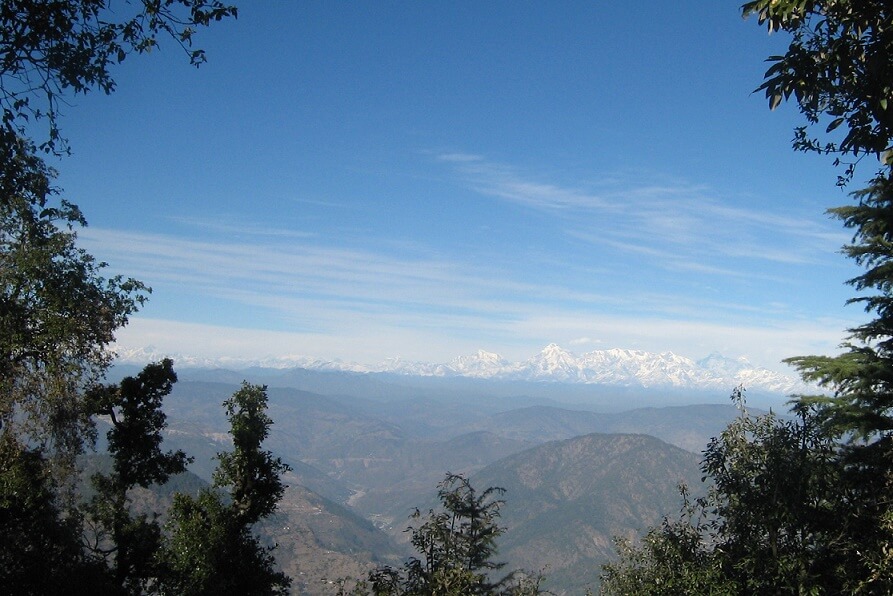 It is one of the most visited tourist attractions, jam-packed throughout the year. Sets of binoculars are provided so that the visitors can have a clear and up-close view of the surrounding hills and peaks. For the best view, one needs to traveler there during clear weather.
Apart from viewing the sceneries, travelers can also visit Gadhan Kunkyop Ling Gompa, which is a Tibetan Monastery near Snow View Point.
It is located 3 km away from Nainital, and can reached easily by road or in a ropeway from Mallital. You can also do a variety of adventure activities near snow view point. some of them are Free Fall (Himalayan Eye ), Flying Fox, Go-Karting, Bumper Car, Toy Plane, Climbing Wall, Bull Ride, Trampoline Bungy Jumping etc. For your information, we have also added a list of those activities with their cost in the below picture.
#5. Khurpatal Lake
Khurpatal is a beautiful lake settled among the most panoramic of landscapes. It is surrounded on one side by the forest of pine and cedar, and the other three side by terraced hills. What contribute further to this scenery, are these small cottages built on those terraced hills.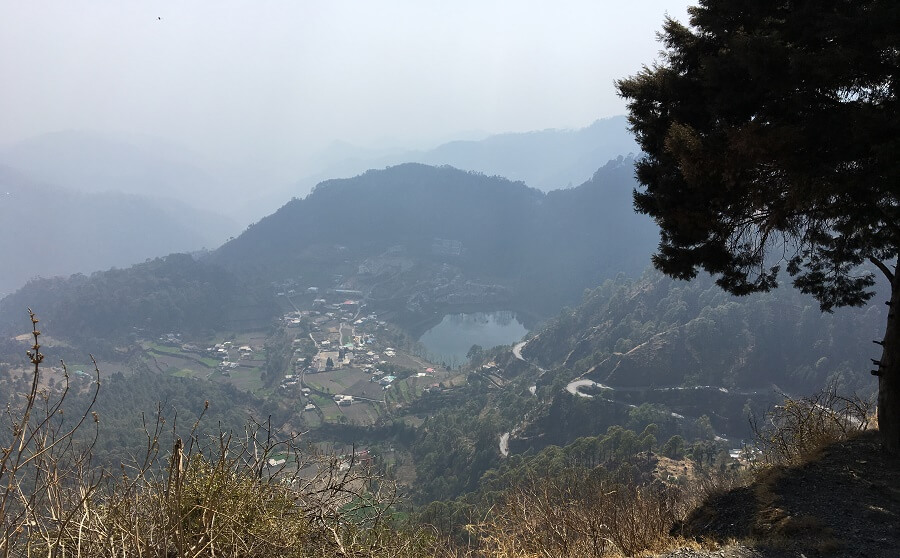 Apart from spending your time viewing the lake, you can get involved in fishing and angling. Short hiking trips can also to taken in the surrounding hills and forests.
One can either choose to take a day trip to this lake, or stay in the beautiful resorts and cottages built close to the lake.
It is mere 12 km southwest of Nainital, and can be visited by hiring a vehicle.
#6. Naina Peak
Another must see place in our list of 10 best places to visit in Nainital. Naina Peak is the highest one among the hills that surround the city of Nainital. It is 2615 m tall and is covered completely in lush green forests of rhododendron, deodar and cypress. Visitors usually tend to trek to the top of the hill and back. Horses and Ponies can also be hired to make the journey. The peak is at a distance of 6 km from Mallital.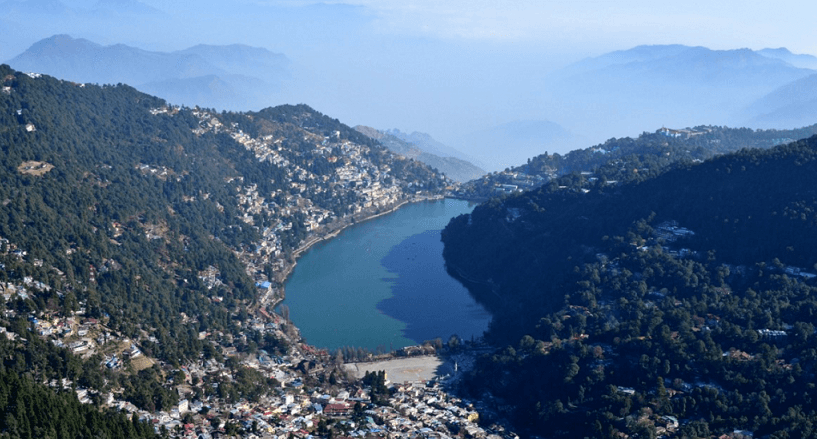 The hill area is the best when it comes to offering scenic views of the city, and as well as other hills and mountains. During the hike, you also come across various species of birds and animals local to the Nainital region. It's another must visit place in our list of  10 Best Places to Visit in Nainital
The activity is best suited as a day trip. Being an easy trek, even kids and elderly can go for it. Sort of a semi adventurous, activity based, friends and family picnic or potluck!
The cost of round trip in a horse or pony would be around INR 700 per horse or pony (bargain is a possibility).
#7. Tiffin Top
Another location somewhat similar to Naina Peak is Tiffin Top, also known as Dorothy's Seat. The name itself smells of a picnic spot. Situated on top of Aryapatta Hills, on an altitude of 2290 m, Tiffin Top offers astounding views of the City of Nainital, the hills surrounding the hills and the mountains beyond them.
Tiffin Top was established by Col. J P Kellet in the memory of his wife Dorothy, therefore the name Dorothy's seat. Like Naina Peak, this is yet another attraction that invited tourists to walk among the picturesque hills, the flora and fauna.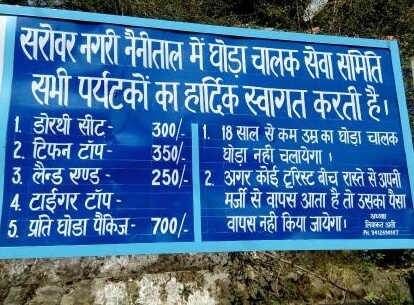 At a distance of mere 4 km from Mallital. It is ideally suited for people of all ages as a trekking destination. If desired, one can hire a horse or a pony for ease of transportation. The cost is similar to the one mentioned in Naina Peak, i.e. INR 700 only per horse or pony for a round trip (bargain is a possibility as usual).
#8. Land's End
Land End's is situated quite parallel to Tiffin Top at an altitude of 2118 m. The spot offers great views of Kurpatal Lake, the surrounding hills, and the mountains beyond them. Quite similar to Tiffin Top, the distance from Mallital to Land's End is around 4 km.
The reason why this spot is called Land's End is because, while standing on the edge, one feels as if there's no land beyond it. The viewpoint is also built at a dead end, which means that there's no going beyond this spot. One has to return following the same path that took them there in the first place.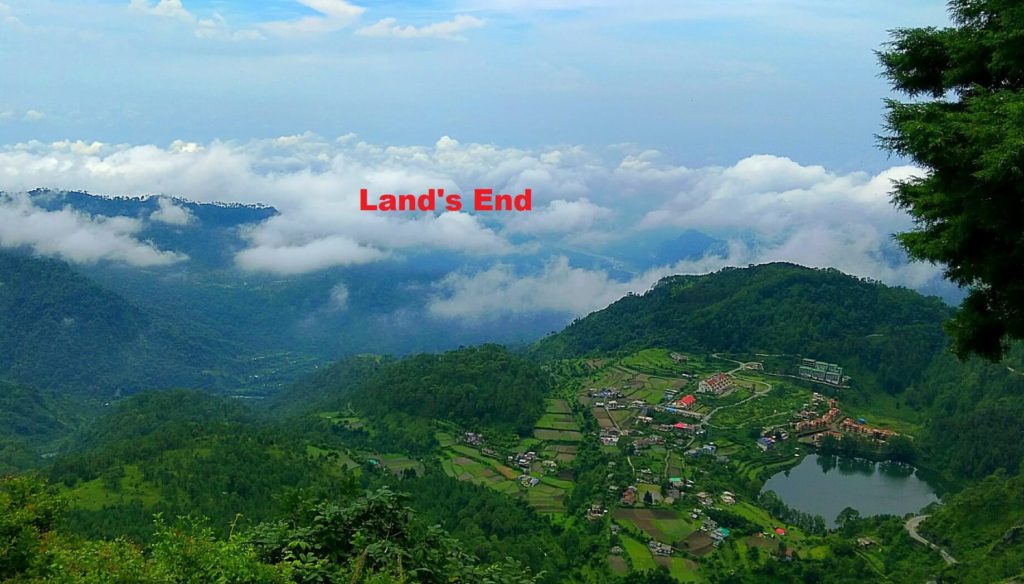 It is also a popular hiking destination. If desired, you can hire ponies or horses for rides either from the city itself, or from a place known as Bara Patthar, which is only 1 km away from Land's End. You'll, however, have to drive up to Bara Patthar.
The charge of pony ride is somewhat similar to that mentioned in Naina Peak and Tiffin Top sections. And yes, bargain is a possibility.
#9. Kilbury Bird Watching Spot
When it comes to bird watching, Kilbury is one of the most diverse places in India. Altogether, 580 species of birds have been spotted in this area. Few of the species that you might come across during your visit here are Forktails, Collared Grosbeaks, Brown Wood Owls and so on. This place is definitely a heaven for bird enthusiasts and photographers. It is one most peaceful place in our list of the 10 best places to visit in Nainital.
The spot is located at an altitude of 2528 m, and apart from birds, you'll be able to enjoy the panoramic views of the hills, mountains, the forests and so on. It's a scenic trail from the city itself to the viewpoint.
Kilbury is 12 km away from Nainital. Various vehicles on hire are available to assist the visitors to reach this place. Riding on the Nainital High Court Road and then joining the Kilbury Road will lead you straight to the spot.
#10. Jeolikote
Jeolikote is a small place that is situated mere 18 km southeast of Nainital. It is often addressed as the gateway to Naini Lake, due to its close proximity to the lake and Nainital in general. In comparison to other places mentioned in the list, Jeolikot is a hardly touched, yet promising, tourist destination.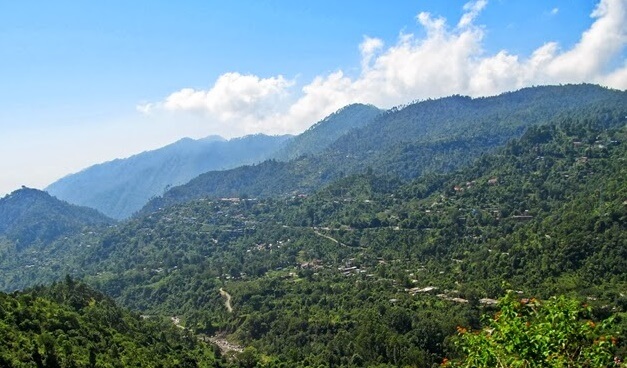 It acts as a getaway for the locals of Nainital, and as a pit stop for the ones making their way to the city. It offers picturesque views of the surrounding hills and forests.
If you go a little deep into Jeolikote, you'll find certain attractions like the orchards of apples and plums, bee keeping farms and so on, where visitors are always welcome. The place is also known for the large number of species of butterflies that is found in this region.
You can reach this place by riding along the Nainital Baraeilli Road.
So pack your bags and get ready for a well-deserved summer holiday. You've earned it! And while you're here, make sure to visit these places to make this journey unforgettable for you and your family. Remember there are more than 25-30 places to see in Nainital but we have only covered the must visit, the 10 best places to visit in Nainital.
Also, let us know what you think about this blog in the comments below. If it helped you; if it didn't! We'd love to hear from you.