Jammu and Kashmir is one of the most popular tourist destinations in India. It is best known for its natural beauty, mainly consisting of scenic hills, mountains, forests, lakes and rivers. And nestled among these landscapes are these amazing towns and villages that offer heavenly experiences to the visiting tourists. In this post we will be focusing on 10 Lesser Known Places to Visit in Jammu and Kashmir, which is one the most beautiful places in the world.
The state is well known all over the world for its attractions. From around the globe, thousands of tourists visit the region every year. But what usually happens is that they choose to spend their time mainly in the capitals Srinagar, Jammu, and a very few other places. Apart from these mainstream locations, there are tons of other holiday destinations that are sure to captivate the hearts and minds of the backpackers. So here it is, the blog on 10 lesser known places in the state of Jammu and Kashmir.
10 Lesser Known Places to Visit in Jammu and Kashmir
#1. Bhaderwah
Located among high hills, and situated at the close periphery of green forests, Bhaderwah is a small town in the eastern Jammu region of Jammu and Kashmir. It is nicknamed mini Kashmir because of the scenic terrain it offers that's sure to soothe the sorest of eyes. It is the first on our list of 10 Lesser Known Places to Visit in Jammu and Kashmir.
There are many attractions in and around Bhaderwah. Travellers mainly allocate Bhaderwah as their central stay spot, and from here, they travel around to different places around the town like Eco Health Resort in Jai Valley, Khellani Resort, Ameera Nagar Tourist Reception Centre, Lake View Resort and so on. Most of these places offer great view of peaks like Kailash, Ashapati Glacier, and scenic landscapes like meadows, terraced farms and so on.
A very interesting place to visit in Bhaderwah is Bhaderwah Fort. It was built in the year 1733. The then kings of Chamba and Bhaderwah are said to have lived here. It was transformed into a prison in the year 1919. There are also few trout farms and culture centers in Bhaderwah, the best place to spend time for any fish fanatic.
Bhaderwah is 198 km away from Jammu. The following route can be taken to reach Bhaderwah from Jammu: Jammu – Udhampur – Batote – Pul Doda – Bhaderwah.
#2. Kishtwar
Situated in the lap of the hills, and surrounded by greenery of Deodar, Pine and Fir, Kishtwar is a town in Jammu Province of Jammu and Kashmir. Like other places in our list, the popularity of Kishtwar is growing rapidly among tourists year after year.
The town offers amazing views of mountains like Mt. Nun Kun (7077 m), Mt. Brammah (6416 m) and so on. Considered as one of the holiest shrines in Jammu, the altar Sufi Saint Shah Muhammad Farid-Ud-Din Sahib Baghdadi is also situated here. A very significant scenic point is Warwan Valley, with its hills and fields filled with greenery; stepping on this piece of land feels like reaching heaven.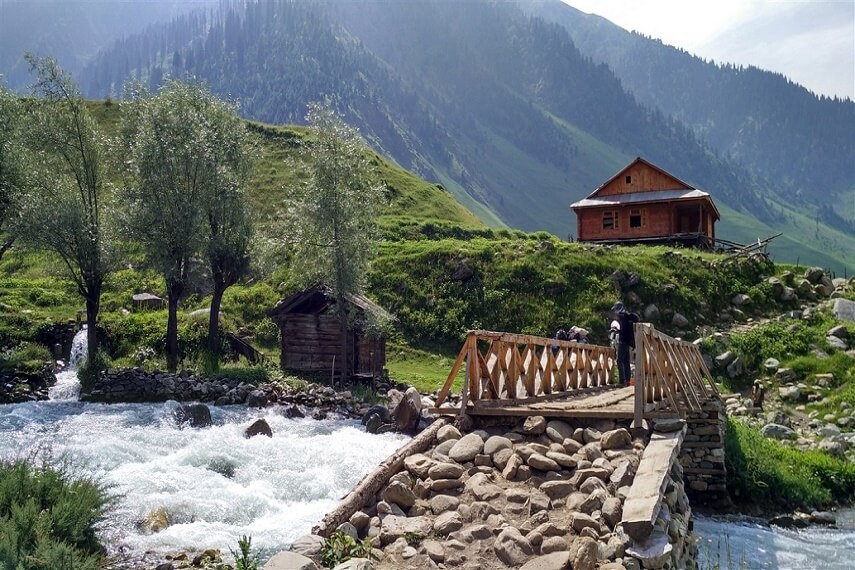 Day Trips could be arranged to various attractions in the region from Kishtwar. For instance, Kishtwar National Park, which is only 40 km away, and Margan Top, a mountain pass at an altitude of 5100 m, which is only 150 km away can be reached from Kishtwar. This is one of the most beautiful places in our list of 10 Lesser Known Places to Visit in Jammu and Kashmir.
Kishtwar is 214 km away from Jammu and 217 km from Srinagar. From Srinagar, you'll have to cross Sinthan Top and continue along the same route to reach Kishtwar. From Jammu, follow the following route to reach Kishtwar: Jammu – Udhmpur – Doda – Kishtwar.
#3. Sinthan Top
Sinthan Top is actually the pass that divides Kashmir and Jammu regions. Its exact location is the border line of Breng Valley and Kistwar. Located at an altitude of 3748 m, the spot offers a 360 degree, with Kashmir Valley on the northern side and Jammu on the southern side. Its popularity as a tourist destination has been growing tremendously because of the natural beauty that it offers, and the possibilities of different kind of activities that can be done at this place. Few of them include trekking, mountaineering and skiing.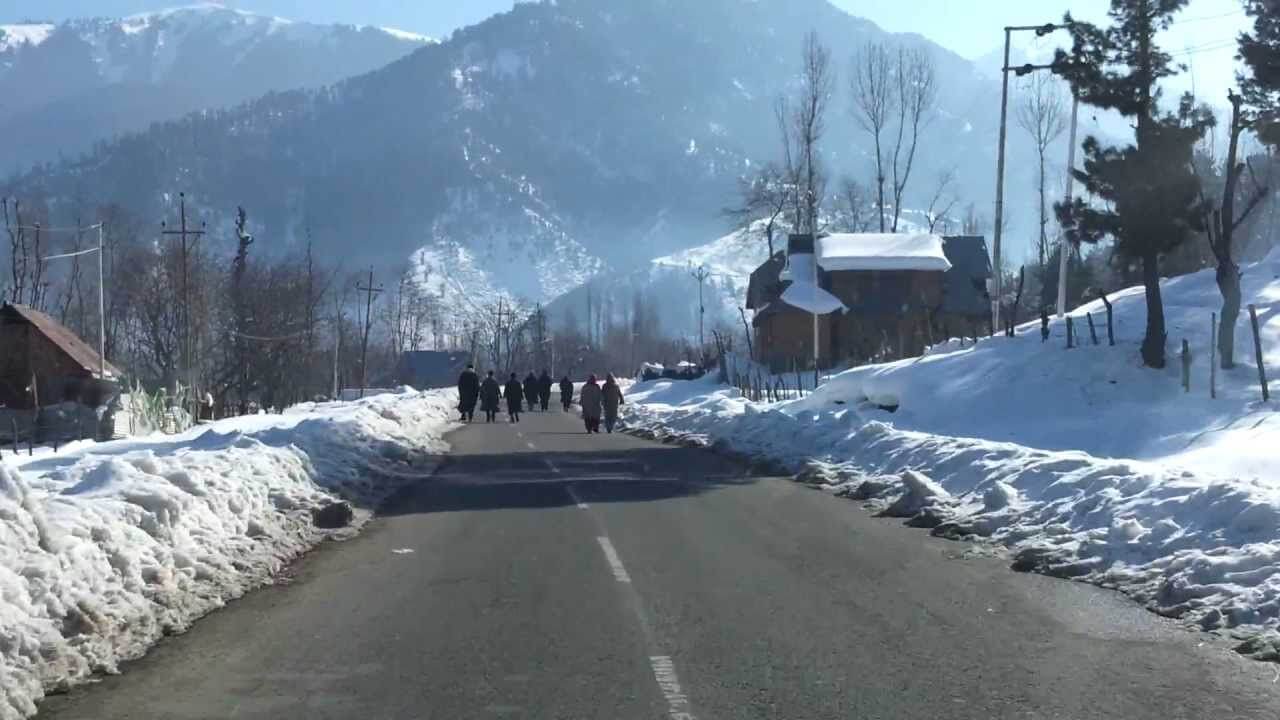 One thing that you need to remember before visiting this place is that you'll not find any place to stay here as this is not a village or a town. However, tents can be set here for overnight stay, like many locals from the surrounding villages do.
Sinthan Top is at a distance of only 137 km Srinagar. You'll have to ride along the following route to reach from Srinagar to Sinthan Top: Srinagar – Achabal – Kokernag – Daksum – Sinthan Top.
#4. Kokernag
When you make your way from Sinthan Top to Srinagar, one of the places you'll come across on the way is Kokernag. It is a small town that is mainly known for the 300 river canals that flows through it, the botanical gardens and the rainbow trout farms. The two main gardens in the town include the Kokernag Botanical Garden and Kokernag Rose Garden. Both of them are known for the varieties of flora that they house.
Only 48 km away from Sinthan Pass, Kokernag is an ideal lodging spot for visitors willing to take day trips to the pass and various other surrounding villages. On the way to the pass, there is a beautiful scenic spot that goes by the name Daksum. Situated among the forest, the place is also a part of a trekking route that leads to Kishtwar. During their stay in Kokernag, the tourists can also go for trout fishing, which is a very popular activity among them these days.
Kokernag is only 90 km away from the state capital Srinagar, and only 10 km from Anantnag district. Follow the route Srinagar – Achabal – Anantnag – Kokernag to reach the place.
#5. Chatpal
Chatpal is yet another small village that is full of natural beauty, very calm and peaceful. Surrounded by hills and forests, you'll find yourself among the meadows and bed of white and yellow flowers once you've reached here.
There are beautiful gardens of apples and walnuts around this village. You can go for hikes in the nearby hills, and enjoy the view of rivers and waterfalls flowing through them. In the summers, the entire area appears green with flowers growing all around, where as in winters, everything is covered in snow. It's truly an amazing and enchanting village and that's why it has found its way to our list of 10 Lesser Known Places to Visit in Jammu and Kashmir.
Chatpal is only 90 kms away from Srinagar. You can take the following route to reach Chatpal: Srinagar – Anantnag – Chatpal
#6. Yusmarg
Yusmarg is a small hill station situated on the western side of Jammu and Kashmir. Nestled in greenery, it offers great views of Tatakuti Peak (4725 m), Sunset Peak (4745 m) and other peaks of Pir Panjal Range.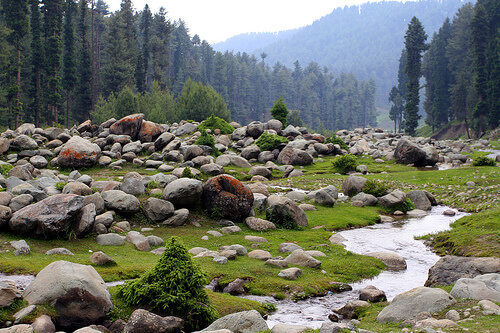 The village is known for its trekking ventures. There are many lakes and scenic spots nearby the town so you could go on trekking trips to any one of these places. One such location is a frozen lake in Sang-e-Safed Valley, it is said to stay frozen throughout the year, even during summer season.
One can get indulged in activities such as fishing, camping, horse riding and so on. Green with meadows and forests during summer, during winter, everything is covered in snow, inviting the tourists to try skiing on its slopes.
Yusmarg is situated only 45 km south west of Srinagar. You can follow the following route to reach this amazing place: Srinagar – Chadoora – Charar-i-Sharif – Yusmarg.
#7. Watlab
Watlab is a beautiful village in Kashmir Valley, which, again, is known for its natural beauty and scenic spots. It's one of the two northernmost place that we're covering on our list. One of the most significant feature, and a tourist attraction, of this place is a hilltop shrine of Baba Shukurddin, a mystic figure from the past.
Throughout the village there are meadows that look pretty scenic. The landscape is further complemented by the inclusion of the trees and the green hills. The place also has many apple orchards further adding to the beauty of the place. A huge lake that goes by the name of Wullar Lake is another interesting tourist attraction here.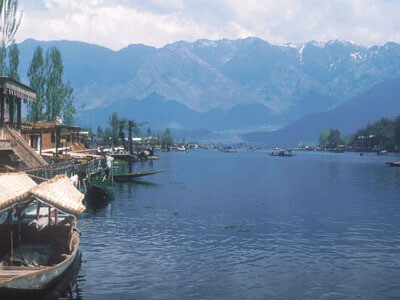 There are quite a few attractions located within a close proximity of the village. Few of them include Gangabal Lake, Alphather Lake, Apharwat Peak and so on.
Watlab is situated only 62 km north of Srinagar. Ride the Srinagar Baramulla Road, followed by Sangrama Sopore Road, and from Sopore, take the Sopore Bandipora road. Sticking to the following route (Srinagar – Pattan – Sopore – Watlab) will ensure that you reach your destination.
#8. Reshwari
Reshwari is a small village situated in the district of Kupwara, in the northwest part of Jammu and Kashmir. This is the northernmost place in our list, and also the closest one to the Pakistan border.
The place is filled with greenery of the hills, the surrounding forests and the fields at the first glance. It is one of those places that is totally untouched by the bustle of tourism. The village has orchards of apples and walnuts that further add to the scenic beauty of the place. Like many other villages in the region, this one also remains lush green in the summer, and is covered in snow in winter.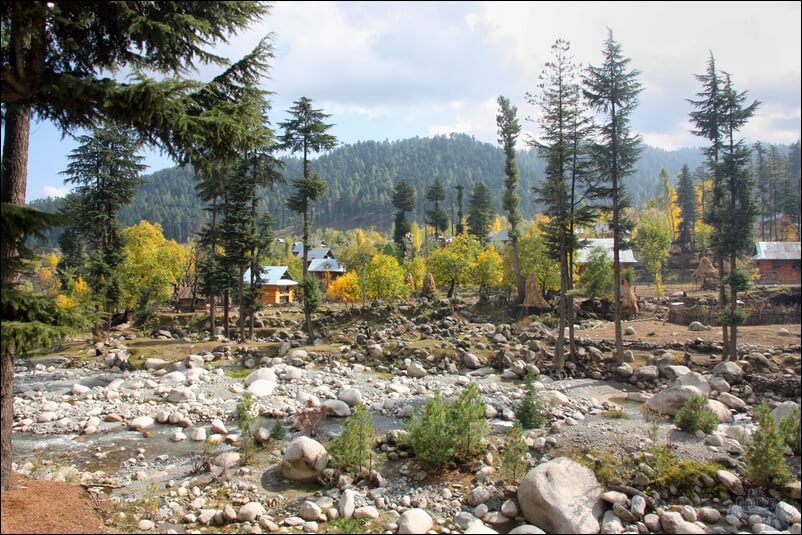 Reshwari is 78 km away from Srinagar. Till Sopore, the route is the same i.e. starting from Srinagar Bramulla Road, and then joining Sangrama Sopore Road. From Sopore, ride along the Sopore Kupwara Road to reach Reshwari. Do follow the mentioned route: Srinagar – Pattan – Sopore – Kulangam – Reshwari.
#9. Hanle
Hanle is a village in the south east part of Jammu and Kashmir in Ladakh. In comparison to the other places in our list, this village has a totally different landscape, very cold and dry. Instead of greenery, here you'll find mostly rocks and sands, with an exception of few grassy patches, lakes and rivers. Hanle was a part of the ancient trade route between Ladakh and Tibet.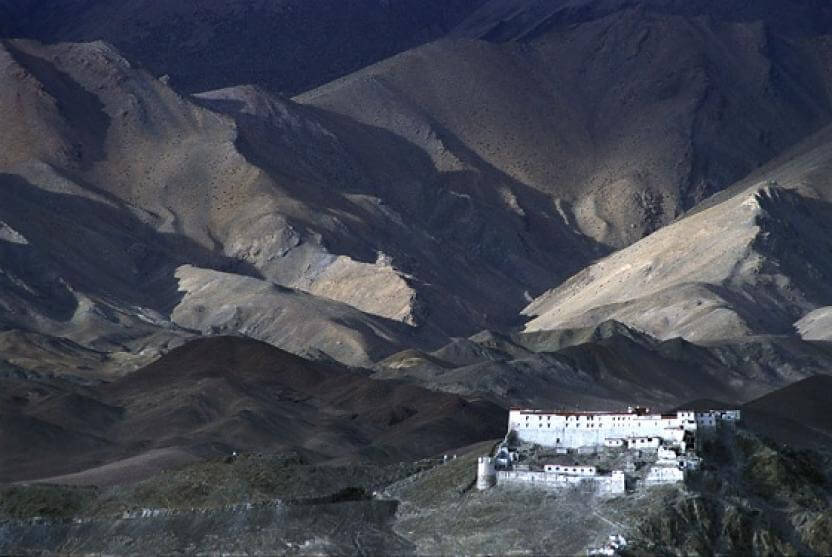 The most significant attraction of Hanle is the Hanle Monastery. The gompa was built in 17th century under the leadership of the then king Sengge Namgyal.
The village is also the home to Indian Astronomical Observatory. Situated at a height of 4500 m, it is the third highest telescope in the world.
Hanle is 255 km southwest of Leh. You can reach the village by riding along the following route: Leh – Karu – Upshi – Chumathang – Mahe – Nyoma – Loma – Hanle.
#10. Hemis
Hemis is another village in Ladakh, located southeast of Leh, in the state of Jammu and Kashmir. When it comes to landscapes, it is quite similar to Hanle. However, it appears slightly more developed and populated than Hanle, probably due to the close proximity with Leh. This is not just a place in the list of 10 lesser known places to visit in Jammu and Kashmirbut a must visit place if you even go to Kashmir or Ladakh. It will make you feel enchanted by its flora and fauna.
Hemis is home to Hemis Monastry that dates back to 11th century. It was renovated and reestablished later in 1672 by the then king Sennge Namgyal, also responsible for the establishment of Hanle Monastery.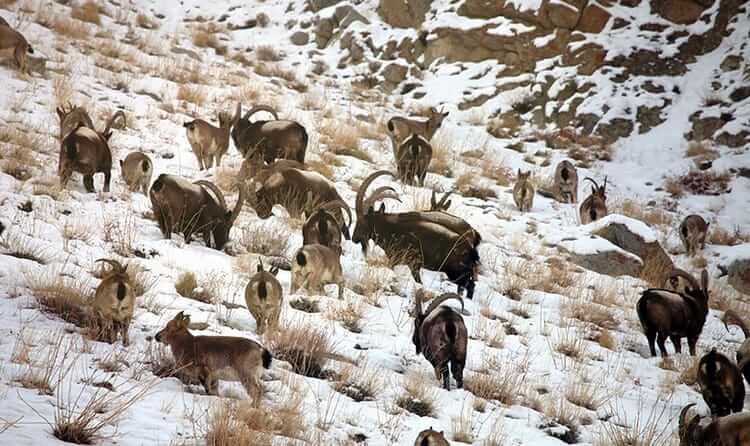 Another popular attraction in Hemis is Hemis National Park. It is the largest national park of India and the only one to be situated across the Himalayas. The park is also known for its high altitude passes and mountains, flora and fauna. It is globally renowned as the home of Snow Leopard, a rare endangered species.
Hemis is very near to Leh, only 40 km away. It is easily possible for visitors to take day trips to the village and back.
Though, there are many lesser known or offbeat places to visit and enjoy in this beautiful land of Kashmir but we have focused on only 10 lesser known places to visit in Jammu and Kashmir. For your ease, we've arranged the places in a directional order. Towards the western Jammu and Kashmir, when you move from the south to the north, the first one to appear is Bhaderwah and the last one is Reshwari. Hanle and Henis happen to be in the eastern part, the former one in the south and the latter one in the north.
Despite being in an order, it's not necessary that you'll reach these places by riding in the same highway. Do follow the directions mentioned above, with respect to individual places, to ensure that you're on the right track.
These places are sure to entice and amaze you in a way that you'd never want to return home. And even if you would, you're definitely returning here the next time you feel like spending your time in the hills.
Do let us know in the comments what your experience was like, we'd love to hear from you. Happy Summer! And Have a Great Journey Ahead!