Ladakh is one of the three main regions in Jammu and Kashmir. Located on the western side of the state, it is known for its dry, cold and mountainous terrain. It is the only region in our list that has the Great Himalayan Range passing through its southern section. Towards the north of Ladakh, however, there's this other mountain range known as Kunlun Mountain Range, which is 3000 km long and spans across the Tibetan plateau. The entire region is divided into two districts Leh and Kargil. Both of which are known for the natural beauty, the religious and historical significance, and the diverse groups of people who have been living here for centuries. Ladakh is also known for being one of the top 10 best treks in India. In this post we will discuss in details about Ladakh, its famous places, its people and trekking routes with interesting information.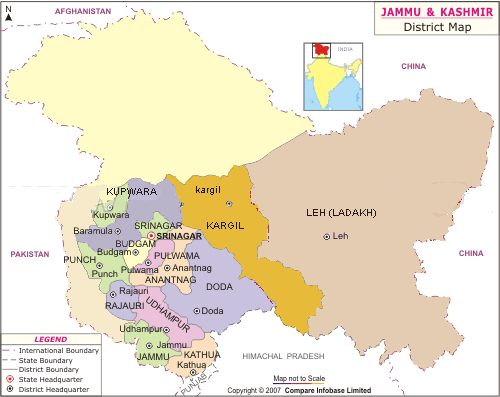 Archaeological evidences reveal that a millennium ago, the region was a part of the larger Tibet. Years passed and different rulers established their rule over this piece of land, setting up the boundaries. These included the Islamic Conquests, the Sikh Empire and so on. However, the most impactful set of monarchs were from the Namgyal Dynasty, because it was during their rule that many of the gompas, monasteries and palaces were built. These monuments stand strong even today, and are recognized as cultural heritages. One can notice the Buddhist influences in these monuments. No doubt that the majority of people living in the region follow Buddhism, and share quite a few cultural and religious attributes with the neighboring land of Tibet.
Ladakh is known for its high altitude valleys, rivers, lakes, glaciers, mountains and passes. Few of the mountain ranges include the Ladakh Range, Pangong Range and Apsarasas Group; the highest peaks are Apsarasas Kangri (7245 m), Mamostong Kangri (7516 m) and Teram Kangri I (7462 m); the passes include Karakoram Pass (5540 m) and Zo-ji Pass (5500 m); the lakes consist of Pangong Lake (4350 m) and Chagar Lake (4193 m); the rivers are Indus River and Zanskar River; the glaciers include Baltoro Glacier (8611 m), Siachin Glacier (5753 m) and Hispar Glacier (5128 m); and the valleys are Salt Valley (5000 m) and Nubra Valley (3048 m). These gifts of nature work together to create a landscape that's heavenly, and views that are simply amazing.
Despite the scarce vegetation of Ladakh, many species of animals are found here, which are exclusive to this region. Few of them are Asiatic Ibex, Tibetan Antelope, Eurasian Lynx and Tibetan Sand Fox. There is a huge number of birds that live in this region as well. These include Himalayan Griffon Vulture, Fire Fronted Serin, Robin Accentor and Red Billed Chough. The only national park in this region is Hemis High Altitude National Park, and apart from that there's Changthang Wildlife Sanctuary. Together, they help preserve the fauna population in the area. Apart from these areas, one can also visit Nubra valley and Suru Valley to spot these amazing creatures.
Ladakh has so many places to visit, and a lot of things to do. Each of these places have their own unique features and attractions that make them significant and fun tourist destinations. To get to know about these places, the best thing to do is to visit them. There's no feeling like experiencing them for real. Few of the most significant locations in Ladakh are as follows:
About Ladakh
Dras
Situated at an altitude of 3350 m, Dras is said to be the coldest place in India, with an average high temperature of 9 degrees Celsius, and an average low temperature of minus 5 degrees Celsius. This small town is also known as the Gateway to Ladakh, as it on the border of Ladakh and Kashmir, in Kargil District. There are a lot of fun things to do in and around Dras.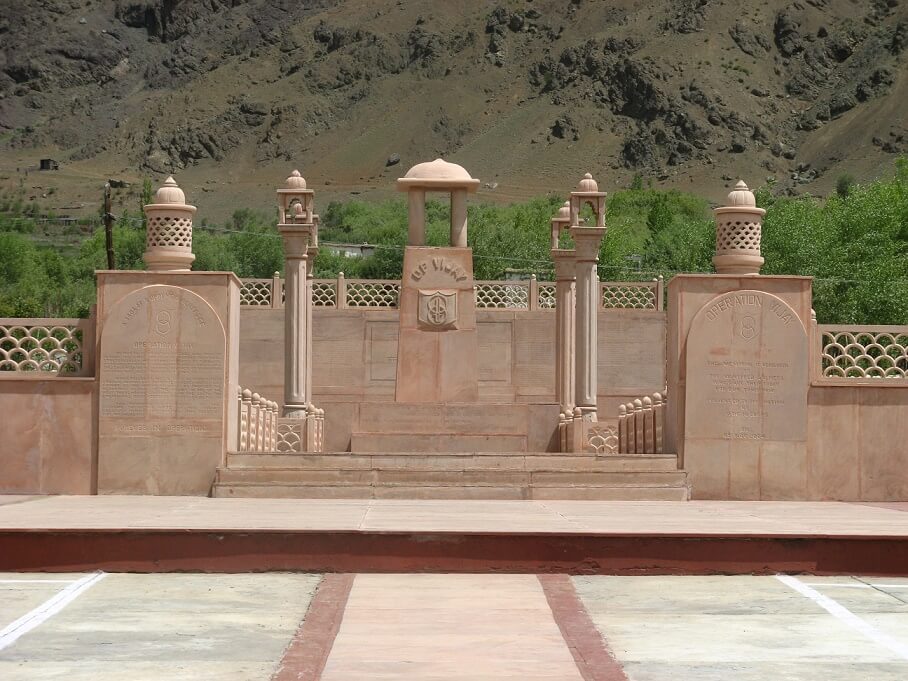 At close proximities are these villages of Pandrass, Matayen, Dongchik and Laser La. Each of them are known for their beautiful landscapes and the loving people. By taking day trips to these places, you can have the most amazing views. Similarly, there are valleys like Gamchan, which is known for its glaciers, and Mushku, which is known for its beautiful wild flowers.
You can also go for a trekking activity in the Dras to Gurez route. It covers places like Dras, Ladakh, Durez, Mushku, Botakul, Bandipora and so on, offering you the taste of Ladakh altogether.
Kargil
Kargil is the second largest city in Ladakh, after Leh. It is situated in Kargil District, at an altitude of 2676 m, on the banks of the Suru River. The area around Kargil, like other areas in the region, has a mountainous landscape, which offers amazing views to travelers who are not used to this terrain.
The best way to witness these spots is to go on day trips or trekking activities. A few of such interesting places around Kargil are Batalik, a small village that is known for the Drokpa population, Lamayuru, which is known for its monasteries, Fokar Foo, which is a popular stoppage point in the Nimdum Peak trek, the village of Hardas and so on.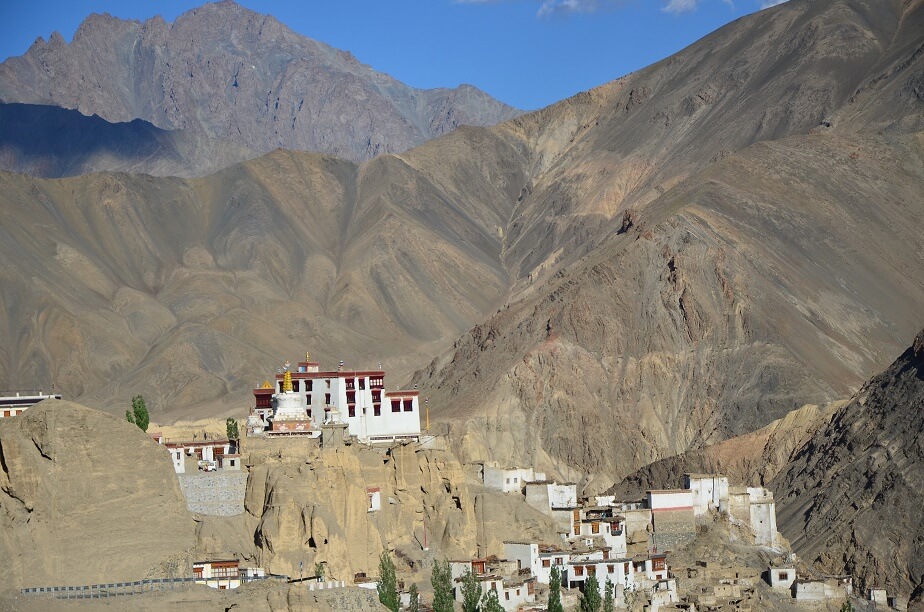 A very interesting place to visit is the Suru basin, with the Suru River flowing right through it. Especially during summer, when the Panzella Glacier melts, the river is filled with water, and it gives life to the area around the basin. A truly remarkable natural spectacle.
Kargil is also a very crucial stop for the mountaineers willing to ascend Nun Kun peaks, only 65 km southeast of Kargil. These are twin peaks Nun being 7135 m tall, and Kun being 7037 m tall.
Sankoo
Sankoo is yet another town in the district of Kargil. It is known for its gardens of wildflowers, and an artificial forest area, with plants like willows, wild roses and poplars planted in an organized manner. The town is a very popular weekend getaway or day-trip location for people living in close proximities, like Kargil, which is only 42 km away.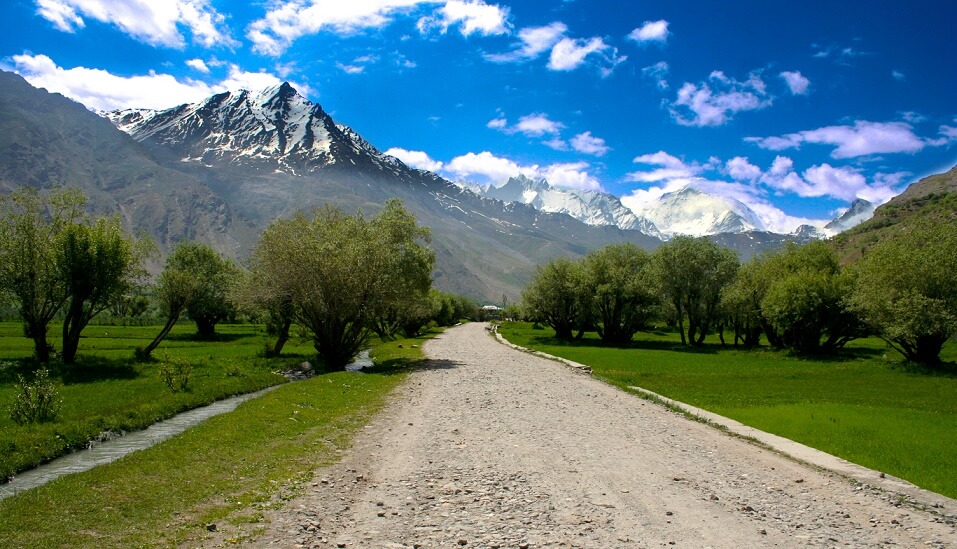 Very close to Sankoo is this village called Karpo Kharon, which is home to the shrine of the Islamic saint Sayed Mir Hashim. In the 16th century, he was invited here, from Kashmir, by the then king Thi Namgyal to spread the teachings of Islam.
The town is also in close proximity to Suru Valley, and the Suru River basin, which certainly adds to one of the attractions of this place.
Padum
Padum is a town located in Zanskar Valley, and it is also a part of the Kargil District. The town gives you easy access to all the places around the valley, which certainly is one of the most interesting places in Leh.
The most popular activity here is trekking on sought-after routes like the Chadar Trek, Darcha to Padum Trek, and Zanskar Valley Trek. One can also opt for rafting in the Zanskar River, which is yet another popular activity.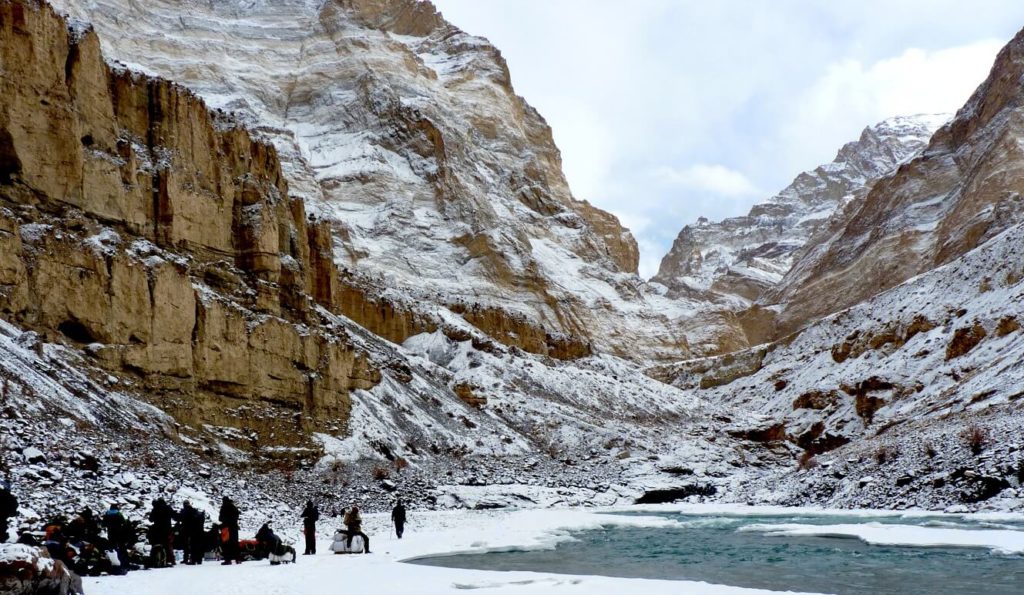 Going around the valley on day trips could be another interesting thing to do, especially with the possibility of spotting exquisite animals and birds like Bearded Vulture, Alpine Ibex, Snow Leopard and so on.
The town also offers amazing view of the Zanskar Mountain Range. The highest peak in the range is Kamet Peak (7756 m).
The name Padum comes from Padmasambhava, also known as Guru Rinpoche, who was a Buddhist preacher living in 18th century. He is considered to be responsible for introducing Buddhism in the places connected by the Himalayas.
Leh
Leh is the largest city in Ladakh. It is located in Leh District, at an altitude of 3524 m. The city is the most historically significant place in the region, as it was the capital of the kingdom of Ladakh, esp. when it was ruled by the Namgyal dynasty.
The city houses the most crucial historical, cultural, and religious monuments of the region. Two of them include Leh Palace, built in the 15th century by Sengge Namgyal, and Namgyal Tsemo Gompa, built in 1430 by Tashi Namgyal. At close proximities from Leh are Thiksay Monastery, located in Thiksay Village and built-in the 15th century by Palden Zangpo, and Spituk Gompa, built in the 11th century by Od-de, two other significant monuments in the region.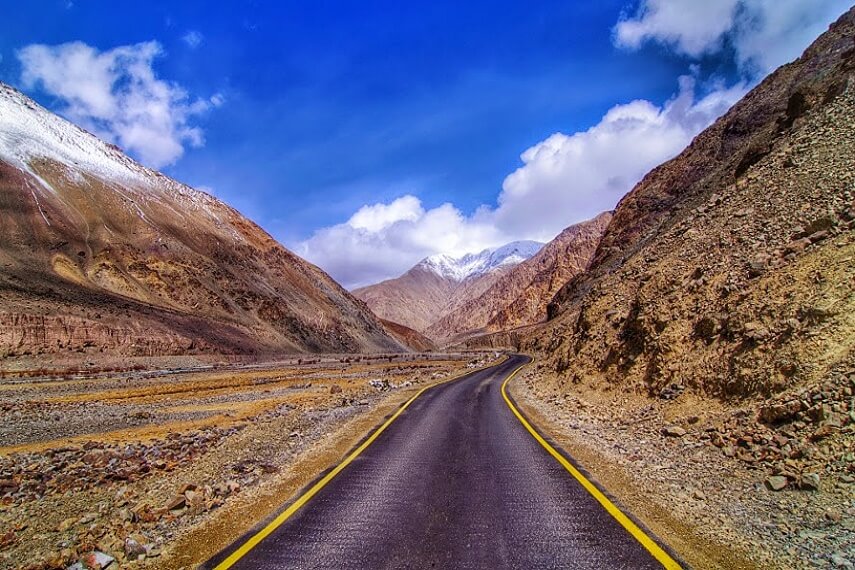 Apart from monuments, the city is in close proximity to Khardung Pass, situated at an altitude of 5359 m. It is only 39 km away from Leh. Similarly, yet another attraction is Magnetic Hill, which is only 27 km away from Leh. The area creates an illusion by making the travelers feel that they're going uphill, while they're going downhill.
One of the very interesting places to visit is Markha Valley, known for its natural beauty and wildlife. One can either go on a day trip, or for trekking in the very popular Markha Valley Trek Route, which covers places like Leh, Zinchen, Spitok and so on.
Khalsi
 Khalsi is a beautiful village in Leh District of Ladakh. From the stone carvings that are found quite nearby, it is evident that the region was ruled by Dard Dynasty in around 11th century. One of its kings, Lha Chen Naglug built Bragnag castle, which is said to be the first ever castle to be built in the country. It is situated on the bank of Indus River. Another castle, a significant attraction, is located in Khalsi village.
Throughout the village, and in the surrounding areas are numerous chortens and stupas, signifying the impact of Buddhism in the region. There are beautiful fields of apricots around the village, yet another local attraction. It goes without saying that life the other places in the region, it offers spectacular views of the stunning mountainous landscapes.
The village is only 95 km away from Leh, so a day trip in and out of the village is the best possible way to explore the beauty of this place.
Diskit
Diskit is yet another village is Leh District. It is situated in Nubra Valley, which is one of the most interesting tourist attractions in the region. The valley is known for its shrub forests, and many species of plants that are a part of this area. You can be involved in activities like the Nubra Valley Trekking, which covers places like Leh, Sabu, Polu Digar, Tangyar and Dhungle. Even a simple day trip around the valley is a great way to explore the numerous scenic landscapes in the area.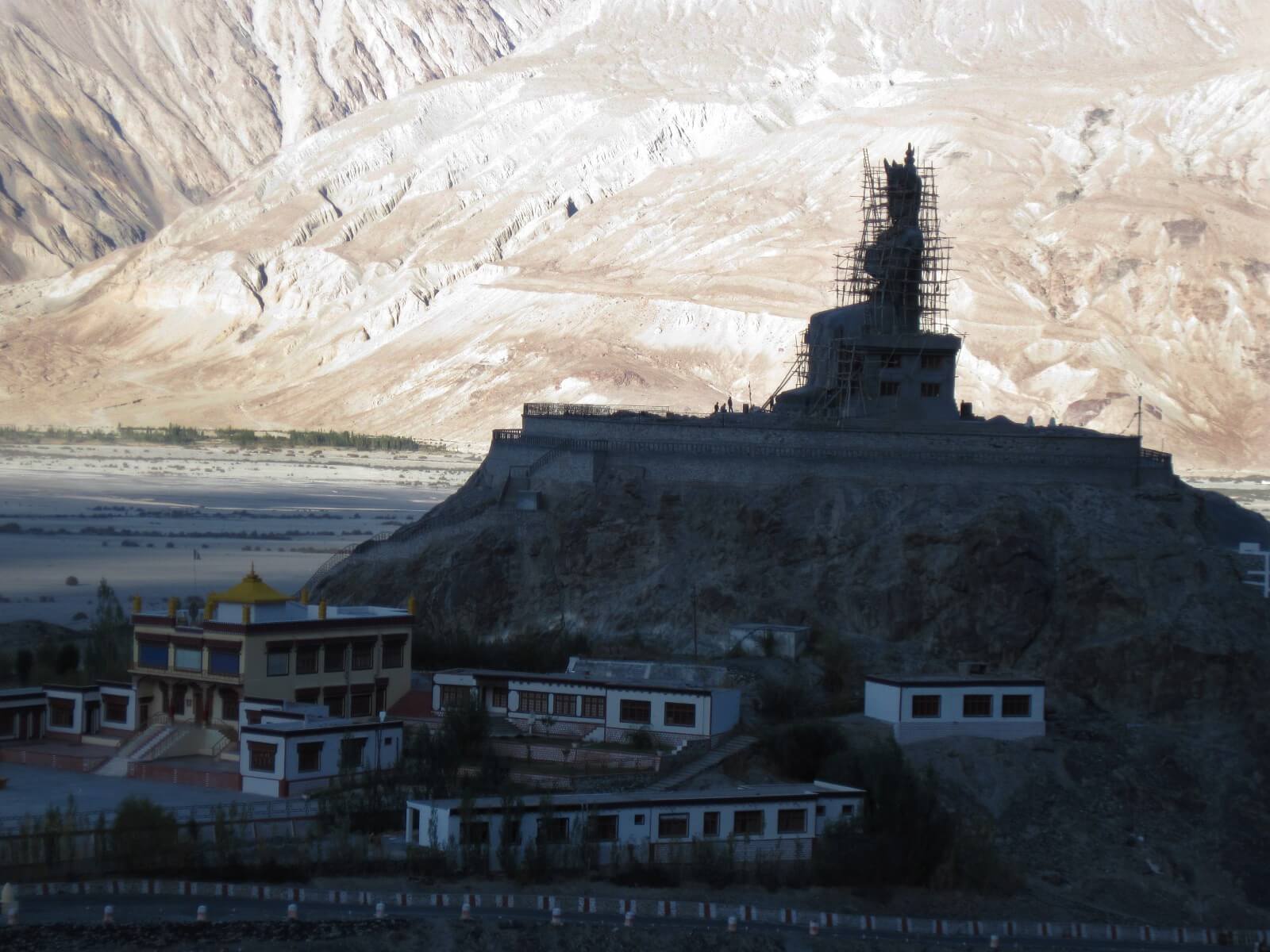 The village of Diskit is home to the very famous Diskit Monastery. It was built in 14th century by Changzem Tserab Zangpo. Once every year, in February, a festival called Dosmoche is held in the premises of the gompa. It is a very exciting time of the year for the locals. In close proximity to the monastery are the 32 m tall statue of Maitreya Buddha, and the Lachung Temple. Both are pretty significant in their own rights.
Quite near to Diskit is this another culturally significant village called Hundar, which is also known for its historical palace and monastery. Hundar is known for its sand dunes, and a very popular activity here is the Camel Safari on Bactrian Camels. A ride through one of the highest altitude deserts in the world, around 3650 m above sea level, is certainly something to look forward to.
Changthang Wildlife Sanctuary
Changthang Wildlife Sanctuary is situated on the eastern part of Ladakh. It is a part of the larger Changtang area that spreads across Ladakh and into Tibet. When it comes to flora and fauna, around 44 species of birds and 200 species of plants are recorded in this region. It is home to animals and birds like Pashmina Goat, Dark Necked Crane and Tibetan Wild Ass.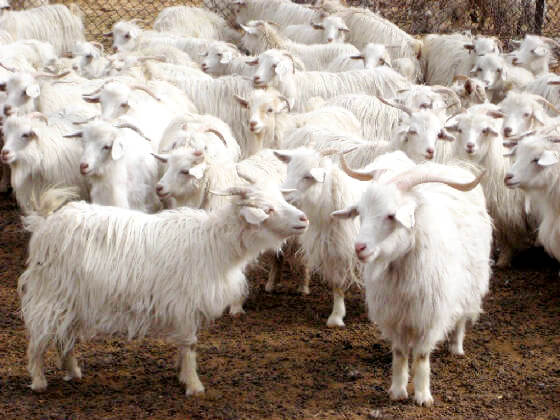 It is also home to high altitude lakes like Pangong Lake (4350 m), Moriri Lake (4522 m) and Kar Lake (4530 m). These are, undoubtedly, very beautiful and scenic natural wonders. Apart from the surreal environment, there's also a very rich biodiversity around their edges. Animals such as Tibetan Gazelle, Himalayan Blue Sheep and Lynx, and birds like Bar Headed Geese and Great Crested Grebe are often spotted in these areas.
Recent Development and Future Plan in this Region
 Ladakh has gained more popularity during recent years. A beautiful Himalayan region with a very less population equivalent to 125,000, hosts more than 200,000 tourists each year. Leh in ladakh connects to Kargil and Srinagar by NH 1A which remains cut off due to avalanches and heavy snowfall during winters. This blockade in connectivity makes the life of people living either side, very difficult. To solve this problem, the Government of India has recently started a project to build a tunnel which connects Leh to Srinagar and passes through Zoji La, a high mountain pass (11,578 feet) in Jammu and Kashmir. This tunnel is going to be named Zojila Tunnel and will be 14.15 km long. However, the total time to complete this project is estimated as 7 years because of the most difficult terrain and very low temperature at some places so hopefully it be operational in the year 2026 if everything goes well as planned.
Zojila tunnel will be the longest bi-directional tunnel in southeast Asia and will provide round the year all-weather and snow-free connectivity with the rest of the country. The time taken in travelling from Kashmir valley to Ladakh will be reduced drastically and it will also provide a safe and cheapest connectivity.
In addition to this Zojila tunnel, the government is also planning to extend its vast network of Indian Railways to Ladakh and the rest part of the Kashmir valley.
An inaccessible area in the past, Ladakh now stands with its arms open to anyone who wishes to visit it, experience it, know about it and feel it. There are still many places which are offbeat or lesser known to traveler in Ladakh and Jammu & Kashmir. You may want to read the post on 10 lesser known places to visit in Jammu & Kashmir. After visiting the place you'll realize that it's a different world altogether. The culture and lifestyle, the natural spectacles, the historical and religious riches, everything contributes to making this place a heaven. Definitely deserves to be in your bucket list!