Make the most of your time in Prague.
Prague, the capital city of the Czech Republic located in Europe is also known as the City of a Hundred Spires. Prague is famous for its distinct architecture, beautiful bridges, historic castles, exquisite museums, thrilling nightlife, innovative and scientific contributions, an abundance of shopping outlets, affordable beer, and delicious food. The people of Prague speak the Czech language and the country is ranked the 7th safest country to reside in the world. Prague has the highest number of castles in the entire Europe, in fact, the largest and the most ancient castle is found in Prague. Beer is very popular in Prague; the people of Prague are the heaviest consumers of beer in the world.
The stay, food, and the cost of travel around Prague are pretty affordable. You can just walk around the city from one destination to another, although you should make sure to wear comfortable walking shoes. The city also has metro trains and trams for you to travel around conveniently.
Prague has plenty of tourist attractions like the Old Town Square, Charles Bridge, Legion Bridge, Cechuv Bridge, Kutna Hora, Sedlec Ossuary, Jewish quarters, and Prague castle among others.
If you are on a Euro trip, Prague is a must-visit and if you are only traveling to Prague, you need to spend at least 5 days to fully experience the city's culture, history, cuisine, and beauty.
Here's an itinerary for you to enjoy all the major tourist attractions Prague has the offer in just 5 short days.
Day 1 – The Stunning Castles and The Charles Bridge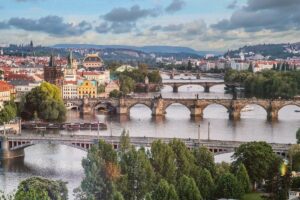 Charles Bridge also known as Karluv is undoubtedly the most famous and historic bridge in Prague. The Charles bridge is located on the Vltava River and was built during the reign of King Charles IV.
The best time to visit Charles bridge is around sunrise or sunset to get a stunning view of the 30 statues of famous saints carved and decorated along the bridge. The bridge is filled with street artists, local vendors, and musicians to entertain you throughout the day.
Prague Castle, the World's largest ancient castle was built in the 9th century. It is a Castle complex and now it is the official office of the Czech Republic's President. This giant castle comprises 70,000 square meters in area.
Prague Castle also known as Prazsky hrad has housed a ton of royal families, bohemian kings, and Presidents.
The architecture of this castle is exquisite and has a lot of historic roots embedded in it. It is truly a monument of beauty.
Prague Castle consists of the Cathedral of St Vitus, the Romanesque Basilica of St George, plenty of other palaces, a monastery, defense towers, and gardens. The Castle complex also has several museums like the National Gallery among others. The Castle complex has various art shops, galleries, and souvenir stores to take home some preserved precious moments in the form of souvenirs. Other tourist attractions you should definitely check out close by are Petrin Tower, Lennon Wall, Mala Strana, etc. You can take a stroll around these palaces and enjoy the stunning views, architecture, and splendor.
Day 2: Prague Old Town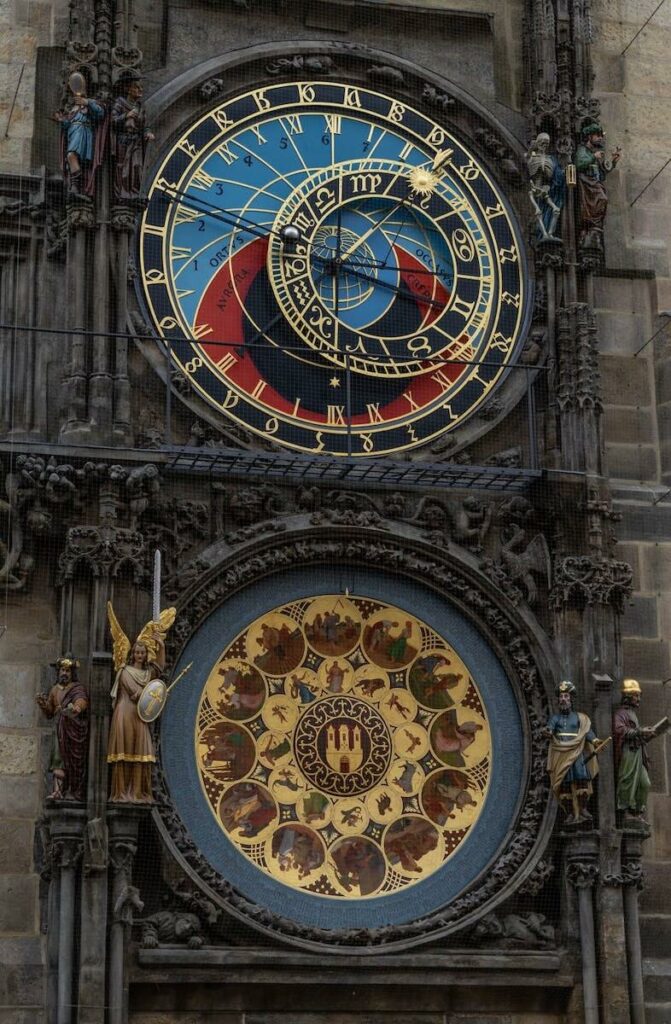 On the second day, you can go explore Old Town Square in Prague. Here you can do some sightseeing, shop a little and enjoy some delicious local cuisine. History buffs are going to love Old Town Square, the oldest and most ancient historic relics can be found here. If you love culture, history and antiquities then Old Town Square is perfect for you!
Prague has produced a lot of famous astronomers and scientists and has contributed loads to science and technology. The Prague Astronomical Clock is a must-see. Locally known as Prazsky orloj.
The Astronomical Clock is located in the Old Town Hall and is the world's oldest operating astronomical clock.
Theatre enthusiasts can visit the Estates Theatre, a wooden opera theatre. The theatre is located in a wonderful historic building, and the interior and architecture of this theatre are spectacular. Prague is famous for its ancient churches and their unique architecture and design. Church of our Lady before Tyn is a major tourist attraction in the Old Town of Prague. It is popular for the twin spires, the church's popular feature. There is no shortage of shopping outlets for shopaholics. From local and traditional shopping stores to upscale shopping stores, Prague has got you covered for everything. Try Na prikope street, a luxurious boulevard that consists of upscale shops and stores.
If you are in the mood for some drinks and authentic Czech food, you can try Café Svateho Vaclava, Rocky O'Reilly's Irish bar and La Rotonde, etc.
Also Read: Comparison of Prague and Brno in Czech Republic
Day 3: Cesky Krumlov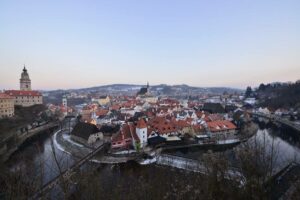 Cesky Krumlov is a small quaint city which you can cover in a day. The tiny city is very picturesque, perfect for a series of Snapchat stories and a carousel Instagram post. Photographers will have a field day with all the scenic pictures they can capture at Cesky Krumlov. It is famous for its frescos and it also has the Egon Schiele Art Centrum, a beautiful gallery showcasing contemporary and classic artwork from the 20th century.  The town has a rich history from surviving bomb attacks during World War II to being a UNESCO World Heritage site. The city has preserved, maze-like streets to walk through age back to the early centuries.  Cesky Krumlov has plenty of religious sites like Minorite Monastery and famous old churches and myriads of art galleries and museums.
The city also offers fine dining and shopping for those interested in relishing tasty food and big spenders. You can also take a beautiful hike on Mount Klet for scenic views. And also take a boat ride or Kayak along the Vltava River.
The UNESCO World Heritage site includes significant assortments of tapestries, paintings, and period interiors. While enjoying a boat ride along the Vltava River you can also visit the close by town of Ceske Budejovice. After hiking Mount Klet', you must visit the Klet Observatory and Josef's observatory tower. From this observation tower, you can sight the Alps that are miles away.
The Klet also includes a conservation area where you can appreciate some local flora and fauna. Budding photographers and professionals too can visit the Fotoatelier Seidel museum. This interesting museum has loads of information about the preliminary years of European photography and numerous historic postcards and photos, old artifacts like darkroom equipment, and old cameras.
The museum is located in the studios belonging to pioneers of photography, Josef and Frantisek Seidels.
The art enthusiasts can explore the city's famous frescos and artwork which dates back centuries.  In the huge art gallery, ESAC – Egon Schiele Art Centrum, you will find popular artwork by globally renowned artists like Salvador Dali, Egon Schiele, and Picasso. Other tourist highlights to catch here are concerts, workshops, and an on-site café.
Day 4: Other major tourist sights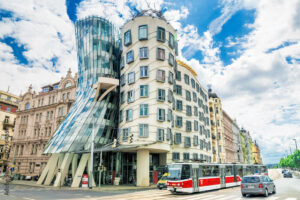 The Klementium complex boasts the Baroque library hall which is definitely one of the most stunning libraries in the world. Bibliophiles and bookworms will love visiting this library and taking a tour of it. The library was opened in 1722 with a fabulous interior. It holds about 20,000 volumes of foreign theological literature. The library hall is decorated by Jan Heibl's historic frescos with motifs of various Jesuit saints, prominent representatives, and patrons. The Baroque library is open from Monday to Sunday from 10am to 5pm, although timings might vary on some days. It is better to check before visiting. Those interested in learning Jewish history can visit the Jewish Quarter also known as Josef. Josefv contains a wealth of memorials and museums for an educational tour of Jewish history.
The Dancing House also known as Tancici dum, designed by Vlado Milunic, a Croatian-Czech architect along with Frank Gehry is a building with a unique architectural style. This architectural style is called 'new baroque' or deconstructivity. Prague as we know is famous for its beautiful castles. The tour of castles is infinite here. Stop by the Hluboka castle and stroll around the lush and beautiful castle gardens and spend time appreciating the excellent craftsmanship used to design the castle.
Day 5: Great beer and food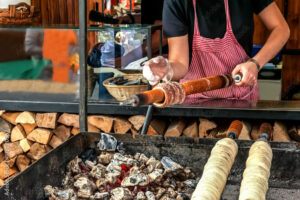 Devote a day to just enjoy some good food and beer. Prague is undoubtedly popular for its variety of beers. The most beloved beer by the people of Czech, Pilsner Urquell, is served at Lokal. Often claimed by the people to be one of the best places that serve the best Pilsner Urquell. Stop by Mozaika, still an underground restaurant in the Vinohrady district, a great place for a delicious meal. They serve tasty gourmet burgers and plenty of dishes like ribs and Czech-style steak etc. The Krystal Bistro by Mozaika in Karlin has a distinctly French-style menu for those who want something other than burgers.
For those who prefer cafes over pubs, Café Louvre is the perfect place for you. It is one of the most attractive cafés in Prague. Here, you can try cakes, grilled steaks, schnitzel, poultry, pasta, and a decent selection of vegetarian options and salads for a healthy snack.
Visit the Basta Brewery and restaurant that serves micro-brewed beer and delicious Czech food. For tourists that have a sweet tooth, a Trdelnik is a must-try. It is very similar to a cinnamon roll although a Trdelnik slightly varies. Trdelnik is made by wrapping dough around a pole, grilling it, and then topping it with sugar. It is super delicious and can be found anywhere in Prague. Another treat to add to your list is the Czech dumplings. These dumplings come in two types, potato or wheat-based and they are boiled or steamed rather than the usual method of baking. Czech dumplings are soft and delicate and must be sliced up with a thread. The dumpling slices can be paired with anything and everything in your meal. Prague hosts the famous Prague beer festival that boasts over 70 different types of beer.
There is a bizarre option for those who don't want to have a beer, you can soak in a tub of Czech beer with its own beer tap. Very uncanny!
These beer spas are all around Prague and a lot of tourists visit these beer spas. Other Czech must-haves you should try are pickled camembert cheese and Czech wine among other various Czech food.
Make sure to stop by these places for some tasty treats and food.
Prague has a myriad of tourist attractions, from castles to mountains to museums. This itinerary should help you out on your next vacation to the City of a Hundred Spires. Don't miss out on the important places mentioned, to see Prague in its timeless beauty and glamour.