Pin Valley is an exquisite valley in Spiti district of Himachal Pradesh which has become one of the most appealing destinations for travelers in recent times. Prominent for the amazing landscapes, sunny weather, scarcely populated villages, magnificent monasteries, colorful flowers, breathtaking perennial rivers, sub-zero temperatures and semi-frozen rivers; the valley is created by Pin River that runs all over its length before fusing with Spiti River. The immaculate beauty of the valley is quite captivating with acres of lush greenery and jaw-dropping view of snow-capped mountains in the background. In this post, we will talk about Pin Valley in Himachal Pradesh and Pin Valley National park.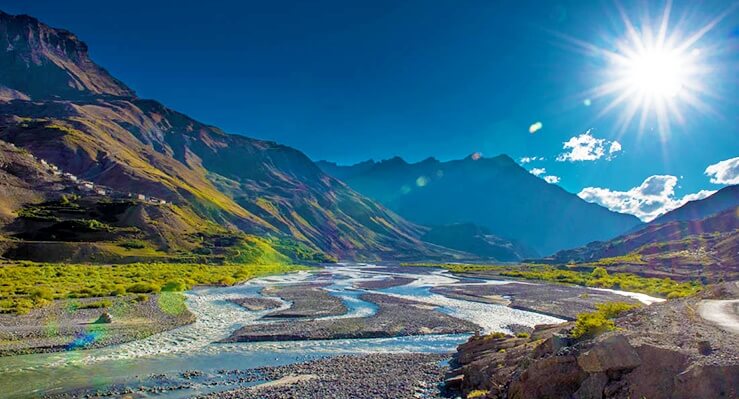 Pin Valley National Park lies in the cold habitat of the valley of the majestic Pin River which is adjoined by the Great Himalayan National Park on one side and the Rupi Bhabha sanctuary on the other. Established in 1987, the park was set up to protect and preserve the rare and unique Himalayan flora and fauna. Spread over approximately 9700 Km, this park is home to the famous snow leopard popularly known as the big Himalayan ghost cat and many other exotic animal species. The altitude of this park ranges between 3500- 6000 meters at its highest elevation point.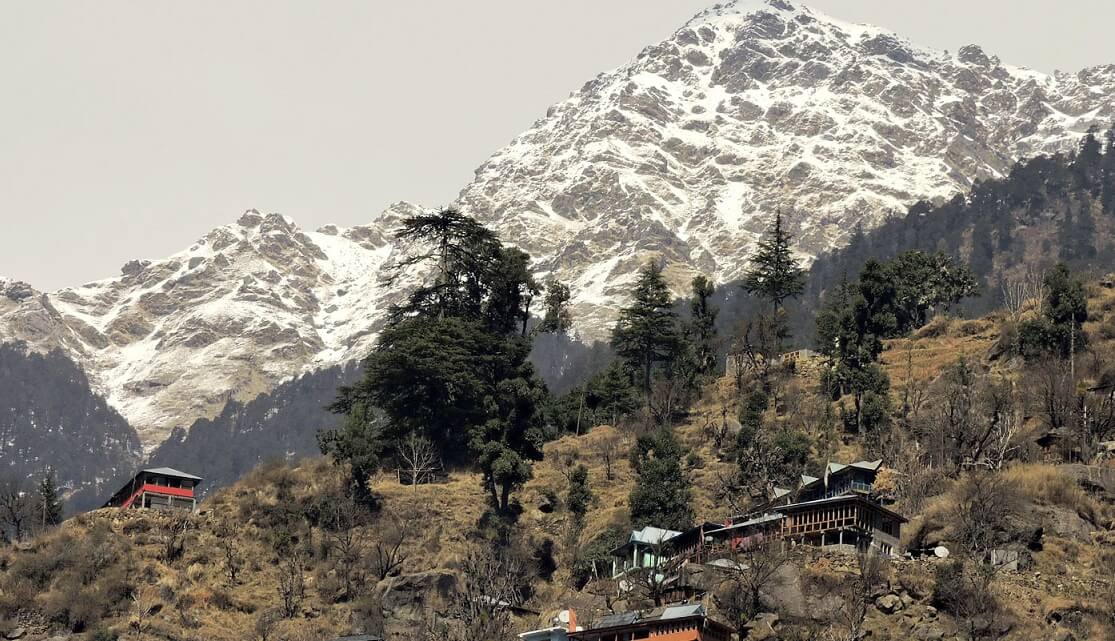 Best time to visit Pin Valley National Park
As the region is a cold dessert, the climate is freezing with high velocity winds. The valley receives a lot of snow each year but the rainfall is just minimal. The best time to visit Pin Valley will be anytime between May to September because this time the Spiti road is open from both Shimla and Manali and the temperature is also hospitable.
The temperature in winters can drop to as low as minus 30 degrees (-30° C) with heavy snowfall that blocks the route making it difficult to trek. However, people who like to trek in freezing temperatures, take the Tapri to Kaza route which is always open.
How to reach pin Valley in Himachal Pradesh
By Air: The nearest airport is at Bhuntar at around 250 km distance and Chandigarh at 520 Km. You can hire private vehicles to reach Spiti from both the airports.
By Railway: If you prefer travelling by train, then the nearest railway station is at Shimla at a distance of 450 km.
By Road: Buses also run from Manali to Spiti Valley on a daily basis from June to October. It is approx 4 h 21 min drive via Leh Manali highway and NH505 along 196.3 Km long route.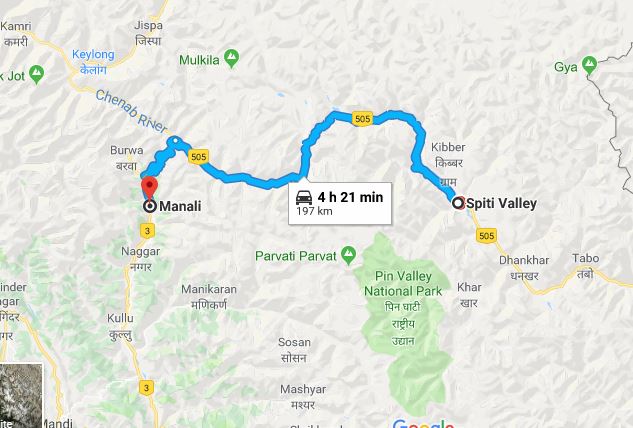 Pin valley is accessible by road only, and in order to reach the Valley, firstly you will have to reach near Kaza in Spiti Valley, You can either take a bus from Kaza which runs during summer months everyday at 9 am or hire a personal taxi. After covering around 35 km with a half an hour drive from the town of Kaza while crossing a cable suspended bridge, you can enter the first small village in Pin Valley known as Mikkim.
After a 10 km very easy hike through lush greenery from the village of Mikkim, which includes crossing the Pin River over a suspended rope wooden bridge, one can reach the entrance of Pin valley National Park. Trekking at these amazing heights is fascinating experience.
Wild Life and Flora of Pin Valley in Himachal Pradesh
The endangered snow-leopard is the most talked about but the rarest species of animal in the Pin valley National Park which attracts a large number of tourists from all over the world. It is believed that as many as 12 leopards are there in the Park which are sighted only in extreme winters.
The park is also a natural habitat for many other exotic species such as Siberian ibex, Red fox, Bharal, Weasal, Himalayan Blue Sheep, Royle's Pika, Snowfinch, Golden Eagle, Griffon, Himalayan Brown Bear, the Tibetan Gazelle, Bearded vulture, White Tiger, Himalayan Mamot, etc.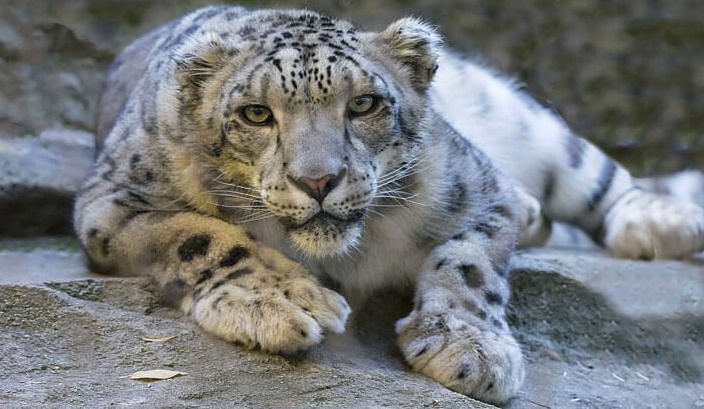 There is not much of flora in the park, however many medicinal plants are found here which are used by the local pharmacists. The park also includes Populus, Bhutal, Juniper and Birch trees among a few others.
Accommodation in Pin Valley
Although there are various hotels and guest housed in Pin Valley, but if you want to experience the local life, then home stays would provide you the bare minimum needs to survive which is quite basic and simple. Mud Village and Kaza being the closest to the valley have most of the stay options.
Things to do around Pin Valley in Himachal Pradesh
Even though trekking and capturing the view of the exotic wildlife are considered the most famous activities in the park region, there are many other exciting adventurous activities that you can pull off and places nearby to pay a must visit.
Bhabha Pass Trek
When it comes to treks in Himachal Pradesh, Bhabha would be the most dramatic and the biggest adventure destination in the country. One can start a trek from the Mud Village by crossing the Bhabha pass, almost 4900m over the Bhabha Valley. The lush hills of Bhabha are unlike any other and seem like they are right out of a story book.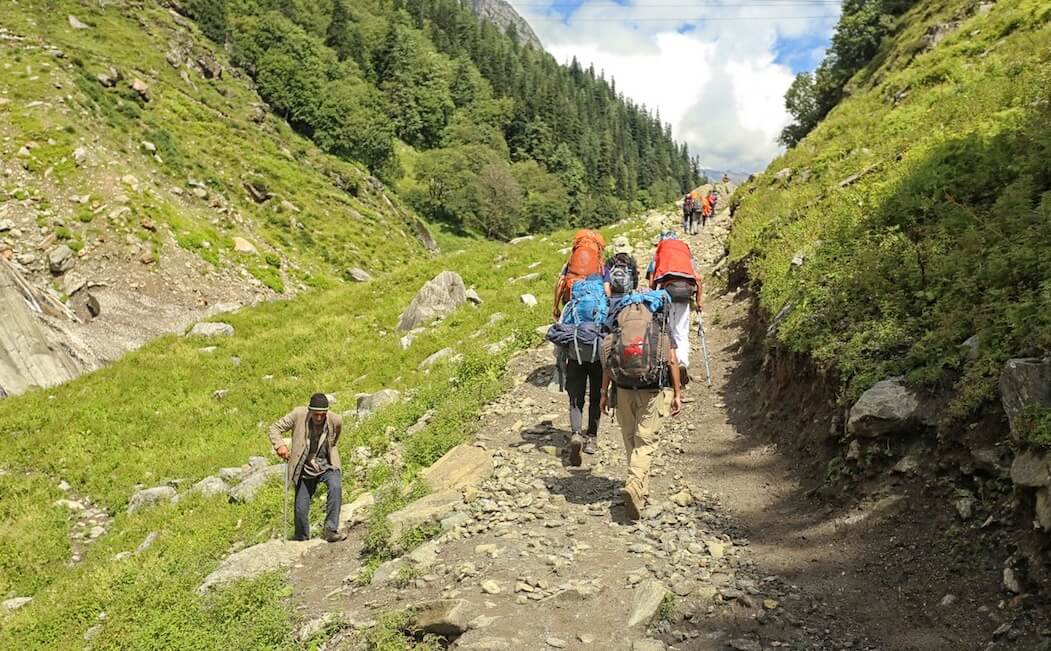 Explore Dhankar Gompa  
Dhankar Gompa is perched at an elevation of 3890 m and was build almost 1200 years ago. It is a famous buddhist temple, 30 km east of Kaza and is considered as one of the most captivating landmarks of Spiti valley. An almost 2 km trek uphill takes to the Dhankar Lake which is popular for its alluring display of colors.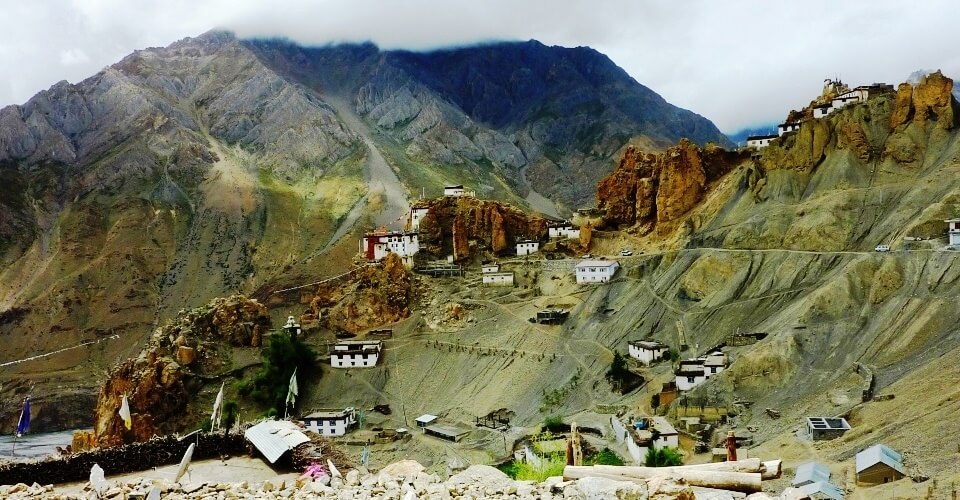 Tabo Gompa
Popularly known as the Ajanta of Himalayas, Tabo Monastery is the biggest monastery of Buddhist religion. It was built in 996 A.D in the Tabo valley at an elevation of 3050 m above the sea level and is just at a distance of 46 km from the Pin Valley National Park. The temple complex in this monastery has been declared as national historic treasure of India.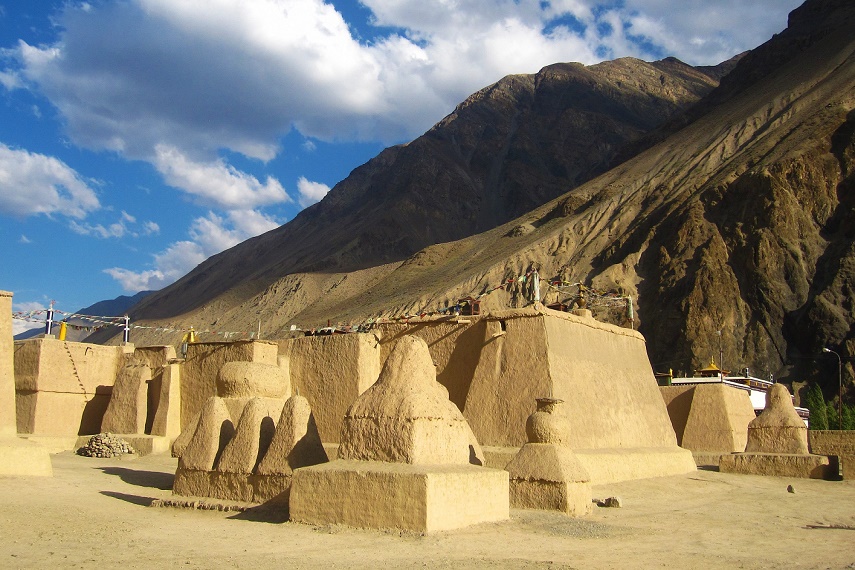 Visit Kungri Monastery
Built in the 1330 century, this is the second oldest Monastery in the Spiti Valley. It is an attractive destination for many tourists from all over the world and exhibits ancient Tibetan Buddhist culture. Kungri Monastery is situated 3 km from Gulling in Pin Valley.
Mantalai Lake Trek
The trek starts from the Barshaini village, in the Parvati Valley. It is considered as the most astonishing trek of the Pin Valley in Himachal Pradesh region because of the dazzling beauty of the Parvati valley with snow covered Himalayan peaks, dense green landscapes with Pine and Deodar on either side, crystal clear water of pristine Parvati River and ceaseless view of straggling forests. The trek takes you to the high-altitude Mantalai Lake which is perched at the foot of splendid high peaks of the Himalaya.
Pin Valley National Park is a heaven for nature lovers and people who have an interest in the sacred and innate history of India. It should be explored by every adventure seeker once in a lifetime.