Valley Of Flower – Best time to visit the most beautiful places in Uttarakhand
"Nature is the art of God", this famous words is very much applicable for one of the most beautiful, mysterious, colourful state of India, i.e. Uttarakhand. It is in the northern part of India, starting from the Shivalik foothills to the Himalayas, and sharing its boundary with China and Nepal. This amazing state is blessed with various tourist attractions like gigantic mountains, beautiful valleys, hill stations, wildlife sanctuaries and etc. All these will leave a mark on your mind and heart forever. You can visit Uttarakhand any time of the year, but still, the best time to plan a trip to this place is from March to October. Light glow of the sun, monsoon rains and chilling cold wind will make your trip more joyful and memorable. So here we have enlisted the most attractive facts about Uttarakhand.  We will mainly focus on Best Time to Visit Valley Of Flower and nearby places. Let's read through the lines and feel the scenic beauty of this beautiful state.
Best Time to Visit Valley Of Flower and Other Nearby Places
#1. Valley of Flowers National Park
Unknown to the world for a long time, the valley of flowers was only discovered in the year 1931 by a mountain explorer. After this golden discovery of heaven on earth the beautiful valley of flowers has become one of the most favorite destinations of mountaineers and explorers. Valley of flowers holds the most serene view that unfolds heaven before your sight. It's not only the most peaceful view which leaves one speechless but the peace and serenity which imbibes your mind and soul are priceless. It is an experience to bank on for the rest of your life! Valley of flowers is a world heritage site. It stretches about 87 kilometres, in the Chamoli district of Uttarakhand and reaches the most scenic stretches of eastern and western Himalayas.
The valley of flowers is surrounded by the majestic mountains that reach the sky and of course the green valleys which adds to the beauty of the park. The cascading waterfalls, the serpentine streams of roaring waters, and the raw and virgin nature can make one forget all the worries that hinder our brain from the turmoil of daily life.
The pristine valley offers a variety of wild and mountain flowers which stretches from the depth of the valley to the portions of hills that human eye can reach. The unspoiled beauty lies about 422 km from Chandigarh and 441 km from Delhi. The climate is quite pleasant for both habitat and travelers.
The Best Time to Visit Valley Of Flower is from July to October, while August and September is the best time for the blooming of the flowers. While adults can trek up to the beautiful valley and adventurous trails of roads, on the other hand, elderly people can be on ponies to take their way up. Even helicopters are there to take you to the valley of flowers. Helicopters can not only take you all the way to the lovely mountains and romantic valleys but of course, it offers the grand view from above. It is worth enough to spend a few bucks on that. It's an inexplicable experience of life which is a must visit from the bucket list of the wandering souls!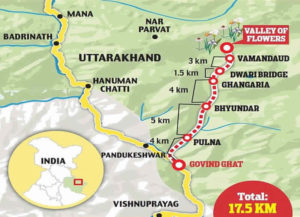 For your information, you can also download the Road map depicting the route to Valley of Flower and the Bus route Map to different part of Uttarakhand. Make sure you plan your journey within Best Time to Visit Valley Of Flower so that you can see the bloom of beautiful flower.
#2. Hemkund Sahib
It is located at a height of 4,329 meters from the sea level in Chamoli district of Uttarakhand. This is another attractive place in this beautiful state. It is a sacred pilgrimage place for Hindus, especially Sikhs. Hemkunt Sahib refers to the life history of the 10th Guru of Sikhs, Guru Govind Singh, who meditated here for years.
It is the only Gurudwara in the world, which is pentagonal shaped in its design. This faces a Glacial Lake, covered by seven mountain peaks. The water of this lake is chilling cold, just like snow. But this wonderful lake adds more beauty to this place. Devotees, who come to Hemkund Sahib, take a bath in the water of this holy lake. Every year huge numbers of devotees visit this sacred place. The climate is very cold over here, as a result of which most of the time the place remains covered with snow. The perfect time to visit here is from June to October.
#3. Vasudhara Falls
This waterfall is located near Badrinath in Uttarakhand. It is 9km from Badrinath to Vasudhara. It is also a renowned tourist attraction around Uttarakhand. The journey to Vasudhara Falls is very interesting. You can travel to Vasudhara by driving, but another 6 km from mana village to Vasudhara waterfall, one needs to go by walking or by trekking. It is one of the famous places for short trekking trips. On the way, you can see the most marvellous scenic beauty in the world, which will surely touch your heart.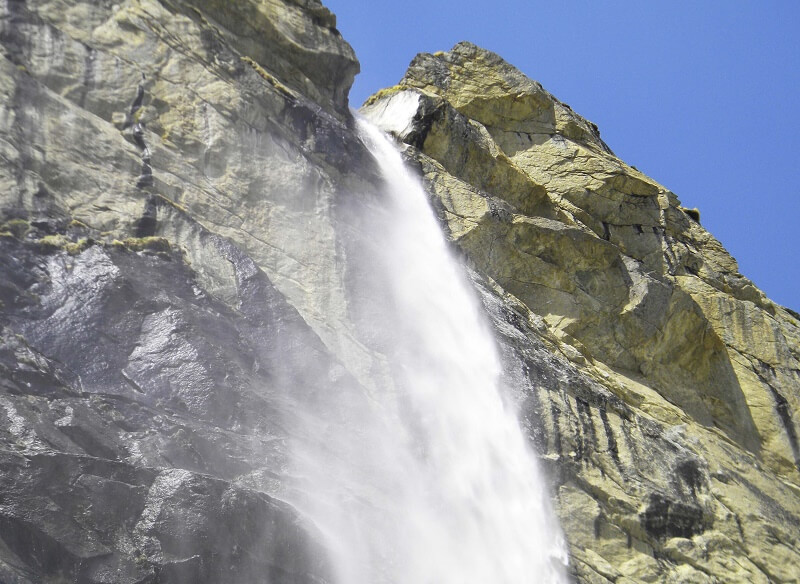 Vasudhara Falls is covered by high mountain peaks like Nilkantha, Chaukhamba, Balakun. Water flows down from 400 feet high, and it looks really mesmerizing. You can also take a refreshing bath, under the falling water. There is also a myth behind this waterfall that the tourists who come to visit here with impure hearts, the water of this Vasudhara Falls turns away from the tourists. The Vasudhara falls look amazing during monsoon. The best time to come this place is within May to June. While trekking, you need to remember that you must carry food and water bottle with you because you won't be finding any shop out there.
#4. Gaurikund
It is another interesting tourist spot of Uttarakhand. This is a base camp for trek to Kedarnath Temple, located at an altitude of 6,502 feet above sea level in the Garhwal Himalayas. According to myth, once goddess Parvati was bathing at this place, while she asked Lord Ganesha to stand there, and guard, so that no one could enter inside. But when her husband, Lord Shiva went there, he was also stopped by Lord Ganesha as per goddess Parvati's word. Then Lord Shiva being annoyed by Lord Ganesha's behaviour, he cut off Lord Ganesha's head. Parvati was very sad to see this, and she wanted to get her son back. Then Lord Shiva went to the forest and saw an elephant lying around and so he placed the head on the body of Lord Ganesha. Finally, Goddess Parvati got her son back.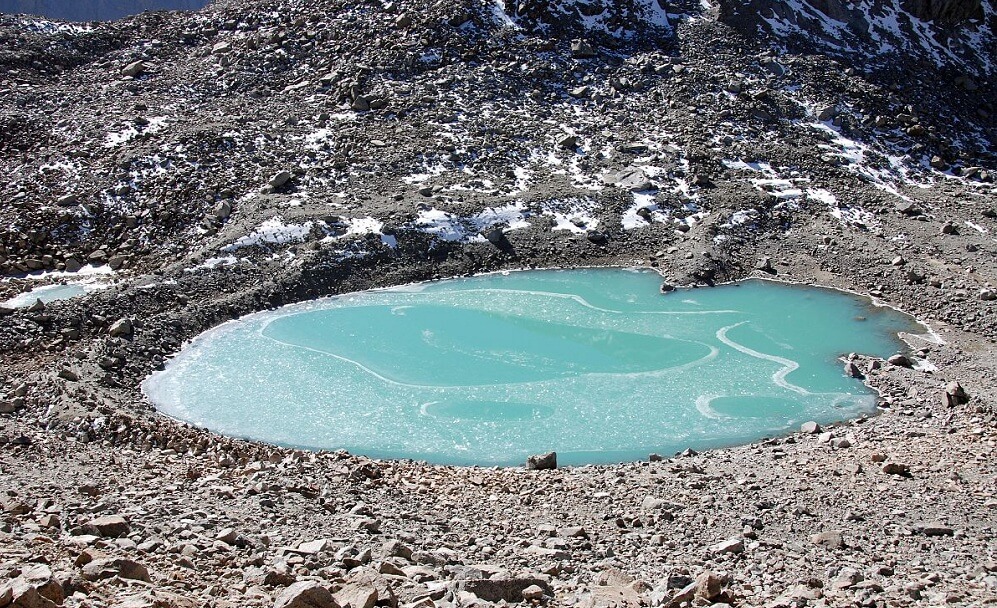 Gaurikund gives you an amazing picturesque of nature. Lush green forest, the call of the deep blue sky, dense greenery, these creates a pleasant and soothing environment. Gaurikund is also known as Parvati Sarovar, the lake of sympathy. There was also a wonderful hot spring, which added more beauty to this place. But after the heavy flood of 2013, it cannot be seen anymore. There is still a small stream of water flowing down from where the hot spring used to be. The perfect time to visit here is from March to June.
#5. Nanda Devi National Park
This National Park is located around the peak of Nanda Devi in the state of Uttarakhand. It is 11,500 feet above sea level. The Himalayan snow leopard is the main attraction of this park. Apart from this, Himalayan black bear, Himalayan Thar, Common Langur, Serow, Goral, Bharal, Himalayan musk deer etc can be seen here. Children's get to spend a good time over here. You can also find various kinds of trees like Rhododendron, Alpine, Juniper and many more. This park is also popular for its herbal and medicinal plants. From this park, you can see the highest peak in the world, which will really touch your heart. Mid of April to October is the best time to visit here.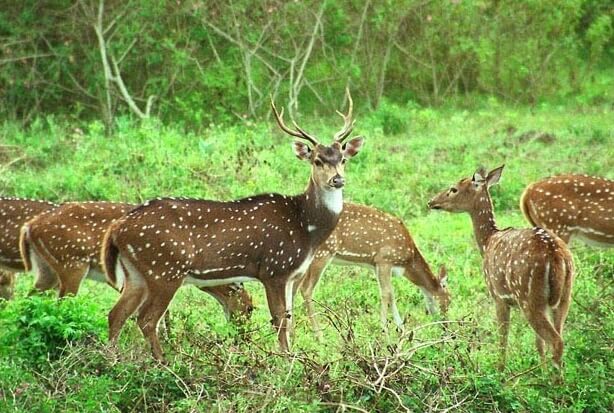 #6. Sattal
If photography is your passion, then it's a must visit place for you. This is a highly camera friendly destination. Sattal means sat-tal, an assembly of seven lakes. The names of these lakes are Ram Tal, Lakshman Tal , Sita Tal, Nal Damyanti Tal, Panna Tal and Sukha Tal. The water of this lake is very pure, unpolluted and crystal clear. It is situated 1370 meters above sea level. The green vegetation of the surroundings, cool and calm water of the lake, deep blue sky, the chirping of birds creates a great ambiance for the tourists.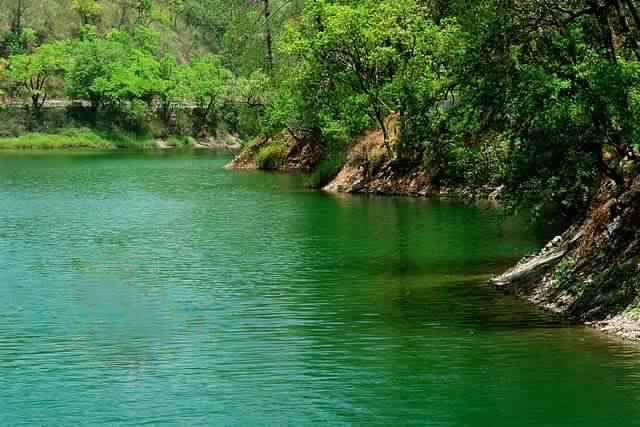 #7. Badrinath Temple
This is the most famous temple of this state situated in the town of Badrinath. It is opened between the end of April and the beginning of November every year because of extremely cold weather around. This place is related to the later rig Vedic era when people shifted their belief to worship Brahma Vishnu and Maheshwar. This temple is dedicated to Lord Vishnu. This place is also called Badrinarayan temple. According to Hindu religion, there are four dhams. This temple is one of the dhams. Because of this Hindus are more attracted to the place and the scenic beauty, where river Alokananda is also contributing to enrich the beauty of the dham.
#8. Nainital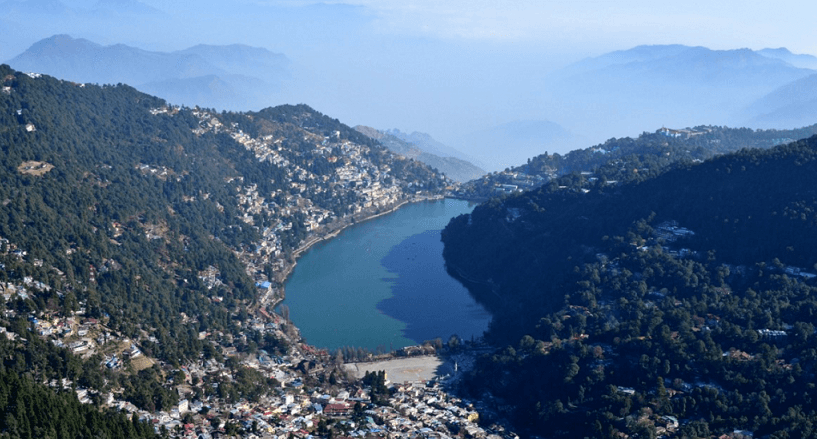 One the most popular silent and heartwarming hill station named Nainital is also a gift from Uttarakhand. It is a beauty located in the Kumaon region. It's a famous tourist destination spot. Because of its popularity, this place is known as 'Queen of lakes'. This place also has a religious background. According to Puranas, 64 shakti peeths are present and Nainital is one of the peeths of goddess Sati. Puranas says the eye of the goddess were fell down at this place. That's why the name of the place starts with Naini means eye.
Then don't waste your time, just pack your bags, and keep yourself away for a few days, from your busy life, and just go out to explore the beauty of Uttarakhand. The nature of this place will never disappoint you. Shining clear sky, breezy winds, the chirping of the birds, the long never-ending roads, amazing scenic beauty, the stream of water, snow-covered mountains, green environment all are waiting to welcome you with open hands.