Nepal is a wonderful country, with many places to visit and many things to do. Despite the fact that it's a small country, it is packed with so much goodness that it is sure to entice you, amaze you and excite you, all at once. In this blog, we will focus mainly on Gokyo Lakes, one of the most amazing tourist attractions in Nepal, and what are the top 5 things that you can do during your stay here in Nepal.  In our previous blog post we already covered top 10 places to visit in Nepal and 12 authentic Nepali foods, this post is going to be almost as same interesting as those previous ones. So let's know what are Gokyo Lakes and top 5 things to do in Nepal.
What are Gokyo Lakes?
One of the most popular regions in Nepal is the Khumbu Region, which is a part of Solukhumbu District. The reason why this region is so famous is because it is the home of Mt. Everest (8848 m), and so, it is also known as Everest Region. Apart from mountaineering, the region also offers numerous trekking opportunities to the visiting tourists, as the area hosts various exciting spots, such as villages and viewpoints. One of the most preferred attractions in the region is the complex of lakes known as Gokyo Lakes, which lie in close proximity to Gokyo peak and Gokyo Village.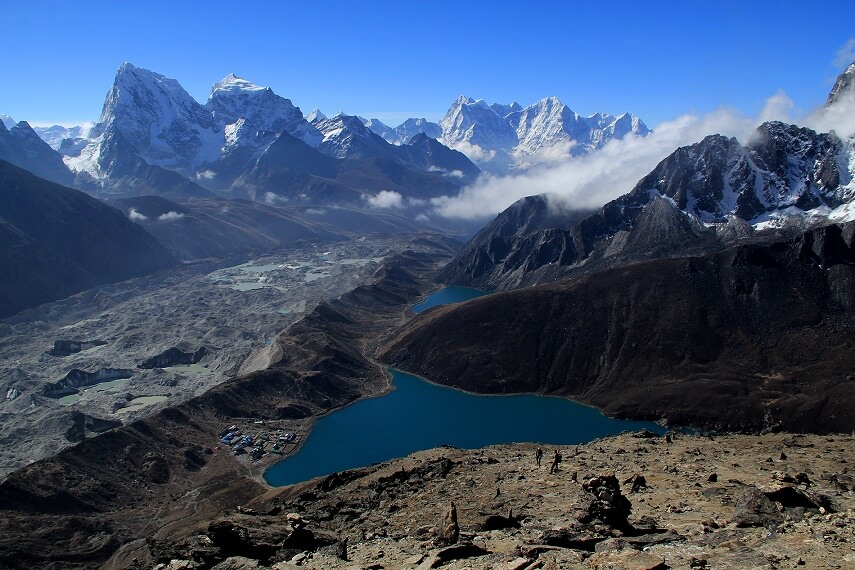 Goyo Lakes are situated at an altitude ranging from 4700 m to 5000 m, in Sagarmatha National Park. There are six lakes altogether, and they make the world's highest fresh water lake system. The names of the six lakes are Dudh Pokhari, Thonak Cho, Gyazumpa Cho, Tanjung Cho, Ngozumba Cho and Longabanga Lake. Out of them, Thonak Cho is the largest and deepest one, with an area of 17 hectares, and the depth of 62.4 meters. One of the sources of water in these lakes is Ngozumpa Glacier, which is regarded as the largest glacier in the entire Himalayan Range.
The village closest to Gokyo Lakes is Gokyo Village (4750 m), which is situated at the foot of Gokyo Ri (5357 m). The settlement area is actually situated at the shore of Dudh Pokhari. The tourists visiting the lakes can choose to stay in the guest houses at Gokyo village as long as they like. This gives them ample opportunities to explore not just the lakes but surrounding areas. Gokyo Lake Trek is the trekking route following which the trekkers can reach this spot and enjoy its pristine beauty.
Itinerary for Gokyo Lake Trek
The trek up to Gokyo Lake and back is 10 days long. The core trek starts from and ends at Lukla. Trekkers generally tend to fly up to Lukla from Kathmandu. From there, it's a rigorous walk of 6 days up to Gokyo Village. They spend the night at the village, and the next day, the trekkers take a walk up to and move around Gokyo Lakes, and attempt to reach the top of Gokyo peak. Finally, they return to the village in the evening. Then, it's a 3 days trek back to Lukla. For acclimatization purpose, the trekkers stop at Namche Bazaar.
Gokyo Lake trek is one of the most beautiful treks in Nepal, as the route covers major settlement areas of the Khumbu region, and makes its way through Sagarmatha National Park. Most of the times you feel yourself surrounded by lush green forests, and flowing between them the Dudhkoshi River. You are sure to be greeted by the huge majestic peaks of Everest , Kongde Ri (6187 m), Ama Dablam (6856 m), Nuptse (7861 m), and so on. They alone are enough to make your trip amazing.
Day 1: Lukla (2860 m) to Phakding (2,610 m) - 4 hours of walk
Day 2: Phakding to Namche Bazaar (3,440 m) - 6 hours of walk
Day 3: Acclimatization in Namche Bazaar
Day 4: Namche Bazaar to Phortse (3840 m) - 6 hours of walk
Day 5: Phorse to Machhermo (4,470 m) - 6 hours of walk
Day 6: Machharmo to Gokyo Village (4800 m) - 6 hours of walk
Day 7: Climb Gokyo Ri (5357 m) and hike to the five Gokyo Lakes (4700 m to 5000 m) - 6 hours of walk and return to Gokyo village
Day 8: Gokyo Village to Dole (4038 m) - 4 hours of walk
Day 9: Dole to Namche Bazaar - 5 hours of walk
Day 10: Namche Bazaar to Lukla - 8 hours of walk
Top 5 Things to do in Nepal
Nepal is a mountainous country, and so whenever the name of this country comes into someone's mind, they're bound to think of activities related to the hills and the mountains. This is quite true as the most interesting things that you're offered in Nepal are more or less possible in the hills and mountains only. Let's explore this idea a little bit more in our list of the top 5 things to do in Nepal.
Walk on the Trekking Routes
Around 75 percent of total land area of Nepal is covered in hills and mountains, and they offer the tourists visiting Nepal great opportunities to explore them, in the form of trekking routes. As all of these trekking routes swirl around the hills and mountains, you get to walk among the most panoramic and dynamic landscapes, with the backdrop of world's tallest peaks.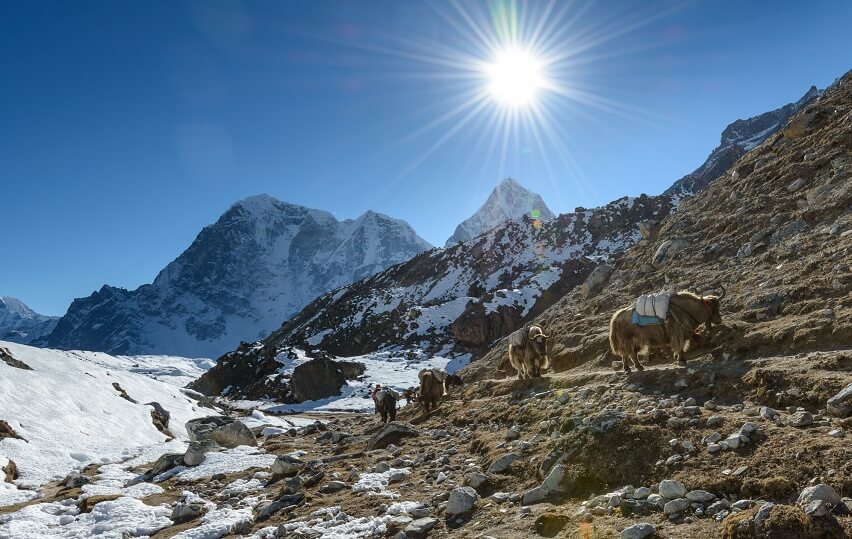 In terms of trekking, you also get to come close to nature – the different species of animals, birds and plants, as most of these trekking routes develop around national parks and conservation areas. You get to visit old and culturally rich settlement areas of Nepal, in terms of walking among the hills. This could be a great opportunity for you to dive into the lifestyle and culture of the locals, especially if you like communicating with people, and hearing their stories.
Few of the most popular trekking routes are Gokyo Lake Trek, Everest Base Camp Trek, Annapurna Circuit Trek, Upper Mustang Trek, Kanchenjunga Base Camp Trek, Rara Lake Trek, Annapurna Base Camp Trek, and Langtang Valley Trek.
Embark on Mountaineering Expeditions
Nepal is a paradise not just for the trekkers, but also for the mountaineers. As a matter of fact, Nepal is hands down the number one destination for mountaineering among all other places in the world. It is so because 8 out of the ten tallest peaks in the world happen to fall in Nepal, which includes Mt. Everest (8848 m), the highest mountain in the world. Whether you're an expert mountaineer, or someone's who's recently learned how to climb, it is your ultimate goal to conquer this beast.
Thousands of mountaineers, from all over the world, come to Nepal every year to climb on any one of these mountains, and reach the top. Their goal is to achieve this feat and make their country proud. Mountaineers who reach the top don't just prove themselves to be among the best climbers, but they also gain a celebrity stature.
Keeping everything else aside, the only downside of this activity is that it can only be attempted by experts, and not by everyone. Keep in mind that climbing may be an amazing activity, but it involves a lot of risks. Few of the most popular expeditions in Nepal, which also happens to be the most popular ones in the world, are Mt. Everest, Mt. Annapurna, Mt. Kanchenjunga, Mt. Makalu, and Mount Dhaulagiri.
Dare to Try Adventure Sports
Nepal offers few of the most exciting adventure sports in the world. These activities, like most others in the list, are also performed in the hilly landscapes. Adventure Sports offered in Nepal can be divided into 3 categories, on the basis of the level of training and skills required to be involved in the activity.
The first type includes activities like Bungee Jumping, Swing, Paragliding, Zip Lining, Jungle Safari, and Ultralight Flight. Though these activities require the participant to be strong at heart, no further experience, or any skill set is required for them to be engaged in these sports. In most of these sports, the participants remain passive, and yet, are able to experience the thrill.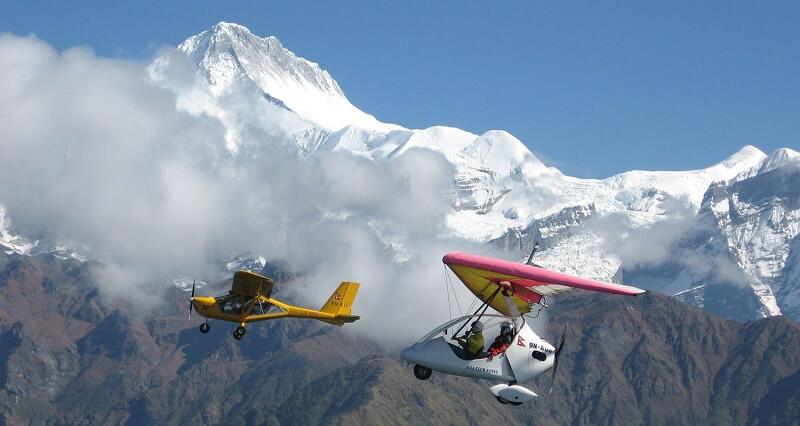 The second type includes activities such as Sky Diving, and White Water Rafting. Though the participants are never left alone by the coaches during the course of these sports, a little bit of training, or prior experience in certain cases, is a must for them. These sports require the participants to move a muscle, and not simply be spectators, quite like in the previous category.
The final category is a more advanced version of the type 2 category and involves sports such as Rock Climbing and Canyoning. As simple as they may seem, the participants need to rely completely on their wit and prior experience to be involved in these sports. These are certainly not everyone's cup of tea, as they include huge risks, and are quite tiring.
Explore Food Items in Food Tours
Nepal is one of those multicultural countries that are not just diverse on their own, but also host foreign influences up to a great extent. And the same things imply in case of food as well. When you walk on the streets of Nepal, you will get a range of options from the most authentic local cuisines to the ones influenced from neighboring countries like India and China, and the ones from across the world.
With an inclusion of authentic cuisines like Newari, Thakali, Tharu, and so on, along with staple food items such as dal bhat and momos, Nepali food is one of the most delicious and diverse food in the world. At every new settlement that you visit during your journey, you will get to taste amazing food items that will be exclusive to the region, with their own set of flavors and ingredients.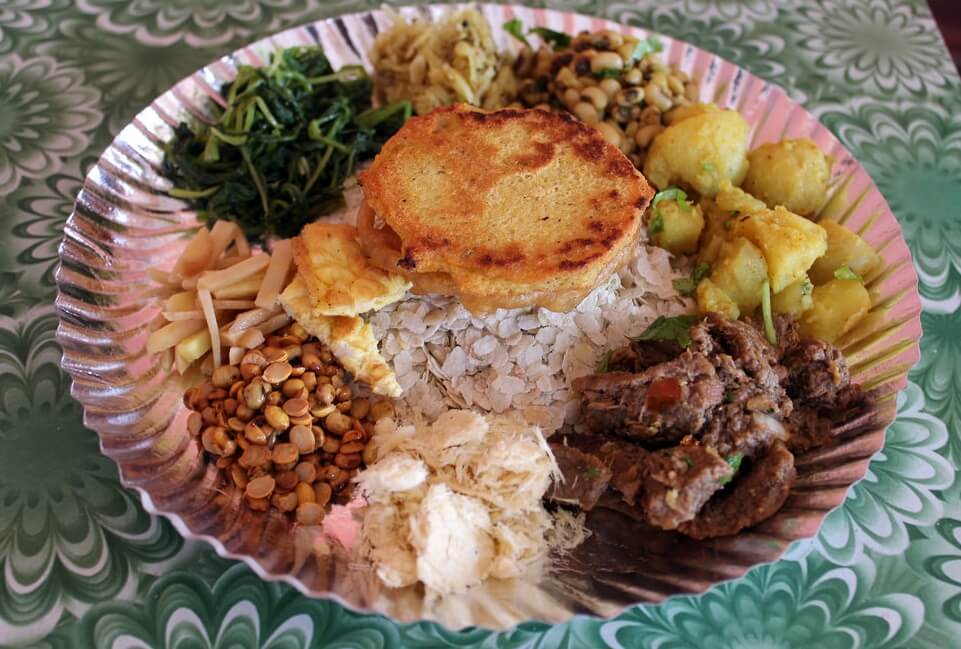 Even when you're in big cities like Kathmandu and Pokhara, you can literally go on food tours, exploring every small and big eateries, and especially the street food in the evening. You will never go out of options. The platters and the variety of items served to you are sure to amaze you. As mentioned above, you don't have to keep yourself limited to local cuisines, as there are many modern restaurants offering cuisines from all over the world.
Connect with People and Cultures
This is probably the best thing to do in any kind of trip, journey or visit, connecting with people, and experiencing their culture. The people here in Nepal are warm, and therefore, would happily welcome you to be a part of their family gatherings, and social occasions. Especially if you visit during their festive seasons, you'll get to know a lot about them, their history, their beliefs, and so on.
You can be sure of one thing, they'll be more than happy to share, and you'll have a great time. Nepalese people take pride in their identity, history, cultures and traditions, as these attributes make them the most unique country in the world. The people and cultures in this great nation have not just won the hearts of so many foreign nationals, but have also inspired them to promote what they've experienced.
If you're looking for a destination to spend your holidays, and are looking for things to do, we hope that this blog answers your questions. Make sure to visit Nepal, and if possible, try to take a trip up to the Gokyo Lakes, you'll never regret it. Also, go for a few of these activities to find out whether they're as good as the organizers claim them to be. There's no way for you to be disappointed.
Share your thoughts with us in the comments below. We'd love to hear from you.